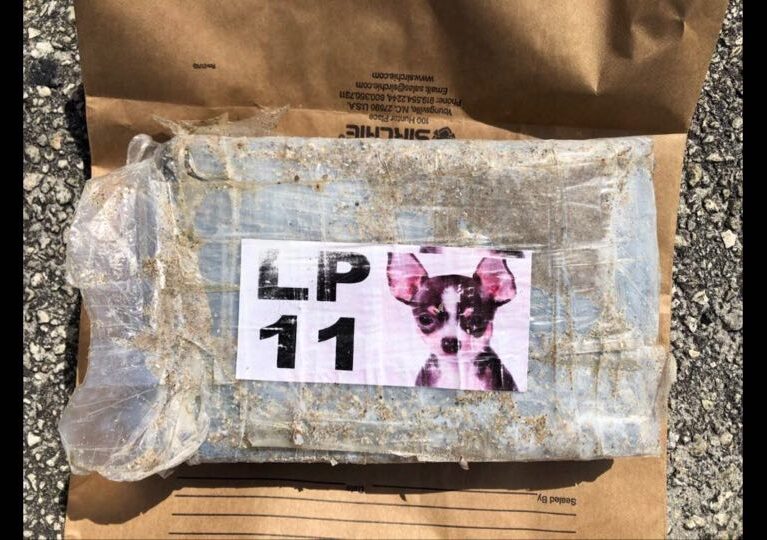 Two Vero Beach men were walking the beach Wednesday when they noticed a small package tucked in the sand with a label showing a picture of a Chihuahua.
The package – suspected by authorities to be carrying drugs – also had text that read "LP 11," according to a picture provided by Vero Beach Police Department.
"We have no clue what it means," Police Master Officer Darrell Rivers said of the labeling. Rivers said the package "appeared to be a brick of cocaine."
This is the second incident this week of a suspicious item reported along the coastline in Vero Beach. On Monday, about 20 people were evacuated from their homes for several hours after a World War 2-era ordnance was found on the beach near Ocean Ridge Circle.
Patrick Air Force Base's explosive ordnance disposal team safely removed the munition.
In Wednesday's incident, beachgoers spotted the suspicious package about 11 a.m. at South Beach Park, Rivers said. The brick-like package was wrapped in clear plastic with a silver lining and weighed about 3 pounds, police said.
Rivers said the item contained a grey powdery substance inside.
The men notified lifeguards, who called law enforcement. Police removed the package from the beach and placed it into evidence.
Officers did not open the package for safety reasons and concerns the item might contain fentanyl, Rivers said. Fentanyl, a powerful opioid that can also come in powder form, can turn deadly within seconds if a person is exposed, officers said.
"We don't want to put officers in harms way," Rivers said. "It only takes a small particle of fentanyl to kill you."
Police contacted the U.S. Department of Homeland Security to pick up the package sometime Friday for further investigation. Rivers said homeland security officers would have the appropriate personal protection equipment and facilities with proper ventilation to safely  inspect the package.
Packages containing narcotics that wash ashore are not unusual for Vero Beach or other cities along the southeastern coastline. This is the first incident this year a suspected drug package was spotted in the sand in the city, Rivers said.
Rivers said police will have more officers patrolling the beaches in the mornings and evenings to look for suspicious packages.
Anyone who finds a suspected drug package on the beach should not touch it and call 911 immediately. Those who do not contact law enforcement and decide to keep the item can face a felony charge of trafficking, Rivers said.
"Don't touch it. The package could be deadly," Rivers said.