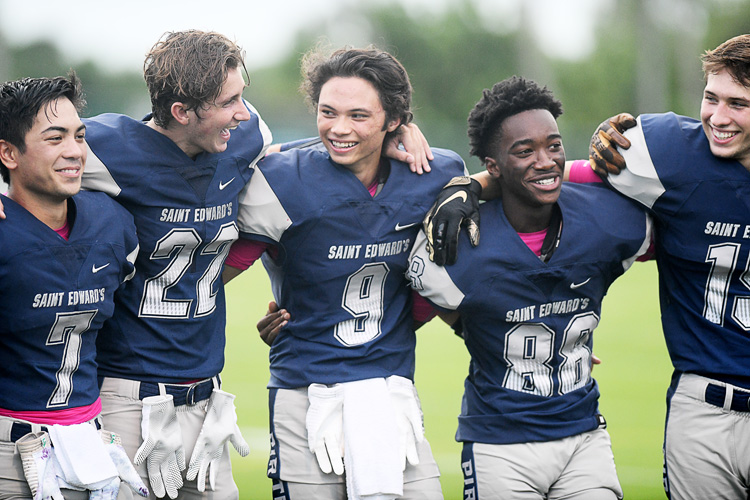 After months of day-to-day uncertainty starting with the cancellation of spring practice and a subsequent six-week delay to the start of the 2020 season, St. Ed's football team brushed away all of those distractions with a spirited 35-6 victory in the long-awaited opener against Cedar Creek Christian last Friday night at Michael J. Mersky Field.
In the debut of head coach Mark Gowin, the Pirates dominated the line of scrimmage on both sides of the ball and took advantage of numerous miscues by the visiting Saints. Quarterback Brennan Wolfe tossed a pair of touchdowns to his brother Connor, while Drew Sternberg added two more scores. Dylan Redmon relieved Brennan Wolfe at QB and hit Connor Wolfe for his third TD reception late in the final period.
Gowin was understandably apprehensive about the opener given the threatening circumstances of 2020.
"This has been a very unusual preseason," he told us. "It was difficult enough starting late because of COVID-19 concerns for everyone. In addition, the poor weather we have had has made it hard to have consistent practices outdoors over the last few weeks. As coaches we were very excited to see how our boys responded to competition."
The team kept its focus and Gowin was quickly reassured when Wolfe-to-Wolfe connected from 14 yards out on a slick corner route and Sternberg (77 yards on five carries) sliced in from the 11 for a 14-0 lead less than seven minutes into the game. The Pirates benefited from a short field on both occasions after consecutive botched punt attempts. The first two "drives" together totaled 29 yards.
Sternberg then put on a crowd-pleasing shake-and-bake move for chunk yardage to set up the Wolfe brothers for a 35-yard pitch-and-catch for a 21-0 halftime lead.
Sternberg's second score came on defense when he scooped up a fumbled pitch and danced in to make it 28-0 in the third. Redmon-to-Connor Wolfe capped it off from 30 yards out with 4:07 remaining. Sternberg converted all five PAT kicks.
A schedule that should be at midseason by at this point isn't, but St. Ed's seemed to be in midseason form on the field. That added a semblance of normalcy to the events of the evening. Some things that didn't included the designation of the game as Senior Night (generally reserved for the last home game), no cheerleaders, the home crowd limited to four family members per player – ergo, no student body per se, temperature checks at the gate, a food truck in lieu of the customary concession stand, and facemasks not attached to any football helmets – just to name a few.
There will be no homecoming celebration during the football season (it may take place later during a different sports season) since the schedule has been pared down to five regular-season games prior to the SSAC playoffs.
The planning for this first game was painstaking down to every minute detail. Food service was just one example as explained by Monica Jennings, St. Ed's director of marketing.
"Once we decided to proceed with the football season, there was a lot of talk about how to handle food and water. In the moment, we decided we would offer bottled water and not offer food options because we didn't want people standing around in a crowd and we were concerned about money changing hands, etc.," she said.
"Later I read about the Dignity Food Truck in 32963. I reached out to them and they were really excited at the opportunity to work together (we have a motto that we're a private school with a public purpose), and they solved our crowd and money concerns in an instant. They have a mobile app that allows the user to order and pay through their phones, and it sends a message when the food is ready. Perfect! Homeless people are learning work skills, our 'crowds' have food and drink options, and it's the start of what could become a really great partnership."
As for the team, it had to be gratifying to finally get back on the field and play some real football. And the outcome didn't disappoint.
"I was pleasantly surprised at how well we played considering our late start and the fact that Cedar Creek had already played four games," said Gowin.