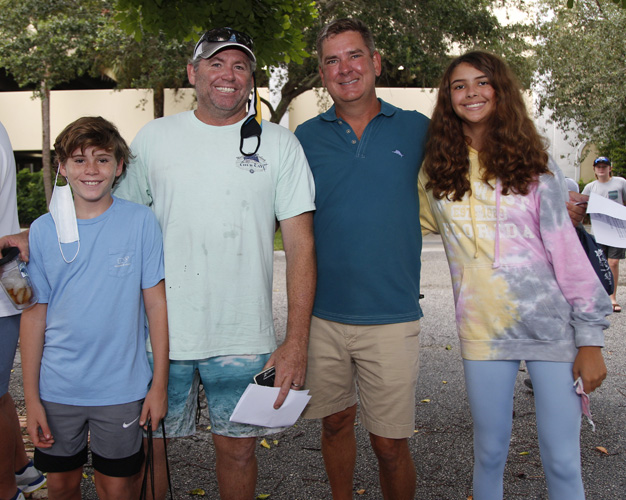 Young anglers clearly made good use of their downtime over the summer, honing their fishing skills in advance of the recent seventh annual Lines in the Lagoon Tri-County Junior Fishing Tournament.
The mission of the nonprofit Lines in the Lagoon is to educate and inspire youth to become passionate about keeping the Indian River Lagoon clean and safe and to engage them in environmental solutions.
There were a record-breaking 146 participants this year, with the anglers catching more than 500 fish, each fish digitally photographed and released back into the lagoon to swim another day. After a day of fishing the lagoon at locations of their choice on land and by boat, families gathered at Walking Tree Brewery for an awards ceremony and celebration.
Youngsters enjoyed dinner from the Good Karma Co. food truck, and sweet treats from Tristan's Kool Dreemz ice cream truck, while adults partook of the craft brews on tap as they perused a variety of auction items and purchased raffle tickets in hopes of winning a Dragonfly paddle board.
This year's tournament raised roughly $20,000, bringing total funds raised over the past seven years to $130,000. Proceeds from the events support programs at the Ocean Research & Conservation Association and Coastal Conservation Association to help with their efforts to improve the health of the lagoon.
Lines in the Lagoon directly supports CCA's Florida Star youth fishing programs and ORCA's Citizen Scientist Fish Monitoring program. Additionally, they helped to catch fish for testing through ORCA's Citizen Scientist Fish Monitoring program. Furthering their impact on the health of the lagoon, LIL members will participate in the International Coastal Cleanup.
The group had planned to expand the fishing tournament to include disadvantaged youth this year, using funds donated by Wheels and Keels to cover the entry fees and fishing gear for Boys & Girls Clubs members. Additionally, the Indian River Power Squadron had been scheduled to take those children out on boats to experience fishing. Although the pandemic prevented this new initiative from taking place, Edie Collins, LIL board president, said they plan to implement the program in the 2021 tournament.
"We do this because it helps spread awareness that we need to do more research about the Indian River Lagoon," said Owen Collins, youth board member. "So that we can keep it safe and clean and have many generations able to continue fishing like I have been able too. It's a way that they can get out with their parents or friends to do something that is fun in the outdoors, and raises money to be able to study different aspects of the river, so we can figure out if there are any problems that need to be addressed."
For information, visit linesinthelagoon.com.
Winners
Grand Champion: Andrew Higgins, 19 snook and one redfish, 350 inches total
First Place Snook: Matthew Vatland, 41 inches
First Place Redfish: August Webster, 28 inches
First Place Sea Trout: Trey Brady, 23 inches
First Place Mystery Fish: Piper Haagenson, 19-inch stingray
Ugliest Fish: Rebecca Brandt, 6.6-inch pufferfish
Largest Non-Premium Fish: Nicholas Rosario, 40-inch crevalle jack
Youngest Angler: Jacques Cherubin, age 4
Photos by: Kaila Jones
Click HERE to see more or buy photos