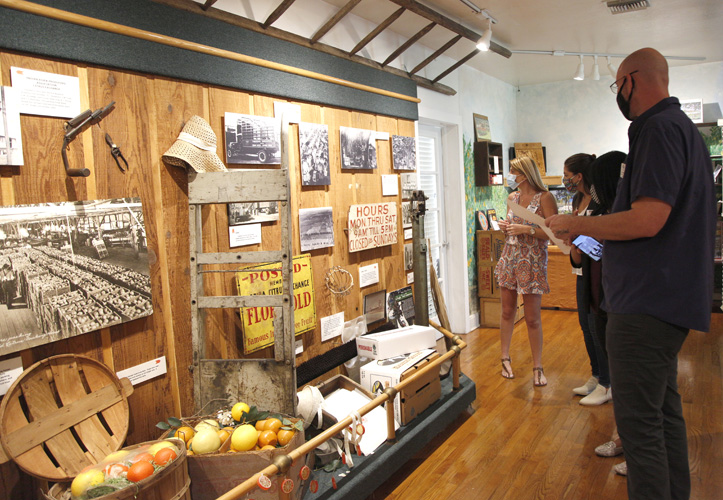 For the past 85 years, the Heritage Center has been filled with music and laughter, continually serving as a social gathering place for everything from weddings and beauty pageants to political debates and concerts. The registered national landmark facility has hosted meetings and theatrical performances, and during World War II served as a club for servicemen and women.
Vero Heritage Inc. is the nonprofit that operates and maintains the Vero Heritage Center and its adjacent Indian River Citrus Museum.
Recently, it was graced with only echoes of bygone days. The facility sat empty for nearly two months due to coronavirus mandates that halted all rentals. For the next five months, it operated at 50 percent capacity; a ruling only recently lifted.
According to Heather Stapleton, executive director, their first cancellation came even before Gov. Ron DeSantis signed his mid-March executive order.
"Then, the cancellations started pouring in. Every single event was canceled for us in April and May," said Stapleton. "We had to close our doors because we weren't considered an essential business."
All told, she said the nonprofit has lost $53,000 in potential income this year, slightly more than 25 percent of their annual budget.
"This calendar year, we have only had 1,319 guests. Last year at the same time, we had 5,382 guests," said Stapleton.
Closures included their three most significant annual events: the Hibiscus Pageant and Hibiscus Festival; the Pioneer dinner – this year to honor the Young family; and the Bridal Show.
To keep the doors open and the lights on, Stapleton requested a PPP loan, funding from the Lillian Becker Family Foundation, an Economic Injury Disaster Loan and a grant from the Florida Humanities.
Continuing with their mission to preserve, educate and celebrate Vero heritage, Stapleton said they have branched out to a wider audience – most recently accommodating a rap concert, a nonprofit's baby shower and a dance studio recital.
"While we are not as busy with private events that book nine months to a year in advance, we have had the flexibility to work with more diverse audiences," said Stapleton. "I think this building and our organization have been given an opportunity to work on becoming an even stronger part of our community. After all, we are Vero's original community building."
Through a grant from the Indian River Community Foundation, the Heritage Center participated in a Jumpstart through Network for Good fundraising mentorship program, which has provided the tools and techniques to increase the number of individual donors and total donations during the pandemic.
Surprisingly, the Citrus Museum's gift shop is doing just as well, if not better than pre-pandemic, said Stapleton. A Heritage Center Jigsaw Puzzle has been a big hit during COVID confinements, and nearly 100 of their appropriately themed citrus print masks have already been sold. One individual has placed an order for 100 more. The gift shop also carries a host of citrus-themed souvenirs and products.
The museum offers a step back into the history of citrus, with photographs of early citrus workers, artifacts, citrus labels and a chronological timeline from Ponce de León's expedition to Florida in 1513 through the citrus heyday and up to greening disease issues.
Admission to the museum is still free, said Stapleton, and they have begun offering private tours for anyone concerned about coming into close contact with others.
Stapleton happily announced that they are moving forward with plans for the Vero Heritage Citrus Label Tour, an outdoor Art in Public Places project to "expand our educational reach."
In decades past, citrus labels were glued to the side of wooden crates to advertise the citrus and the area where it was grown. Depictions of Florida flora and fauna, along with beautiful women basking in the sunshine, were impactful, especially to citrus buyers in the frigid north.
Because the labels are no longer produced, the vintage citrus labels have become collectors' items.
"It really stirs a sense of nostalgia for a lot of people. The packing labels themselves were used until about the early '50s," she explained.
The project, which has been underway for more than a year, calls for 15 4-foot-square signs, each featuring a reproduction of a local citrus label and its brief history. On the opposite side, a QR code (quick response) can be scanned using a smartphone, taking the user to the museum's website for additional historical information.
They recently received approval from the Vero Beach City Council to proceed with the placement of the first three signs, with funding for the design and construction of the first three made possible through a grant from the Tourism Development Council. Stapleton hopes additional funding and sponsors will follow, so they may complete the remaining 12 signs.
The first three signs will be placed outside the Indian River Citrus Museum, the Indian River Chamber of Commerce and the Old Vero Beach Train Station and Museum, said Stapleton, noting the significance of tourism and trains as related to the growth and success of Indian River Citrus.
For information, visit veroheritage.org.
Photos by: Kaila Jones
Click HERE to see more or buy photos