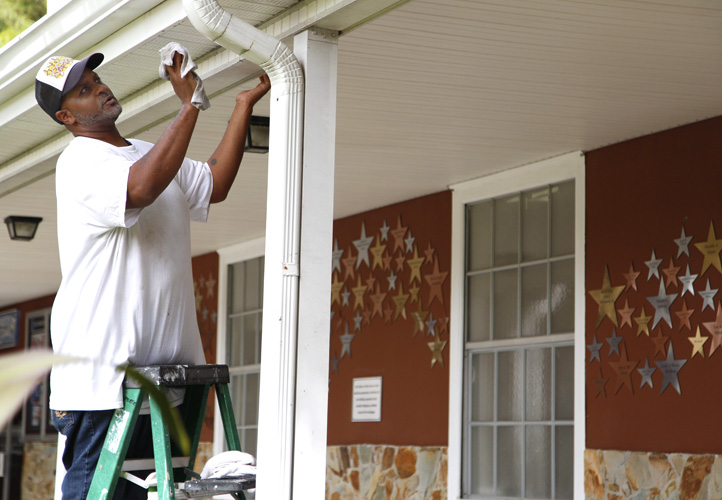 The Vero Beach Theatre Guild discovered something unexpected during the pandemic – they had time to get things done.
With the theater forced to halt productions in March, staff and volunteers have spent the downtime remodeling roughly 75 percent of the theater, paying careful attention to incorporating methods that will keep audience, volunteers, cast and crew safe, says VBTG president Lisa McNamee.
Now, after seven months of the stage being "dark," the lights are slowly flickering back to life at the 63-year-old community theater.
"It's important for a community to have a place where they can express their love for the arts and forget what's going on outside," says McNamee. "Come as a community to smile, laugh, enjoy and be entertained. Especially now."
For sure, the physical changes highlight the lingering effects of the coronavirus; in this case, all for the better.
Audiences at the friendly theater will see seating spaced further apart, shifted aisles, meticulously cleaned chairs, an expanded lobby, and improved air conditioning. The box office has been made more efficient, and contactless for those who enjoy a technically sophisticated bent.
Volunteers, cast and crew will see remodeled administrative offices, expanded volunteer areas and a modernized second floor rehearsal room. In addition, the downstairs green room has been turned into a black box theater, which McNamee expects will enable them to bring in more revenue by presenting events such as offbeat theater, jazz and original play readings.
"This is what happens when you leave the shop guys alone," says design director Jeff Hall. "When the CDC said no gatherings, I put out to the volunteers that we have an opportunity to do some things in the theater. We did it on a shoestring, for a minimal amount."
Indeed, McNamee and Hall estimate the improvements have a value of nearly $75,000. However, because of in-kind donations from a generous community, the cost to the theater was less than $15,000.
With the seats removed, Epoxy Floors restored the building's original terrazzo floors. When Hall and his two-man crew, Jim LaPorte and Gerry Quimby, started pulling out ceiling insulation, they realized the building needed new air conditioning. They turned to Barker Air Conditioning, which stepped up to help keep costs down.
Stones of Italy donated granite shelving for improvements to the box office. Don Smith's Paint and Decorating gave whopping discounts for all the paint needed to turn the interior from a salmon/pink palette to a more desirable neutral one of warm grays.
And Wisconsin-based Davis Company came through with big discounts to reinstall auditorium chairs in a new configuration. The seating has been reduced by one-third, keeping people 6 feet apart. It has the added benefit of perfect sightlines for every seat, with no worry about the person in front blocking your view, Hall says.
"For these people to have given us their time and donations meant that we could complete our vision of providing a safe environment, so patrons will feel comfortable coming back to the theater," says McNamee.
At this point, however, staffers are holding their collective breath, hoping that people who had already purchased tickets will convert them into a newly envisioned flex pass, offering four tickets to any shows in the next two seasons, rather than asking for a refund.
For sure, live theater around the country has taken a financial hit during the pandemic. The VBTG had just opened "Jesus Christ Superstar" when they had to shut it down in March. The show had brought in an avalanche of ticket sales.
They had originally planned to reopen the show in January 2021, but artistic director Jon Putzke received word from the show's publishers that the Theatre Guild's rights to produce the musical were being pulled due to a planned professional tour.
The theater also had to cancel five other 2020 shows, including "Sister Act," another musical expected to do quite well at the box office. The theater ended up losing about 75 percent of its anticipated $485,000 budget.
"We put out a spring appeal letter," McNamee says, adding that checks came in every day. "People were amazing in the money they have given us."
Some of the checks were for $50 and others were for much more. One patron wrote a check for $6,000, then another check for $6,000, then one for $4,000. In addition, grants have come in from the Indian River Community Foundation and Florida's Division of Cultural Affairs.
McNamee also found a couple of items the theater no longer needed. She spent days cleaning and polishing an old piano and an old truck and sold them both.
Of course, in addition to an audience, the theater needs to attract actors and volunteer crew to create … well, the actual product to be sold.
The first way of tackling social distancing on stage is by considering the season bill. For example, knowing the concerns about singing releasing aerosol virus germs further into the air, the musical "Sister Act" has been pushed to April. Hopes are that a vaccine will become available by that time.
Moreover, staging will be key. "Things You Shouldn't Say Past Midnight" pits people facing away from each other. For "Death of a Salesman," the production will be presented in reader's theater style, with actors sitting on stools spread 6 feet apart and facing the audience. "Over the Tavern" deals with a dysfunctional family whose members like to keep their distance from each other.
Other shows, including "Almost, Maine," "A Shot in the Dark" and "Moonlight and Magnolias," will, hopefully, run during a time where people can get closer to one another. But if not, then appropriate staging will be used.
Masks will be required during rehearsals, temperatures will be taken and hand sanitizer will be available. And, if a cast member gets sick, the director can send someone onto the stage to perform "on book" (with a script in their hand).
"It's really amazing what has happened to our theater," says Putzke. "The spirit is incredibly positive. The renovations have helped the morale so much. The biggest issue I see coming our way is what happens when the box office opens. We're all praying. We're hoping that people will stay with us."
Things kick off Saturday, Oct. 10 with three days of auditions for the February comedy "Almost, Maine." In November, the curtain rises on the revival of the highly profitable comedy "Things You Shouldn't Say Past Midnight," which is being used for a soft reopening. The six-show season opens Dec. 4.
The Vero Beach Theatre Guild is at 2020 San Juan Ave., Vero Beach. Flex pass tickets cost $100 for four tickets within the next two seasons. Individual tickets cost $30. Call 772-562-8300 or visit VeroBeachTheatreGuild.com.