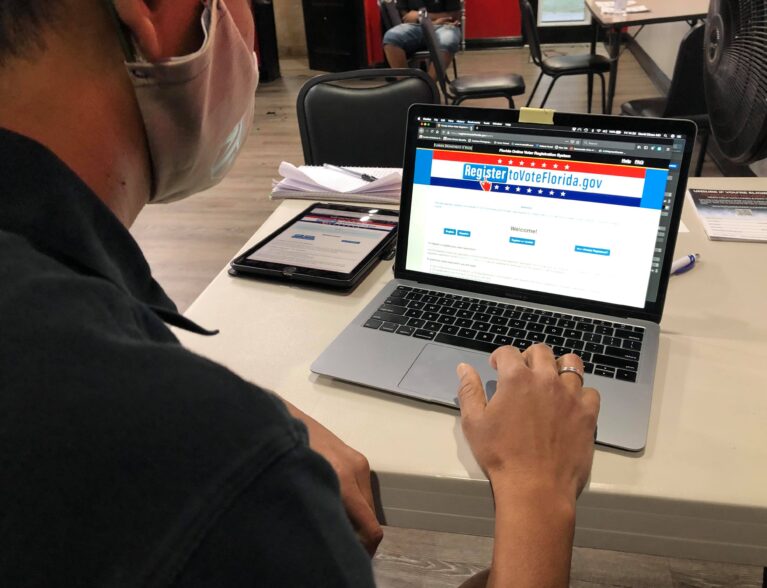 Note: The voter registration event will also be held from 9 a.m. to 6 p.m. Saturday at the same location. Masks are required inside the shop.
GIFFORD — Regina Edmond said her father made sure his family knew the impact of voting and how it could bring about change in the community.
Edmond's father, John Green, volunteered as a poll worker at Gifford Middle School for 10 years when Edmond was a child. Edmond said Green made sure that Edmond and her brother, Clarence, cast their votes when they were old enough to register.
"He just knew it was important," said Edmond, 54, Gifford. "I think our forefathers did a lot to give us the opportunity to vote."
Edmond said she was excited when community organizers reached out to her to help with a voter registration event, held from 1 p.m. to 8 p.m. Friday at John's Barbershop, 2996 45th Street. Those who register at the event will get a voucher for a one-time free haircut, which will remain active up until Nov. 3, election day.
"I was telling everybody about the event," said Edmond, owner of the barbershop, just west of Gifford Middle School. The shop provides traditional cuts, fades, flat top mohawks, faux hawks, brush cuts, Philly afros and more.
The event aimed to increase voter turnout, especially among the African-American community, said co-organizer Vik Gongidi, 42, Vero Beach. Gongidi, another organizer Daniel Wubneh, 40, Vero Beach, and other volunteers used four computers and two iPads to help people with voter registration online.
Residents can also use their phones to get registered.
"In Gifford, the voter turnout has been historically low. We're not sure if it's from a lack of awareness," Gongidi said. "We wanted to give people an opportunity and make it as easy as possible."
Gongidi said anyone can attend the event to register to vote. Gongidi said organizers picked a barbershop for the location because it's a place where people hang out and socialize.
"Barbershops are meeting places where people discuss politics, health and sports," Wubneh said. "It's also a place of comradery and familiarity."
Three of the barbers at John's Barbershop will be providing the free haircuts, Gongidi said.
"You can use it to get a haircut and then go vote," Gongidi said.
Wubneh said it's vital that people take the right to vote seriously.
"A lot of people have died so (African-Americans) could have this right," Wubneh said. "Make your voice heard."
Patron Vontavious Richardson, who was already registered to vote, said his parents stressed the importance of the ballot box early on. Matthew Henderson, who registered to vote at the event and got a haircut, said he supports the initiative to get more African-Americans to vote.
"We need a change, especially with all that's going on, including police brutality and racism," said Henderson, 43, Vero Beach. "Get out and vote."
John's Barbershop
John's Barbershop, a family owned business started by Green, has been in operation since 1965, the year The Voting Rights Act was signed into law by former President Lyndon B. Johnson. The federal legislation prohibited racial discrimination in voting and secured the right to vote for minorities throughout the country without any legal hindrance.
Edmond said she is proud her late father's shop is still running.
"I'm trying to keep it going as much as I can," Edmond said. Edmond said her father died in 1992 at age 90 from health-related issues.
Edmond said she makes sure four of her children who are adults send her "I voted" stamp pictures for proof that they cast their ballots. Edmond said she is open to having the shop as a voter registration site in the future.
Voter Registration
Residents can visit the Florida Online Voter Registration System to get registered. Residents planning on attending Friday's event will need to have their driver's license or identification card, and know the last four digits of their social security number.
Those who register online will complete a questionnaire that will determine their eligibility to vote.
"The goal is to get as many people registered to vote as possible," Gongidi said.
The voter registration deadline for the upcoming 2020 Presidential Election is Monday, according to the Indian River County Supervisor of Elections website. Early voting will take place from 8 a.m. to 4 p.m. from Oct. 19 to Oct. 31.
Indian River County has a population of nearly 160,000 residents, according to the U.S. Census Bureau. There are 123,777 eligible voters for the upcoming election, the supervisor of elections website showed.
The 36 Indian River County voting precincts can be found on the supervisor of elections website.