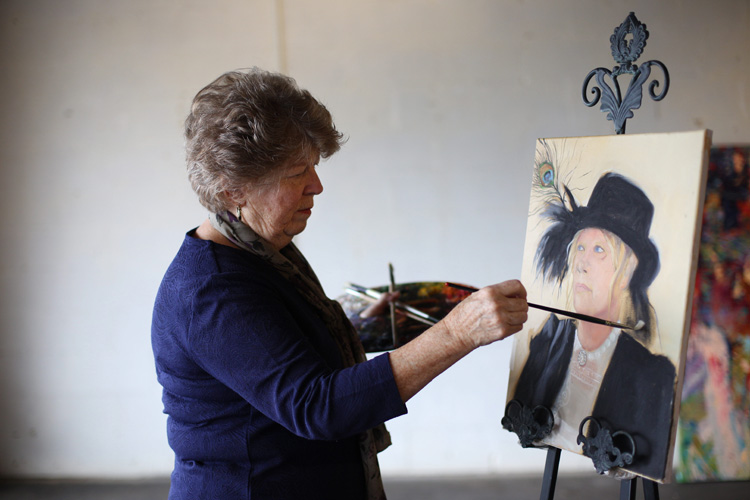 A newly formed nonprofit is doing as its name implies – Keeping the Arts Alive – by offering an abundance of arts-related activities throughout the entire month of November at the Raw Space Gallery.
"Around early to mid-August Camy De Mario and I were talking about how depressing the situation was, with the arts slowing down. Nothing was happening; everything was virtual," says artist and art instructor Judy Burgarella, who with De Mario, a children's books author/illustrator, and artist Beth Siebert created the new 501(c)3 nonprofit.
"So actually it started with Keeping Art Alive and then it evolved into Keeping the Arts Alive. We thought, let's be all inclusive and include some of the other arts that are suffering too, like music, dance and so many other things."
After working up a business plan and determining that the Raw Space Gallery was available in November, they began to seek out artists and talent.
"We all have our little jobs to do. Most of them cross over to each other, but we each bring different talents to the table," says Burgarella. "We have been working day and night; this is a very ambitious project. All three of us are very hard workers; we could work till 2 in the morning, which we have done."
They are finalizing a brochure outlining what they have planned, and details will also be listed on their website.
"It's going to be a lot of fun. It's a lot of work, but I think it's going to be something really fantastic that will open the arts up and still keep people safe. Nobody knew as much in March or even June, but we know how to be safe now," says Burgarella.
Citing the large size of Raw Space, she adds "there's plenty of room for social distancing, we'll have sanitizers and masks and even no-touch thermometers if we feel the need."
Applications from their Call to Artists have begun to arrive, including a piece from a 13-year-old girl.
"We weren't expecting to get children, but the mother called and asked if it was OK. Her daughter was all excited about it and her work is fantastic," says Burgarella, who expects more than 150 entries.
In addition to the art show and sale, they plan to hold tributes throughout the month to honor medical workers, law enforcement, firefighters and first responders, members of the military, veterans, civic leaders and even the airport.
"We're looking for ways we can pay back to the community and to our protective services. They were working overtime, especially our nurses and doctors. This is our way of saying thank you," says Burgarella.
She had painted two portraits pre-COVID that she plans to gift during separate presentations. A portrait of Amelia Earhart, originally slated to be shown during the Vero Beach Air Show, which was postponed due to the pandemic, will now be gifted to the Vero Beach Municipal Airport. Another is a portrait of the anesthesiologist who treated her husband when he was in the hospital in January, which she will present to the doctor.
Throughout the month, De Mario will have book signings and children's art classes, and there will also be art demonstrations and adult classes. A ghostly Indian River Hauntings talk and psychic readings are on tap for Friday the 13th.
"We'll even have a sip and pour, where everybody brings their own booze and you paint, like we've done at the museum. There will be poetry readings by the Laura Riding Jackson Foundation, and we will have open mic that night, too. That should be fun."
Two Christmas parties – one for children and one for adults – will close out the show on Nov. 29.
Instead of holding children on his lap, youngsters will sit in a big circle on the floor and Santa, aka Ron Davidson, who Burgarella describes as "a great storyteller," will roll about in a revolving chair while he tells tales about life at the North Pole.
Everyone involved in the month-long project is doing so gratis.
"We're just dipping in our own pockets for all this, hoping that we get enough entries to pay the bills," says Burgarella.
The local charity Little Birthday Angels, which provides festive celebrations to homeless children, will receive a percentage of art sales, along with any monetary donations and/or donations of unwrapped Christmas gifts.
"We do plan on doing this again. We have a template now and we'll see how this evolves. I think it's a great way to thank everyone for getting us through this pandemic so far. The police have worked tirelessly, and it's been a terrific burden for our civic leaders too," says Burgarella.
"Everybody will enjoy it; they'll feel a sense of coming out and experiencing the joy of art. As an artist we get a lot of our enjoyment from that, and it's basically been shut down. I mean, we could do a little art at home, but we can't get together, can't paint together, or do a show, or help out with artsy things. So, this is going to help us do that in a safe way, and let people know that it's OK to come out and enjoy art again."
She adds ruefully that in this COVID world, the various events are subject to change, but affirms "we are determined that this is going to be a complete success."
The opening reception will take place from 5 p.m. to 8 p.m. during the Nov. 6 First Friday Gallery Stroll. The show will be closed Tuesdays and Wednesdays except during Thanksgiving week, when it will be closed Wednesday and Thursday.
For applications (due by Oct. 22) and event details, visit keepingtheartsalive.com. N
SCHEDULED SPECIAL EVENTS TO DATE:
Nov. 6, 5 p.m. to 8 p.m. – Opening reception
Nov. 7, 4 p.m. to 7 p.m. – A salute to law enforcement and first responders
Nov. 8, 4 p.m. to 7 p.m. – Talk by graffiti artist George Colon
Nov. 9, 2 p.m. to 5 p.m. – Portrait drawing demo & class
Nov. 12, 2 p.m. to 5 p.m. – Artistic pouring demo
Nov. 13, 4 p.m. to 7 p.m. – Indian River Hauntings and psychic readings
Nov. 14, 2 p.m. to 5 p.m. – Laura Riding Jackson Foundation
poetry readings, and open mic
Nov 16, 11 a.m. to 2 p.m. – Dutch pouring painting demo
Nov. 19, 1 p.m. to 4 p.m. – Sip and paint (watercolor) – BYOB
Nov. 21, 5 p.m. to 8 p.m. – Honoring our heroes in medicine
Nov. 22, 2 p.m. to 5 p.m. – A great American art – jazz
Nov. 23, 3 p.m. to 5 p.m. – Portrait demo in oil
Nov. 24, 4 p.m. to 7 p.m. – A salute to our military and veterans
Nov. 29, 1 p.m. to 3 p.m. – Children's Christmas party
Nov. 29, 4 p.m. to 6 p.m. – Adult Christmas party