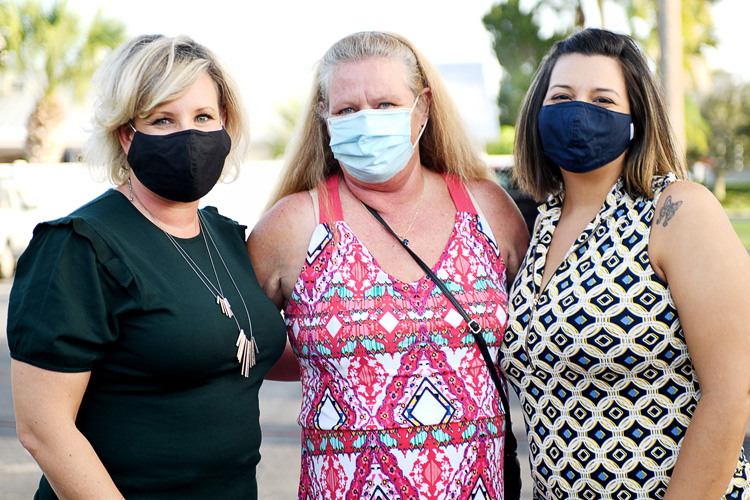 The Sebastian River Area Chamber of Commerce hosted its 27th annual Lifestyle & Media Auction last Tuesday evening at Pareidolia Brewing Company.
The chamber took the Bids & Brews-themed event outdoors this year because of the coronavirus pandemic, and Mother Nature accommodated with a beautiful evening, including a light breeze off the Indian River Lagoon that kept the mosquitoes at bay.
With mugs of craft brew and wine in hand, attendees perused silent-auction items, nibbled on offerings from Woody's Bar-B-Q, and networked with fellow business professionals and owners.
There were also virtual options for those unable or uncomfortable attending public gatherings, involving live Facebook streaming and a virtual auction.
Auction items included radio, print, web and email advertising opportunities, as well as staycation, dining, adventure, health and beauty packages, and baskets of goodies. Auctioneer Wesley Davis worked his magic during the live auction, enticing bidders to up the ante as they vied for more than $22,000 worth of contributed packages.
"We had a total of 42 packages, which was right on par with last year," said Britney Melchiori, the chamber's marketing and communication director. "I was pleasantly surprised by the response that we received when we started seeking contributions for the auction."
Proceeds help underwrite the chamber's operating expenses, keep the cost of dues down, and support the chamber's mission to promote business development, encourage tourism and enhance the quality of life in and around Sebastian.
"Everyone has been impacted by COVID," said Melchiori, noting that the chamber has increasingly shifted to virtual programming for its members.
For example, rather than holding networking luncheons, they introduced a series of virtual "In the Know" talks, featuring speakers from the Department of Economic Opportunity and the Small Business Administration.
With fewer out-of-state tourists visiting the area, Melchiori said they are now focusing on tourists who might drive here from surrounding counties and statewide, places that are near enough for a quick vacation.
"That's the safe way to proceed with tourism at this point," she said. "As COVID gets better, then that focus will shift a little bit further outward to start encompassing northeastern states and possibly Canada."
The chamber is also working on plans for their annual Light up the Night, held during the holidays to promote local businesses. What this year's event will look like is dependent upon the status of the pandemic, said Melchiori.
When Grill Out Night, the summertime version of the event had to be canceled, they instead promoted Sebastian area businesses through a Sizzling Summer Savings coupon promotion.
Currently, their biweekly Concerts in the Park series, rebranded as Rhythm on the River, is scheduled to begin in January, as always at Riverview Park.
For more information, visit sebastianchamber.com.
Photos by: Brenda Ahearn
Click HERE to see more or buy photos