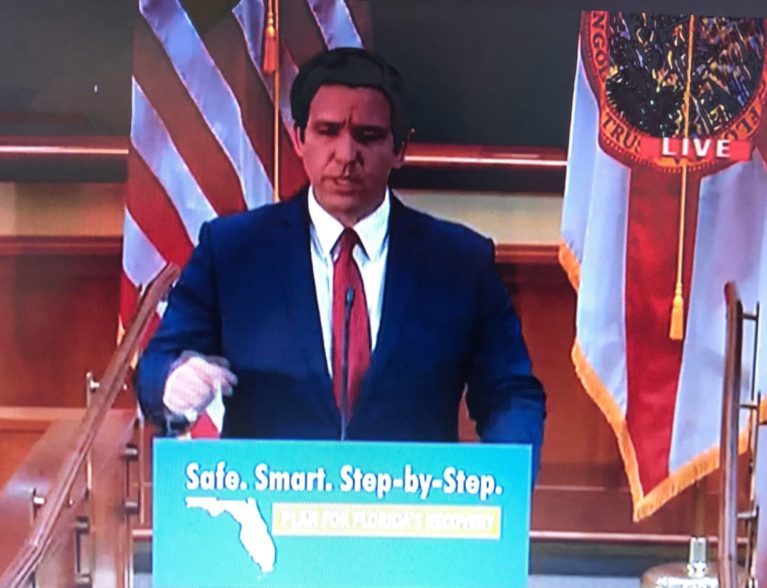 Gov. Ron DeSantis Friday said Florida will move to Phase 3, which allows restaurants and hotels to operate at full capacity.
"We are saying in the state of Florida everybody has an opportunity and the right to work," DeSantis said during a news conference held in St. Petersburg. "Every business has the right to operate."
WATCH LIVE: Press Conference in St. Petersburg https://t.co/UNRoGpBQ70

— Ron DeSantis (@GovRonDeSantis) September 25, 2020
Phase 3, part of DeSantis' "Safe, Smart, Step-by-Step Plan" to reopen Florida businesses, went into effect immediately after the Friday announcement. Phase 1 and Phase 2 gradually reopened businesses – with limited capacity for customers – that were previously closed because of coronavirus public health concerns.
DeSantis implemented Full Phase 1 in May and Phase 2 in June. Under Phase 3, the state will no longer enforce operating restrictions on businesses, officials said.
"I would like to commend Governor DeSantis for his leadership," JT Corrales, Director of Business Development for the local Crab-E-Bills Seafood, said in a statement. "Today is a big step for us in the restaurant industry in the road to recovery. I think this gives us a real fighting chance."
The new order also prohibits local municipalities from restricting the re-openings of businesses. Businesses must be allowed to operate at half-capacity at the least, regardless of local laws, state officials said.
DeSantis said the COVID-19 shutdowns have had a devastating effect on the restaurant industry, causing several businesses to permanently close their doors.
"This has been a crisis like we have never seen before. Businesses have closed, and more than 336,000 people have lost work in our industry," Carol Dover, president and CEO of the Florida Restaurant and Lodging Association, said in a statement.
"I want to thank Gov. DeSantis and DBPR Secretary Halsey Beshears for their support as we have navigated this unprecedented time and for allowing us the opportunity to get back to work. We look forward to welcoming back our wonderful guests and to re-opening the Sunshine State."
DeSantis said the number of COVID-19 hospitalizations in Florida decreased by 76 percent since the cases peaked in July. The governor also said the number of those in intensive care units for COVID-19 related problems was down by 72 percent, and that daily admissions for the virus dropped to 81 percent.
Florida had a cumulative total of 695,887 COVID-19 cases as of Friday, including 14,083 deaths, according to the Florida Department of Health.
This story will be updated.