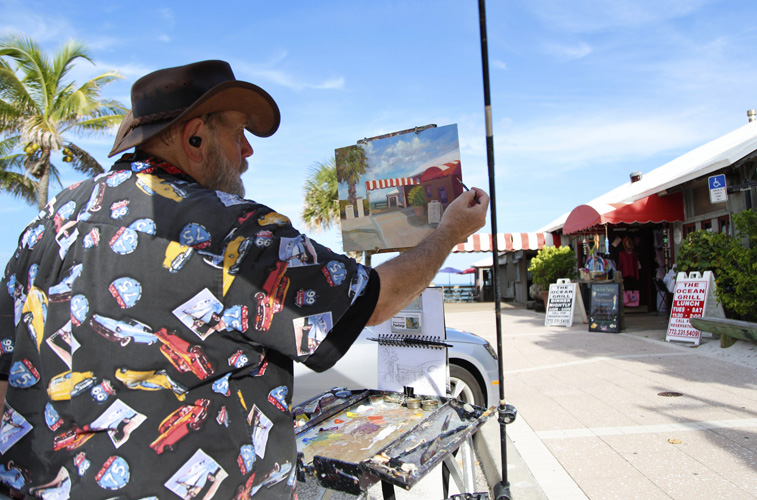 "I've never really minded people watching me paint," says Vero Beach artist James Newman.
That simple phrase is one that artists who work in the privacy of their own studios might find cringe-inducing. But for Newman, a plein air painter, working in view of the public's eye – and accepting random comments – is all in a day's work.
"A lot of people have never seen anybody paint, and how a painting happens. It's fascinating to them," says Newman. He says he is happy to oblige his audience – whether a single bystander or a small group of onlookers – with "a little chit-chat."
People are usually polite in their curiosity.
"A lot of times people ask, 'Can I look? Do you mind?'" says Newman.
"Particularly, if the painting is going well, I will say, 'Yeah, sure!'"
Still, having someone standing there, watching your every move? Seeing you as an interesting bug to examine up close or waiting, as with a high wire act, for the performer to make a disastrous false move?
"Well, no. The painting is the focus when I'm painting, and people are watching me paint," he says, as though that explains everything.
Sitting in the living room of his Vero Beach home, Newman is surrounded by a salon-hung array of his plein air works. Most of them depict the sights on and near Vero's beaches.
His favorite spots include the marina, Sexton Plaza (Newman has painted the entrance to the Ocean Grill, with its distinctive red-and-white awning, a number of times), and Jaycee Beach and environs (including a bright painting of the Seaside Grill as seen from its parking lot).
In one of Round Island Beach Park, he painted a canoeing couple paddling for shore. Behind them is the park's wooden pedestrian bridge, lined with sightseers; the park's viewing tower rises from some trees beyond that.
And while the environs were painted on site, Newman added the canoers later, as a point of interest. The viewing tower, which Newman admits can't be seen from where he stood to paint the picture, was also a late addition. Because climbing that structure is a memorable part of the Round Island park experience, Newman enhanced his painting's sense of place by including it.
Such additions, he says, are an exercise in artistic license. The paintings are the better for them.
The French term "en plein air" simply means "in the open air" or, more simply still, "outdoors." The term among English-speaking artists is not a pretention but a nod to their French forebears. Monet, Renoir, et al. bravely went where no artist had gone before – outside – to paint a landscape from start to finish with all the discomfits of sun, rain, wind and biting insects that the activity entails.
Before the artists dubbed "the Impressionists" changed everything, landscape painting was not about portraying the messy, gaudy, exhilarating qualities of nature that we now expect in a landscape painting.
Sure, artists P.I. (Pre-Impressionism) sketched and painted from nature, but always retreated to their studios to paint landscapes from scratch, using their outdoor sketches as throwaway notes. For those artists, an "acceptable" landscape depicted what their audience of peers, critics and collectors ascribed to nature: primeval grandeur, unassailable dignity and Garden of Eden-style innocence; perhaps with a dying stag or Good Samaritan thrown in for pathos or moral uplift. All this was achieved by using cheerless earth colors; that is, pigments made from refined clay and natural iron oxide, often applied over a brown-primed canvas.
Plein air painting, which became respectable some 150 years ago, has since spawned its own set of expectations. A bright palette is one, the use of color in areas of shadow is another. A subject that is interesting in and of itself, seen at a specific time of day under the climatic conditions of the moment, is another.
Consider Newman's painting of the St. Augustine lighthouse; not to be confused with the brick-red cylinder of the Jupiter lighthouse (Newman has painted that one, too). The St. Augustine model is defined by the graphic black and white stripes that spiral up its shaft to a shiny red lantern. In Newman's painting, the lighthouse is set against a glimpse of azure above a mass of low-hanging clouds. The pinkish-purple hue of the latter belies what might be a streak of lightning in the distance.
Newman explains, "I use a broad, full palette, of all the primaries" in both warm and cool variations.
His paint box contains purplish-red alizarin crimson, cadmium red light (the color of a glowing ember) cool ultramarine blue, warm cobalt blue, dusky yellow ochre, and cadmium yellow light (blindingly bright and cold). Newman sometimes uses secondary colors, including cadmium orange and viridian. The latter is a green hue brighter than any he can mix from the blues and yellows he favors.
Newman occasionally uses earth colors, burnt-looking sienna reds and brown umbers, "as a convenience," but he prefers to mix brown hues from his basic palette of red, blue and yellow.
He credits that palette to the instruction of landscape painter Eliot McMurrough.
"I studied with him for about five years in all. Learning how to see color, how to mix colors, was strictly with the primaries."
That was in the first half of the 1970s. Newman was then a young teen living with his parents, James and Marlis Newman (the latter with an artistic reputation of her own), in Satellite Beach. McMurrough's eponymous art school was in Indialantic, a mere 12-minute drive south on A1A from Newman's home.
His was "a certain style of painting where you learn to paint from life," notes Newman, who says that a lot of his training was outdoors, rather than in the studio. Under McMurrough's instruction, Newman got an early, and enduring, feel for Florida's unique landscape.
Newman eventually continued his study with McMurrough's teacher, Henry Hensche. Born in Germany, Hensche grew up in Chicago and attended the School of the Art Institute, where he heard from fellow students of painter Charles W. Hawthorne and his Cape Cod School of Art. Hensche made it to Provincetown in 1919, where Hawthorne became the young man's mentor. After Hawthorne's death in 1930, Hensche opened a school of his own in Provincetown where, some 45 years later, young James Newman rolled up for study in the mail truck he purchased in Florida and converted into a mobile studio and living quarters.
"I stayed a year there; that was in 1976. It was a good experience."
Glancing at his wife Susan, sitting beside him, Newman cautiously adds, "I wasn't married then, though. It probably wouldn't work today."
For the record, Susan emphatically agrees.
While some plein air painters favor landscapes with little or no human presence in them (no buildings, roads, crowded beaches or popular eateries), Newman asserts that he is an omnivorous painter, as ready to paint a people-less expanse as a townscape.
Perhaps Newman's most engaging paintings are those in which he depicts people in environments that are partly natural, partly manufactured; partly painted en plein air, and partly painted in the studio. One of these is a view of the boardwalk that runs along Conn Beach, complete with idlers above and beach walkers on the sand below. Newman calls his creation, "Vero Beach People."
"That one I did en plein air without the people. I did the waves, the structure, the shadows, but I was also taking photographs at that time of the people," he says.
Back at the studio, Newman studied his snapshots to choose the figures with which he would populate his painting, trying the figures here and there before placing each person in just the right spot.
One of these, standing on the boardwalk at the far left side, is a white-haired man in a windbreaker and shades who stares insolently out of the picture at us.
You can almost hear him grouse, "Artistic license? Harrumph! – Some things never change."