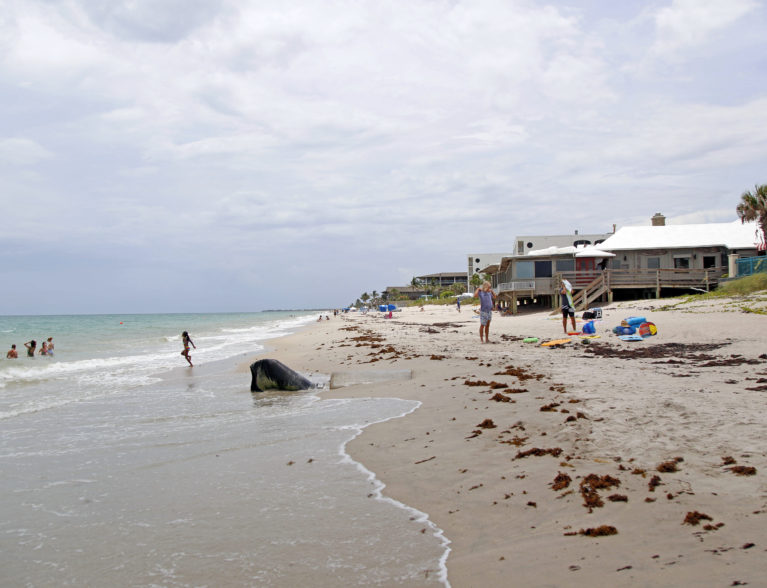 The Indian River County Commission Tuesday decided to proceed with at least partial restoration of storm-eroded sand and dunes on the northern beaches of the barrier island this year, but delayed work along South Beach until next year.
Despite months of mailings, phone calls, canvassing by community groups and a public webinar, the county only managed to secure about half the private property access easements it needs to completely restore the beaches from Seagrove south to the Moorings– a two-mile stretch known as Sector 7. 
So commissioners decided to hold off on that portion of the project until the fall of 2021.  The postponement jeopardizes some $5.7 million in state and federal grants earmarked for that portion of the project that could be awarded to some other entity.
Meanwhile, in so-called Sector 3, which extends 6.6 miles from Treasure Shores to Turtle Trail beach park with about 77 percent of private access agreements completed, commissioners tentatively awarded the contract to the low bidder, Ahtma Marine and Construction, for $17.1 million. 
If Ahtma doesn't execute the contract within 15 days, then the county will re-bid the restoration of the northern portion of the Sector 3 project from Treasure Shores to SR 510 to begin this year and delay the southern section until the fall of 2021. 
It's not known how splitting the project might impact about $10 million the county expects to receive in federal and state grants.
The county, with help from local community groups, has been trying for months to secure as many as 90 percent of private access agreements in both sectors in order to restore sand cover and dunes evenly and avoid cliffs and gaps. 
It's not known why some property owners have balked. County officials say repairing the storm-battered dunes and adding sand protects upland homes and businesses and enhances sea turtle nesting.