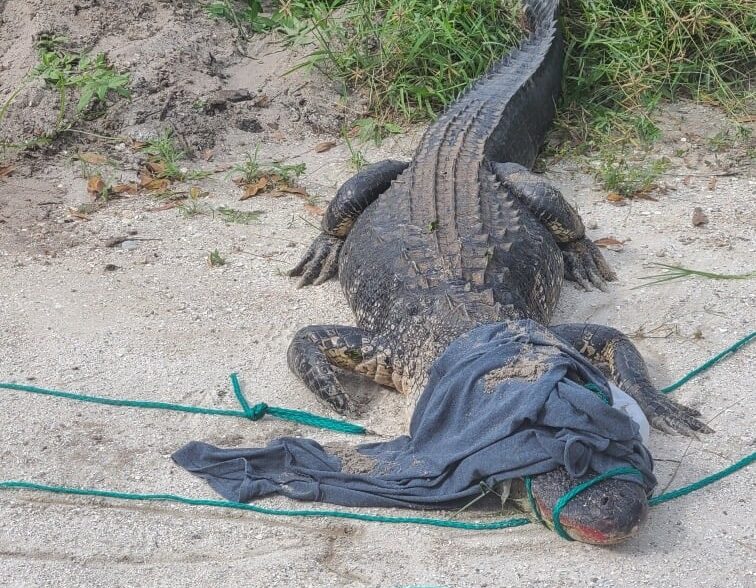 FELLSMERE — Professional fisherman Jason Viljean was hunting for catfish Friday when something underneath the water grabbed his leader line and took off fast.
"It snatched my line and ran," said Viljean, 38, Fellsmere, who has fished since he was a child.
Viljean would later discover the freshwater creature was no catfish, but instead a 7-foot long alligator, weighing from 180 to 200 pounds. Viljean, who has been around wildlife for most of his life, said he wasn't scared of the gator.
"It was a thrill," Viljean said. "I haven't seen gators at that canal before."
No laws were violated in the incident since it was an accidental catch, Fellsmere police and Florida Fish and Wildlife Conservation Commission officers said.
Residents who plan to hunt alligators in Florida need to have an FWC license, Fellsmere police Officer David Dozer said. Violators could face a third-degree felony charge, FWC officer Chase Platt said.
No injuries were reported in the incident.
Viljean was fishing at a canal about 4 p.m. Friday near 99th Street and State Street in Fellsmere, not far from his home. The fisherman said he was searching for catfish to bring to a pond at his aunt's home.
Viljean had already caught a couple of catfish and pulled them up out of the water. The fisherman put four pieces of chicken liver bait on the hook, attached to the leader line and a long nylon rope.
Viljean lowered the line by a drainage pipe to catch more fish. Then, the line took off.
Viljean said he pulled the rope and then, to his surprise, saw an alligator splashing, spinning and rolling.
"It was like tug of war," Viljean said. The gator eventually got tired in the water, Viljean said.
Viljean still had 30 to 40 feet of rope left. The fisherman, who was on a high bank, said he tied a lasso and tossed it at least six times in the water 4 feet below.
Viljean tossed the lasso again, which landed around the gator's mouth and snout. The fisherman said he pulled the rope tight to shut the gator's mouth.
Viljean used the rope to pull the gator up onto the bank, all while maintaining a safe distance from the animal. The fisherman took off his shirt, tossed it over the gator's face, and then called 911.
"It laid there like it was dead. It didn't move a muscle. It was just breathing," Viljean said. "I knew not to shoot it or kill it."
Police and professional gator trapper Garrett Abernathy arrived at the scene. Viljean said he learned the gator swallowed the hook.
Abernathy taped the gator's arms and mouth and took it to an alligator farm to be harvested, officials said.
Alligator hunting season runs from Aug. 15 to Nov. 1 each year. Those who want more information on obtaining permits to hunt alligators should visit the FWC website.