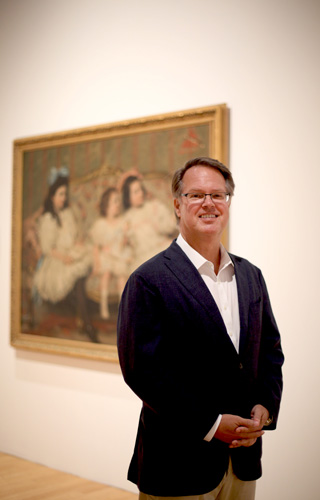 A recent acquisition to the Vero Beach Museum of Art collection is a delightful blend of art history and Florida history, sweetened with family ties to Vero Beach. The portrait painting of three charming sisters was confected in 1907 by American artist Henry Salem Hubbell in Paris.
Ah, Paris! Only your classic desserts – le macaron, l'éclair et le millefeuille – can equal the rich delectability of this work of art. The 52-inch-high, 66-inch-wide oil on canvas, served up in a gilded frame, was commissioned by the little girls' doting father, Winchester Fitch.
The Fitches were truly a gilded family of the Gilded Age. Winchester Fitch was a lawyer in New York City with a home on Park Avenue and a country house in Greenwich, Conn. He traced his Fitch ancestry in the New World to a passenger on the Mayflower; others of his forebears had roles in the founding, governance, industry and fine arts of the United States.
He and wife Florence (née Hopper) and their girls were staying in Paris when Fitch met Henry Salem Hubbell and commissioned his daughters' group portrait.
Hubbell and wife Rose, whom he met when both were students at the Art Institute of Chicago, had come to Paris in 1898 so that Hubbell could polish his style at the Académie Julian. His teachers there were the suavely proficient painters William-Adolphe Bouguereau and Jean-Paul Laurens.
Hubbell soon left that stodgy scene to study under James McNeill Whistler at Whistler's own art school in Paris. The master of tonalism paid Hubbell a high (and rare) compliment when he said, "One day you will be called a great colorist." Hubbell soon gained notice in what was then the art world's center, when he received an honorable mention at the Paris Salon of 1901; his work appeared in the annual Salon for the next seven years.
By the time Fitch met Hubbell, the latter's work had received favorable review in the Parisian press, with one critic going so far as to compare Hubbell with 19th century leader of the Naturalist School Jules Bastien-Lepage, a painter regarded as continuing in the realist vein of Gustave Courbet. By 1908 Hubbell was an associate of the American Impressionists colony in Giverny, France. Before his 1910 return to the United States, the French government purchased one of Hubbell's paintings from the artist's last exhibition in Paris (it sold out).
Not bad for a boy born in Paola, Kan., on Christmas Day, 1870.
Hubbell's painting of the Fitch girls foretold his successful career as a portrait painter. It also shows off some of the ideas he learned from his teachers, the time he spent living in the most culturally sophisticated city of its time, as well as Hubbell's own observations of the girls' personalities.
The Fitch sisters were in their childhood when Hubbell painted them. The portrait emphasizes the sisters' physical relationship; they shared dark eyes and ivory-pale faces, with flushed cheeks and full, red lips. Similarly dressed in frilly white frocks and seated on the brocaded cushions of a Louis XV-style sofa, the girls look as frothy as whipped cream blossoms on a birthday cake.
The two eldest children, 10-year-old Alta Jane and 8-year-old Katherine, bookend 3-year-old Dorothy who, with dolly clasped to her side, watches the antics of a paper butterfly on a wire manipulated by Katherine. Katherine leans in toward Dorothy, who also looks up at the fluttering toy.
The butterfly occupies the upper right corner of the picture and at first glance seems to be unconnected to the girls. It seems to be decorative thing in the composition, not unlike the famous butterfly monogram of J.M. Whistler. Hubbell had been profoundly influenced by Whistler's art even before studying with the master. By the time Hubbell was painting the Fitch children, Whistler had been dead four years. Could it be that, in the guise of a dainty plaything, Hubbell snuck homage to his teacher into the portrait?
Hubbell was also capable of showing us something more about his girlish subjects than a competent rendering of their faces and forms. That's where psychology comes in.
Hubbell shows the eldest girl, Alta Jane, sitting as far away from her sisters as is possible on the tiny sofa. This placement may have been a comment on the relationship, as Hubbell saw it, between the sisters. Sitting up straight and tall and already quite the young lady, Alta Jane holds an open book in her lap. Clearly, she is the studious, no-nonsense one; the one who takes charge when Mother is not around to watch the children. Like her sisters, Alta Jane is in clad in white lace, but the ribbon sash around her waist and the bow in her hair are an assertive shade of blue, while her sisters' trimmings are pink.
When the Fitch family left Paris for the United States, the painting traveled with them. It resided for a while, says Vero Beach Museum of Art curator Anke Van Wagenburg, in the family's house in Connecticut.
But another get-a-way away home was already in the works, this one in an obscure winter playground called "Vero" in Florida.
Winchester Fitch built the house he called "Orchid Oaks" in 1919, in "Riomar" (he is credited with creating the name which means 'river to sea' in Spanish) on Vero's barrier island. Hard to think of the Fitch family as "pioneers," but in the Vero Beach history books, they were, even though pioneer life included Winchester and Florence entertaining the likes of President Warren G. Harding. By then, the Fitch sisters were young adults.
The painting eventually descended to Elizabeth (Liz) Phillips Marshall, who donated the painting to the VBMA. Her sister, Suzan Phillips, is another well-known Vero Beach resident; their mother was Katherine (Kitty) Fitch Phillips. In 1986 Dorothy Fitch Peniston, also a Riomar resident, wrote "Island in Time," her memoir of life on the barrier island. Alta Jane "A.J." Fitch Hotchkiss was a winter resident of Vero Beach, from 1920 onward.
Van Wagenburg is uncertain which of the sisters, who all lived into the 1990s, had custody of the Hubbell portrait after their father died, but she does know that it was on display for a number of years in the early days of the VBMA (then called Vero Beach Center for the Arts).
"I feel the painting has come home again," says Van Wagenburg.
"Somewhere in our archives is a picture of the sisters as old ladies, seated under the portrait of them as girls." As in the painting, Dorothy, clutching her childhood doll, is seated between her big sisters, Alta Jane and Katherine.
After returning to the United Sates in 1910, Henry Salem Hubbell, with wife Rose and son Willard in tow, lived in Chicago, New York City (with a summer home in Silvermine, Conn.) and Pittsburgh (where Hubbell headed the Painting Department at Carnegie Institute of Technology).
The Hubbells moved to Miami in 1924; Henry died there in 1949. His career during that time included painting portraits of distinguished men, including Chief Justice Harlan Fiske Stone, President Franklin Delano Roosevelt and President Herbert Hoover. Hubbell also continued to paint the figural works that first gained him fame, featuring lovely young women, stylishly dressed.
Van Wagenburg says that it was unusual for a painter of Hubbell's accomplishment to settle in Florida "instead of New York City or Boston."
Former VBMA curator Jay Williams also pondered Hubbell's career choice. In the late 1990s, when Williams was curator at the McKissick Museum of the University of South Carolina, he wrote the catalog essay for an exhibition titled "The Figurative Paintings of Henry Salem Hubbell: An Elegance Rediscovered," which was adapted for publication in the September/October 1998 issue of American Art Review.
In it, Williams identified Hubbell as "one of the least known of the Giverny Circle of American Impressionists" who, unlike his American colleagues in France, Richard Emil Miller and Frederick Carl Frieseke, might be better remembered today if "he had lived out his life in [New England], the Midwest or even California. Instead, Hubbell left his New York and Connecticut studios … to live in Miami, traveling outside Florida primarily to take portrait commissions."