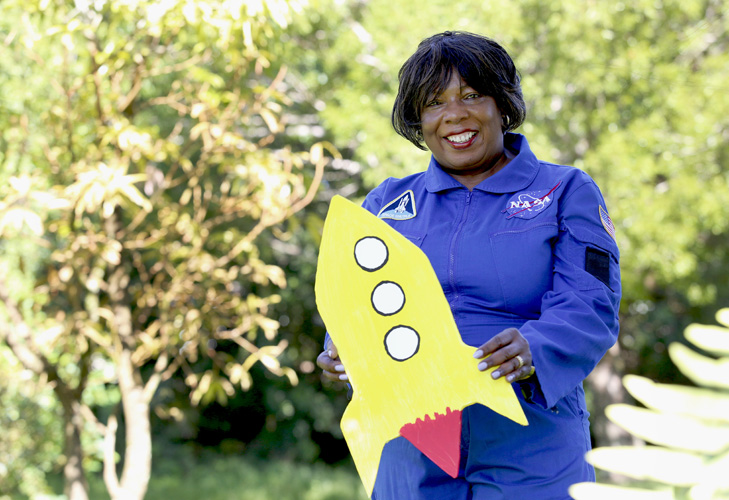 Despite the pandemic, Margaret Ingram, executive director of the Science Institute of Discovery, launched her summer science institute for minority and disadvantaged students into the stratosphere this year. Ingram founded the science education nonprofit 20 years ago to empower students to reach for the stars.
Rather than viewing the pandemic restrictions as a barrier to sharing her love of science with an overlooked segment of the population, Ingram saw it as an opportunity to take the children on a virtual trip "to infinity and beyond."
No stranger to adversity, Ingram grew up in Wabasso as one of 11 children. Her mother died when she was 6 years old and her father left them when she was just 8 years old.
Ingram said she tells her minority students, "You might be thinking that all you want to do is play basketball or football or cheerleading, but I know there's a much better academic future for you if you go to college. If this girl from Wabasso dirt can get through college with no parents and you've got half of a parent, you've got 50 percent more than I had at that time."
Ingram has been blazing trails her entire adult, retiring from teaching after 35 years with the School District of Indian River County. She has been honored over the years as Florida Teacher of the Year, Hospital District of IRC appointee, Indian River Teacher of the Year, Florida Ambassador for Education, Christa McAuliffe Ambassador for Education, and Disney Teacher of the Year.
It was while teaching at Beachland Elementary School that Ingram recognized that girls were less likely to pursue the sciences than boys.
"The children loved science, but I saw a lack of confidence in my girls," said Ingram. However, they became increasingly self-assured when she provided additional opportunities for the girls to "get their hands on things."
As time went on, Ingram realized this lack of scientific interest and confidence extended to minority students as well; primarily the result of a lack of opportunities.
"When I was a child, segregation prohibited us from going too far across the train tracks," she said. Later, even with the Environmental Learning Center "right in their backyard," they were constrained by a lack of transportation and other factors.
"I knew that something had to be done to motivate these students to learn science," said Ingram. And she was just the person to do it.
Using connections she made over the years, Ingram has built a cadre of resources in the scientific community, enabling students to interact with professionals from the U.S. Horticultural Laboratory in Fort Pierce, Environmental Learning Center, Harbor Branch Oceanographic Institute, Indian River State College, Florida Atlantic University, Florida Institute of Technology, Center for Advancement of Science in Space, Treasure Coast Animal Emergency and Specialty Hospital, Piper Aircraft, Ocean Research and Conservation Association, Sally Ride Science program and the Kennedy Space Center.
Each summer, SID provides mentors, role models and exercises in STEAM (Science, Technology, Engineering, Art and Math) fields to foster interest in scientific careers that could improve their lives and those of future generations.
Robotic engineering, coding, space travel, environmental science, web development, and mechanical and electrical engineering are just some of the areas Ingram has introduced to her students.
For the past few years, Ingram conducted SID programs at the Gifford Youth Achievement Center, but this year, CDC guidelines limited the number of students who could attend. Instead, taking advantage of the fact that students were already familiar with school being taught virtually, Ingram made adjustments to the program and took it online.
Ingram also capitalized on her connection with the Learning Alliance as its lead Reading Captain, and integrated a literacy component into her program that included reading, writing, speaking, research and publishing.
The Learning Alliance supplied books for students to read prior to each virtual field trip.
She took them on an unexpected virtual journey to South Africa, where they befriended students from Youth Potential South Africa. Both groups read "There Must be a Rainbow," a book about positivity in the face of adversity, and developed pen-pal relationships that had the added benefit of helping their new friends to improve their English skills.
Two guest speakers – one living in Guyana, and the other now in the United States after having spent time in a Liberian refugee camp – spoke about life in Africa and their experiences as coders. Additionally, through the book "The Boy Who Harnessed the Wind," the students learned of a small village where one young Malawian boy built a windmill to save his village from famine, which segued into studying mechanical engineering using pinwheels.
Another opportunity came with the announcement that SpaceX was launching two astronauts to the International Space Station. After reading "Chasing Space," they participated in a two-part virtual course with Leland Melvin, a retired astronaut in "Chasing Space: Science and Life Lessons."
While constructing models of the International Space Station, they were treated to virtual guest visits from two SID alumni: Aaron Jordan, Life Sciences Glovebox facility operator at Teledyne Brown Engineering, and Austin Jordan, communications manager at Made in Space. Both served as inspirational examples of the possibilities available to students interested in scientific careers.
Ingram's own son, George, taught a Zoom session on coding from California, instructing the students on how to add lights and music to their space station models. The students practiced their coding with Artie 3000, an art robot, incorporating in math and art.
In lieu of a traditional graduation, students stopped by Ingram's home – masked and socially distanced – to pick up certificates, a celebratory meal, a bag of books, and ELC 'Nature Near You' kits to continue using their exploratory skills.
"COVID-19 opened up the world to everybody," said Ingram. "Before, I was confined to that one little space at Gifford Youth Achievement Center and the places we could physically visit. This year I was able to take the students beyond Indian River County, across the globe and into space."
For information, visit sidinc.org.
Photos by: Kaila Jones and Stephanie LaBaff
Click HERE to see more or buy photos