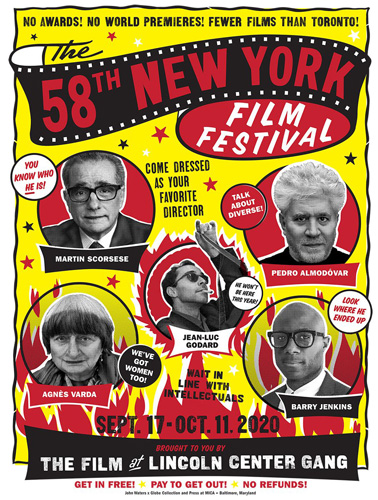 You're probably in a mood for something new. After all, no matter how brilliant Showtime's "Billions" and HBO's "Succession" are, there's only so many times you can re-watch these lavish shows without knowing the script by heart. So, time to open your mind to something decidedly new and different. Coming to the rescue is the New York Film Festival 58, which runs Sept. 17 to Oct. 11.
Be sure to plan ahead for this one. In fact, you'll want to go online and determine which of the many great films in this cinematic treasure trove you'll have time to see. By the way, one of those is the Spike Lee film of David Byrne's celebrated Broadway show, "American Utopia," which will be screened virtually Oct. 4 to Oct. 9. Certainly, festival founders could not foresee drive-in screenings, nor screenings on something that would be known as "the Internet," that wonderful democratizing invention which, no matter where you are, allows you to partake of one of New York City's best arts events.
The festival presents a variety of sections: Main Slate includes films like Chloe Zhao's "Nomadland" starring Frances McDormand and David Strathairn; Currents section takes a look at contemporary cinema and its emerging voices worldwide; Spotlight section has sneak previews, gala events and other special goodies, like the David Byrne film, Pedro Almodovar's "The Human Voice" starring Tilda Swinton, and Sofia Coppola's "On the Rocks" with Rashida Jones, Marlon Wayans and Bill Murray; and Revivals explores films in previous festivals, such as "Meeting the Man: James Baldwin in Paris," which screens Oct. 11-16. Virtual cinema tickets are $15 for the Main Slate, $12 for Revivals, Currents and Spotlight screenings.
But really, the best thing is to take advantage of the curated bundles. You can get a seven-film documentary sampler for $85; seven-film Returning acts films for $85; a six-film "Discoveries" bundle for $70, which will let you see films by emerging voices; an 11-film all-access with eclectic mix for $75; and a 13-film plus eight short programs for $150 all-access, which comprises a diverse mix of new and innovative films. Tickets go on sale 2 p.m. Friday, Sept. 11 for both drive-in (for your friends and family living near Brooklyn or Queens, N.Y.) and virtual cinema platforms. Now. Get your calendar out and head to the Lincoln Center's film website to decide which films you'll see, FilmLinc.org, then scroll down and click onto 58th New York Film Festival.
The Space Coast Symphony Orchestra presents another of its popular "Drive-In" concerts this weekend. It's "Fan Favorites Redux" and it begins 7 p.m. Friday, Sept. 11, at the Pathway Church parking lot. This concert features principal trombonist Alexis Regazzi performing the virtuosic showpiece "Blue Bells of Scotland." The sweet thing about these drive-in concerts is that music lovers can remain in their car or bring some folding chairs to place outside during the concert. Musicians also keep their distance via physical barriers. Tickets are $10 per person or $25 per carload. Free to children 18 years and younger. The orchestra strives to limit physical interaction, so they request that you purchase tickets online by calling 855-252-7276 or visiting spacecoastsymphony.org. Pathway Church is at 1105 58th Ave., Vero Beach.
Nothing like a brief respite out of town to help vanquish the virus blues. Travel & Leisure magazine has a great selection of Florida hotels an easy drive away. While you'll probably want to wait for the Breakers in Palm Beach to get their fabulous (and oh-so-expensive) Sunday brunch back up and running, you can always forgo the dramatic sunrises and instead luxuriate in gorgeous sunsets, by heading west to the Ritz-Carlton, Naples. Situated on the Gulf Coast, there's a Greg Norman-designed golf course, an interactive environmental children's program, a spa with more than 30 treatment rooms, wellness and nutrition programs, a fitness center and so much more. And you'll probably need that fitness center given the easy accessibility to the Ritz-Carlton's eight dining experiences. The Ritz-Carlton Naples is at 280 Vanderbilt Beach Rd. Call 239-598-3300 or visit RitzCarlton.com. But wait … did you know you can stay in town and still visit one of the best? The Kimpton Vero Beach Hotel & Spa eked out a No. 15 spot on the list. We recently wrote about its "Live Music" series. So, if you need a getaway from your own four walls, despite how divine they might be, then get out and get a different point of view and refresh that spirit. Kimpton Vero Beach Hotel & Spa is at 3500 Ocean Dr. Call 772-231-5666 or visit VeroBeachHotelAndSpa.com.