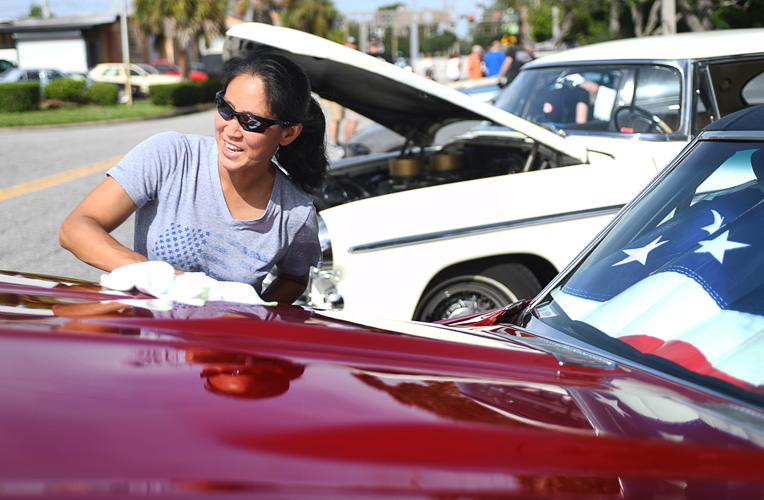 Car enthusiasts revved their engines and made their way to the Elks Lodge for a Summertime Car Show sponsored by the Vietnam Veterans of Indian River County. The show took the place of the 10th annual Father's Day Car Show, which was pushed into the summer due to the pandemic shutdown.
Proceeds support the veterans' assistance and housing programs provided by the Vietnam Veterans of IRC, a subset of the Veterans Council of IRC.
"We've got about 38 beds now where we're able to house veterans," said event organizer Craig Waskow, a Vietnam veteran and Elks Lodge member. Recently, he said, they have concentrated on providing those homes with furnishings, kitchen necessities and "creature comforts."
The group also assists veterans to readjust to civilian life and support themselves by connecting them with needed services and benefits.
"People need housing and assistance with jobs so they can get on their feet. It's our mission to get them under a roof. If we can help them get benefits from the government, it helps to defray their housing costs," explained Waskow.
In February, VVIRC members conducted Operation Stand Down, venturing into the woods in search of homeless veterans, providing the homeless with sleeping bags, tents and food, and bringing them to the First Baptist Church of Vero Beach for a hot meal and clean clothes.
"We're what we call 'boots on the ground.' It's a payback for their service," said Waskow. "We all survived with small maladies. We just want to be out there to offer a helping hand, a kind thought and to see what we can do to help people."
A wide range of more than 110 cars lined the street and filled the Elks Lodge parking lot, each with a story of its own, which gearheads were happy to share.
Youngsters were drawn to a 2018 Dodge Charger, the baby of the bunch, while a 1928 Chevy Woody drew the attention of the more mature crowd. Sweet rides like a candy apple-red 1970 Buick Skylark convertible held its own alongside a 1951 Studebaker, and a 1968 El Camino stirred a debate over its age-old question, "Is it a car or is it a truck?"
Meetings are held at 6 p.m. the first Wednesday of the month at the Vietnam Veterans of IRC office, 696 8th Court. For more information, visit vvirc.org.
Photos by: Brenda Ahearn
Click HERE to see more or buy photos