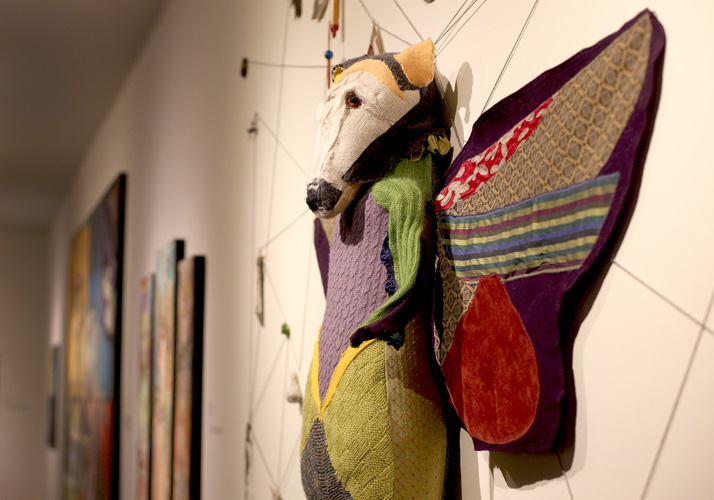 Playfulness and provocative thought run through "Animal Nature: Recent Works by Linda Mitchell," on view through Oct. 24 at the Foosaner Art Museum in Melbourne. The exhibit comprises nearly three-dozen paintings, sculptures and mixed media work. The show is excellent, one of the museum's very best.
It is colorful and exuberant, filled with artistic merit and thought, but at its heart, this hopeful exhibition, filling the walls of a museum soon to close, echoes with quiet poignancy.
Initial plans were that the exhibit would be presented during the summer camp for children, which never came to be thanks to the pandemic. As a result, the show was postponed until everyone felt confident that facemasks and social distancing could protect patrons and staff alike.
The majority of the works in "Animal Nature" are large format, with delightful whimsy and soulful thought working together, making it as well suited for young viewers as it is for adults.
The show displays some of Mitchell's series:
• "Quartets" are works formed by four large paintings grouped together into a quadriptych to look at an animal's multiple facets;
 • "Quilt Tapestries" are mixed-media paintings exploring love and family in playful ways (notice the legs and feet on the little houses);
 • "Terra," a short film, becomes a gentle visual poem using the artist's words and imagery set to music;
 • Installations the artist calls "visual poems" reflect on big ideas.
But the real power here comes from an unexpected place: the concurrent exhibition of several objects from the museum's permanent collection.
Indeed, this smaller exhibition propels "Animal Nature" into high relief. The two exhibits bridle a hopeful past and an artist's caution about the force of nature. It is an ironic installation for the Foosaner, which is set to permanently close on July 1, 2021.
Curating both exhibits was Carla Funk, former director of museums for Florida Tech, which owns the Foosaner and has sold the property to a developer with plans to knock down the building to make way for a hotel. Funk took early retirement last month.
Funk began talking with Mitchell two years ago about having an exhibition at the Foosaner.
"It is my final exhibition at the Foosaner," Funk says. "I'm very proud of that show. I think (Mitchell's) a fantastic artist, very knowledgeable. She has two MFAs, one in sculpture and one in painting. You can see that in her work. And there's a strong narrative context to the works. You can tell she's an avid reader. She's very literary. And the film; isn't it beautiful?"
It wasn't until Funk began selecting pieces for the exhibition that it dawned upon her that it would be her final exhibition for the Brevard museum. That's when she came up with the idea to include favorite pieces from the Foosaner's $3.5 million permanent collection.
Digging into the collection, she brought out works related to animal imagery. There are ancient pieces, such as a small cast-metal Hittite (modern day Turkey) stag dating back to 2000 BC; a pre-Colombian footed reptile bowl; and a mid-20th century snow goose-carved scrimshaw.
Quantum leap to the contemporary and the viewer will see a collection of paintings from beloved and celebrated Brevard artists who played important roles in the forming of the Foosaner.
There are works from Frits van Eeden's horse series in one small gallery, and another gallery features a collection of works including a glass fish by Vera Sattler, a dance with a flying fish by Marg Kuhl, and a small herd of lovable cows by Becky Beerenson.
Together, the two exhibitions impart a strong commentary on what will be lost to Brevard when the Foosaner closes permanently and its collection goes to other museums.
"Oh yes," Funk says.
"Especially with the title, 'Animal Nature,' it's even more apt," she adds.
Another irony is how well attended this exhibition has been. In the first two weeks after it opened on Aug. 8, more than 200 patrons visited, says new museum director Ashley Millikan.
"That's pretty good considering we are in a pandemic," says Millikan, Funk's former administrative assistant.
"Masks are required. We have sanitation stations all throughout and we encourage social distancing. We are operating on a 25 percent capacity and not doing tours."
Millikan says a small museum like the Foosaner is the perfect place for people to visit during the pandemic. They can remain well apart from others and at the same time enjoy seven galleries filled with art.
"The exhibition is fanciful, colorful. It brings a great sense of the environment and our duty to protect it," she says. "Children are especially drawn to it; they love the animal imagery. And so far, the adults are loving it."
One of Millikan's favorite pieces is a more dramatic painting called "Angels in Australia," which evokes the wildfires that ravaged Australia in 2019 and 2020. The devastating fires were one of the worst recorded wildlife disasters in recorded history, killing and displacing a reported 3 billion animals.
"It's a pretty large piece," she points out. "Three animals, a koala, a kangaroo and a wombat are in the foreground with angel wings. They are painted as if in a natural habitat. But you can see in the background, bright fiery colors as if the fire is coming to the animals. We are witnessing them in their final moments. It's very powerful."
A disarming young woman with enthusiasm to spare, Millikan got her degree in art history from the University of North Carolina at Charlotte. After the museum closes, she plans to go to graduate school.
"I want to be Carla," she says. "I'm only 24. I'm happy to have this experience for a year to learn and to curate exhibitions. It is short, and it is sad the museum is closing. I'm very sad that Carla left."
There will be three more exhibitions after "Animal Nature."
"Vision 2020," which returns the Strawbridge Art League's annual juried show to the museum, will run November and December 2020. "Robot Love," an esoterically celebrated art experience bordering on the experimental, will run January and February 2021. A final show, yet to be decided, is scheduled for March through June 2021.
The Foosaner Art Museum is at 1463 Highland Ave., Melbourne. Hours are 10 a.m. to 4 p.m. Wednesdays through Saturdays. Admission is free. Call 321-674-8916 or visit FoosanerArtMuseum.org.