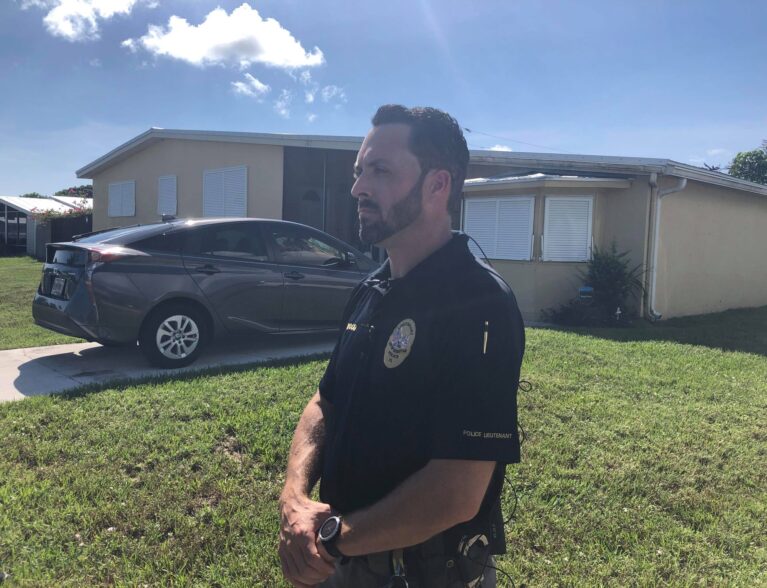 SEBASTIAN — Garland Lewis was awakened early Wednesday to an unusual phone call.
It was the SWAT team, telling him to come outside with his hands up. Outside, officers surrounded Lewis' home as a helicopter circled overhead.
"I didn't know what was going on," said Lewis, 56, Sebastian.
Lewis, a retired truck driver, said he was sleeping in his chair in the living room at his home when he checked his phone and saw 12 missed calls. The calls were from Sebastian police and the Indian River County Sheriff's Office.
Lewis said he walked out the front door and saw the SWAT team pointing rifles at him. Lewis said he had no idea that someone called 911 at 8:10 a.m. to report a shooting at his home in the 800 block of Gilbert Street, Sebastian.
The call stated a man shot his mother five times.
The incident caused a heavy response from law enforcement, including the Sebastian police and Indian River County sheriff's SWAT teams. Lewis said he saw at least 25 law enforcement vehicles and a helicopter.
An @IRCSheriff SWAT vehicle leaving the scene of a reported shooting later determined to be a hoax. #VeroNews pic.twitter.com/bLE62ZgJy5

— Nicholas Samuel (@JournalistNickS) September 2, 2020
Officials would later determine the ordeal was a hoax that the residents of the home were not involved in.
"It's embarrassing as hell," Lewis said of the incident police described as "swatting." "The neighbors were watching and observing."
Swatting is when the SWAT team responds to incidents, such as reported shootings, that are later determined to be false reports. The victims, sometimes public figures or even gamers, are not aware of the reports.
Swatting often is done as a form of punishment, retaliation or even harassment, officials said. It was unclear if the residents of the Sebastian home were targeted.
.@PoliceSebastian Lt. Tim Wood said a hoax call came in Wednesday morning reporting a man shot his mother five times. First responders, including the SWAT team, went to a home on Gilbert Street in Sebastian and found no one was hurt. #VeroNews pic.twitter.com/TdVKQu3Lbl

— Nicholas Samuel (@JournalistNickS) September 2, 2020
"There was no shooting and no one was injured," Sebastian police Lt. Tim Wood said after the incident. "Law enforcement is going to take all of our resources to figure out who did this so we can charge them accordingly."
Lewis, who lives with his girlfriend, Tanya Sonner, 56, and her brother, John Wesley Sowers, 54, said he was the only one in the home when he came outside. Sonner's 14-year-old daughter, who was at school when the incident happened, also lives at the residence.
Lewis, who previously lived in Stuart and North Carolina, said he has resided at the Sebastian home for about a year. The area is off Schumann Drive, just west of U.S. 1.
Lewis said police had already detained Sonner and Sowers before he woke up.
"My girlfriend's brother was outside of the home on a bicycle and my girlfriend was already in a police car," Lewis said.
Police determined there was no one hurt in the home, Wood said. The SWAT team used a drone and a robot on wheels to search the residence, ensuring that no one was hiding.
Lewis said he was waiting inside a police car for about an hour before officers let him back inside his home. Police then informed Lewis of the reported shooting that they said turned into a hoax.
"I didn't know what was going on with my family," Lewis said. "The police told me the caller's name was 'Sarah Connor,' like from the Terminator movies."
Police were tracking down the origin of the 911 call. Wood said the number came from a cell phone number generator.
"No one inside the home was related to the incident," Wood said. Any suspects in the case will face charges, police said.
As for Lewis, his plans to move back to his hometown in North Carolina are more certain after the hoax.
"I'm going back to North Carolina, especially after this incident," Lewis said.