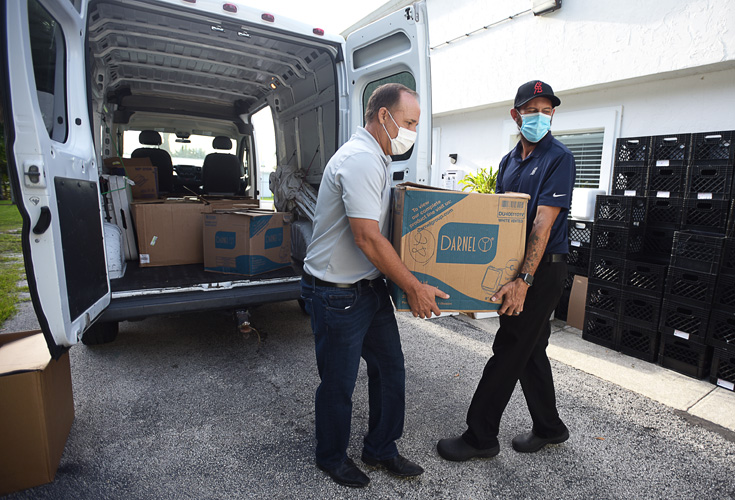 Many of Indian River County's vulnerable seniors have continued to take the safer-at-home directive to heart, remaining in their homes even after that official mandate was lifted. The result has been an uptick in the number of people relying on the Senior Resource Association's Meals on Wheels program.
"We're providing around 450 people meals each week now; it increased 75 percent since COVID," said Karen Deigl, SRA CEO.
Additionally, two new initiatives have arisen out of the pandemic: a temporary Restaurant Meal program and a permanent Grocery Shopping Assistance program.
At the onset of the shutdown, SRA applied for and received a $25,000 Meals on Wheels of America grant, realizing an inevitable client surge. With an ensuing $75,000 grant, they wanted to think outside the box as to how best to use it.
"There were three things that we wanted to accomplish with this grant. One was to provide an additional meal to all of our Meals on Wheels clients," said Deigl, noting this would provide an eighth meal.
When COVID initially hit, to limit contact they switched to once weekly deliveries of one hot and six frozen meals, phoning clients throughout the week to check in on them.
"Second, we wanted it to be something different, like a restaurant-style meal; something that they would not normally get on their own," said Deigl. "Thirdly, I wanted to be able to put money back into the community."
They reached out to local restaurants and caterers with good food safety records, asking if they could prepare, package and drop off 450 individual meals by 10 a.m. one day a week for one month. Preference was given to those that had assisted SRA in various ways in the past.
Wild Thyme Catering started things off in July, followed by Wilke's 14 Bones in August, with Chives in September and The Source's Dining with Dignity program in October.
"They've all been loving the meals for sure; it's something different," said Deigl. For the regular Meals on Wheels program, she contracts with a service to prepare nutritionally regulated meals, based on a menu formulated by the SRA dietitian.
"With this there's no requirements; the restaurants can do whatever they want. They have been amazing. I'm so glad we have been able to do this."
She said the restaurants have been whipping up generous portions of such goodies as BBQ pork, mac & cheese, beef stew, shepherd's pie, meatloaf with mashed potatoes and gravy, "all the things they don't normally get, and they love that, of course."
SRA now provides a combination of hot, restaurant and frozen meals three days a week, as well as that all-important wellness check. Several years ago, they also began delivering pet food to clients who need it.
"Unfortunately, we really need to get some more volunteers in," said Deigl, adding that they have roughly 40 volunteers out of the seasonal 100. "If anyone is interested in volunteering, we need your help desperately now."
Volunteers must pass a level 2 background check and can work however many days fit their schedule.
Their Grocery Assistance Program, which began in June, is open to all homebound seniors aged 60 or older, whether they are a SRA client or not. After determining the client's grocery list and budget, a staff member shops for them and is reimbursed upon delivery. There is no charge for the service.
"It's been picking up," said Deigl. "Initially it was our own clients, but we are putting it out to the community now."
Another program gathering steam is their SRA Public Guardianship Program.
"I was amazed at the number of people who have no one to turn to. They need someone to be their advocate; to make sure that their limited assets are kept safe, and that they're getting the care that they need at the end of their life," said Deigl.
For more information, visit seniorresourceassociation.org.
Photos by: Brenda Ahearn
Click HERE to see more or buy photos