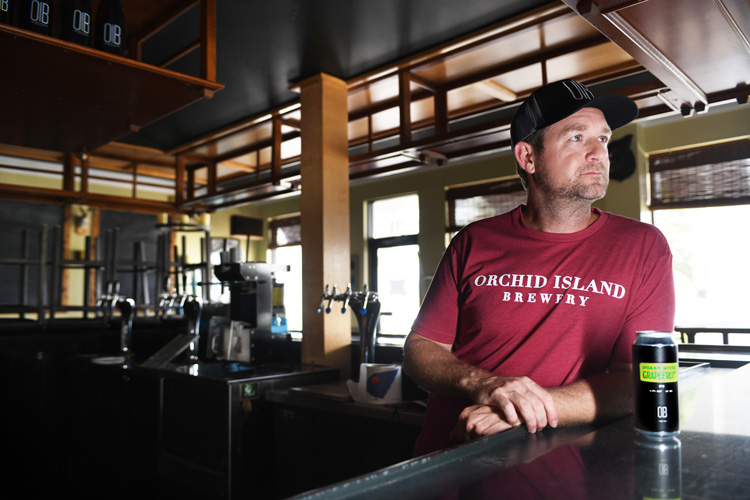 Local breweries have tapped into creative ways to keep the beer flowing and their dreams alive since the start of the pandemic.
Once Florida began its Phase 2 reopening, the boutique beer industry discovered that under the current executive order, their tasting rooms fell into the same category as bars and nightclubs; meaning they could only open for to-go service.
Orchid Island Brewery, one of the county's first microbreweries and a favored watering hole for island residents, recently announced the permanent closure of its Portales de Vero taproom which had been shutdown since March 17.
According to Alden Bing, OIB co-owner, while the decision to close the taproom was accelerated by the coronavirus, he sees consumer direct sales as the future for many industries.
Bing plans to take Orchid Island Brewery in that direction and has purchased a canning line to expand distribution. Until then, they will continue to sell products by appointment, using a package store model, from their Portales de Vero suite.
"People will always want to go to a local place to consume beer, because people are social creatures. But the reality is that unless you feel like you're in a safe environment, people aren't going out right now. We didn't think it was a sustainable cause, not just for financial reasons but also for philosophical reasons. We don't want to be part of the problem," said Bing.
Coronavirus closures have highlighted the inequity of distribution regulations, which categorize alcoholic beverage businesses as manufacturer, distributor or vendor, and prohibit them from engaging in more than one tier at any given time.
Loosening the restrictions slightly during the coronavirus, the state has allowed brewers (manufacturers) to circumvent regulations and offer to-go sales (vendors).
However, at the end of July, Gov. Ron DeSantis ordered the closure of businesses that derive more than 50 percent of income from alcohol. That meant breweries were lumped in with bars and nightclubs, sending owners scrambling to either operate as to-go venues only, or meet the food requirement by partnering with a food truck or building a kitchen.
Mash Monkeys Brewing Co. in Sebastian has seen 75 percent fewer sales during some 130 days of to-go only sales compared to last year, but is holding true to its original format.
"We never intended to have any food and it's not part of our business model. We've always focused on doing one thing and doing it really well, and that's the beer that we make," said Derek Gerry, co-founder.
"We have to follow all the same guidelines per the Health Department as a restaurant. We're actually safer," he said.
It's been business as usual at Pareidolia Brewing, although they did relocate the live entertainment outside, where guests can socially distance on an adjacent piece of land, weather permitting.
"Because we have a kitchen, the second shutdown didn't affect us terribly. We're only about 30 percent down in sales from last year," said Pete Anderson, Pareidolia co-owner, adding that guests have posted on social media that they felt safe during their visits.
Walking Tree Brewery opted to go the food truck route, with Good Karma Concessions on-site every hour that their taproom is open.
But beer sales are down 50 percent, said Mike Malone, Walking Tree co-founder, due to capacity restrictions, loss of private event sales, and distribution shortfalls due to bar and restaurant closures.
"There are 330 breweries in Florida, and most of us have been closed for a full quarter. As of two weeks ago, we were closed more than we were open so far this year. That's a huge impact," said Malone.
American Icon Brewery, a Vero Beach restaurant and brewery located in the historic diesel plant, was positioned well to reopen.
"We're a unicorn in this situation. We have a full liquor license, a manufacturing license for producing beer, and a restaurant and food production license," said Carl Berry, American Icon vice president.
He feels that it's in the best interest of the state to help the small breweries reopen, noting, "We're taxed differently, so the state is missing out on millions of dollars in additional tax revenue, because we're not creating any revenue.
"If something doesn't change within the next several months, there's going to be some owners out there making some tough decisions," he said.