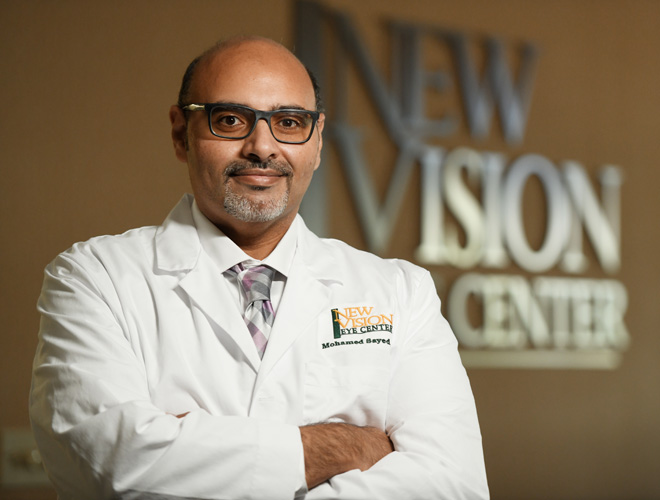 For people with glaucoma, the choice is simple: Either get treatment or risk permanent vision loss.
In the face of that choice, there is some good news – a new way of treating this sight-stealing disease has now garnered FDA approval, according to Dr. Mohamed Sayed, a Bascom Palmer Eye Institute-trained glaucoma expert now at Vero's New Vision Eye Center.
It's called "Durysta" by Allergan, and it is not so much a new drug but "an ophthalmic drug delivery system," according to the FDA.
"Durysta," Sayed explains, "is basically a sustained release format of a common medication called bimatoprost that people have been using for years to treat glaucoma with once-nightly administration [in the form of eye drops].
"Bimatoprost," Sayed continues, "is one of the most efficacious eyedrops there is to treat glaucoma as a first line" of defense.
Unfortunately, many glaucoma patients do not use their eyedrops as often as they should.
"There are so many patients," Sayed explains sympathetically, "who actually do not comply with a commitment of putting drops [in their eyes] every single night for the rest of their lives, so the idea of providing them with a minimally invasive way to treat their glaucoma has always been the subject of inquiry by eye doctors.
"Some patients," he continues, "are forgetful. And if you forget to put your eyedrops in one or two nights every now and then, there might not be that big of an effect. But if you're very forgetful and this is something that you have a hard time remembering and you end up forgetting one or two nights every week, your glaucoma is going to get worse. So this [Durysta] just solves that issue," just as it does for those whose shaky hands make any use of an eyedropper a nightly hit-or-miss proposition.
In fact, the Glaucoma Research Foundation reports that, "up to 40 percent of patients do not take their glaucoma medications as prescribed or do not continue to have their prescriptions refilled."
That, according to the Bright Focus Foundation, is 40 percent of a universe of some 3 million Americans living with the disease which is most common in older adults.
As the Review of Ophthalmology explains, "the idea of a sustained-release implant that can deliver a drug slowly and steadily without requiring any patient action is certainly not new. However, making it a reality in ophthalmology has been challenging; creating safe and effective devices and getting them approved has taken years."
But the moment has finally arrived.
Just this March, doctors treating glaucoma finally got their first sustained-release option when the FDA approved the Durysta implant.
It was a big step forward in treating the disease, but the methodical Sayed notes "there is no one-size-fits-all in glaucoma. So as excited as we are about this new implant," Durysta may not be the best choice of treatment for everyone.
This is when Sayed's clinical and surgical experience really shines as he effortlessly rattles off a list of alternative treatments which, he says, might be better suited to certain individuals with certain forms of glaucoma.
And the disease comes in many forms, including – open-angle, low-tension, normal-tension, angle-closure, congenital, neovascular, pigmentary and pseudoexfoliation variations of glaucomas.
Sayed says there is no one answer that is right for every type of glaucoma.
"Every patient," he says, "is different. Every eye is different."
Still, Durysta is making waves with its FDA approval and others in Vero Beach, including Dr. Karen Todd of Florida Eye Institute, are using it to treat open angle glaucoma.
Sayed, meanwhile, is enthused about the treatment, happily pointing out "it literally takes nine seconds to inject" the implant into the eye.
At the same time, he reemphasizes that every treatment plan for every glaucoma patient needs to be custom-tailored to fit that patient's specific needs and condition.
He concludes by saying Durysta is covered by Medicare and most private insurance plans though out-of-pocket amounts will depend on a patient's specific coverage. The New Vision insurance team can calculate what those costs, if any, might be.
Dr. Mohamed Sayed is with New Vision Eye Center at 1055 37th Place in Vero Beach. The phone number is 772-257-8700.
Written by: Charu Suri