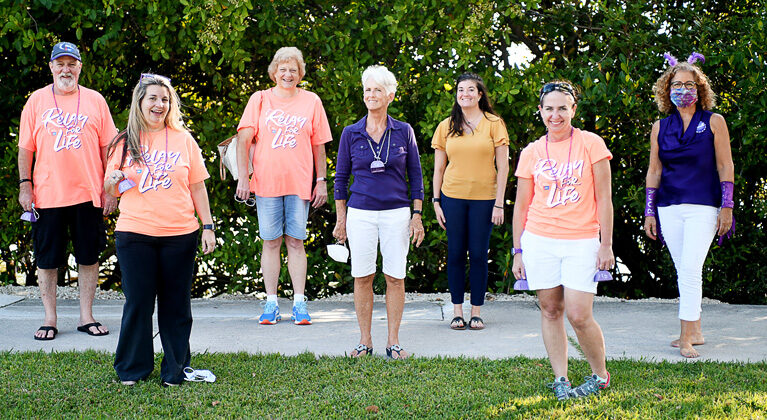 The Vero Beach High School Citrus Bowl sat quiet on April 18, at a time when it should have been filled with cancer survivors, caregivers and supporters during the Relay for Life of Indian River annual fundraiser to benefit the American Cancer Society. In addition to raising awareness and money to fund research, the event honors those lost to the disease, while offering support to survivors and those currently fighting cancer.
But, while the coronavirus may have forced its cancellation, the stalwart Relay for Life teams remained undeterred.
"Our intention was to postpone them, but as things progressed and the pandemic situation became more and more concerning, we eventually decided to shift gears and do some virtual events. And the volunteers really stepped up," said Theresa Woodson, ACS senior community development manager.
"Our model has always been to fundraise before the event day, and everything that happens on event day should really be above and beyond. For those teams that did their fundraising prior to event day, this year was indicative of the value in doing that."
Keeping the limit of gatherings to no more than 10 people at a time in mind, participants got creative, hosting virtual events and reaching out to sponsors.
In the end, more than 50 teams raised $87,000, close to their $100,000 goal.
To applaud the accomplishments of the impressive teams of passionate purple warriors, the Relay planning committee hosted a Purple Cowbell Wrap-up Party/Drive-By Celebration last Friday evening at Riverside Park.
The purple, Woodson explained, was to honor the survivors who traditionally take a lap at the start of the relay.
"Purple represents honor and royalty, and we consider our survivors to be royalty," she said. "The survivor lap is the most exciting part of the event."
The ruckus drew the attention of passersby as cars decorated in purple regalia lined up near Memorial Island and purple cowbells rang out. Participants were welcomed by committee members as they drove through to receive certificates, swag bags and well deserved accolades.
"We're really proud of what they accomplished, and it's been needed more than you can even imagine," said Woodson.
She said that while their leadership had seen a rapid decline in contributions, they still wanted to preserve their mission "To save lives, celebrate lives, and lead the fight against cancer."
Woodson noted that Making Strides Against Breast Cancer would typically be the next scheduled fundraising event. And, while there will be no in-person event this year, they are encouraging participants to walk in their neighborhoods, workplaces and parks on Saturday, Oct. 17.
"Don't be surprised if you see people walking around on our national Making Strides Against Breast Cancer Day, as they put on their pink and wear tutus, headbands, and hot pink shoelaces along with all the other crazy, fun things they do for Strides," added Woodson.
Woodson said one casualty of the pandemic shutdowns was access to vital early cancer detection screenings.
"In the first three months alone, 70 percent of screening mammograms that would normally be conducted during that timeframe were not conducted," she said. "Breast cancer is one that we have come so far with. The survival rate for breast cancer is 99 percent when detected early; when it's at Stage 4 that changes dramatically to about 27 percent."
The American Cancer Society is currently seeking hosts to sell luminaria for its Sept. 20 "Neighbors Unite! Let's Shine On!" campaign. The luminaria bags will light up the night to raise awareness "because cancer never sleeps."
For more information, visit cancer.org.
Photos by: Brenda Ahearn
Click HERE to see more or buy photos