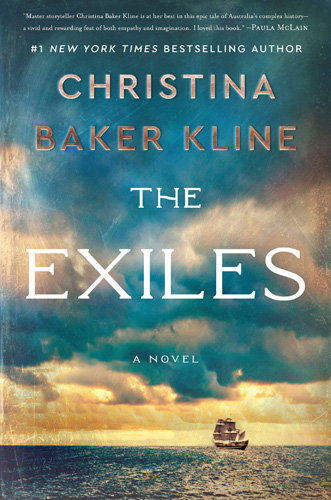 The Vero Beach Book Center is inviting book lovers to a special online event with New York Times bestselling author Christina Baker Kline, whose book "The Exiles" is being released next week by Harper Collins. She'll be participating in an online conversation moderated by another New York Times bestselling author, Jodi Picoult. To get your place in this online event, you need to pre-order your copy of "The Exiles" by its release date, Tuesday, Aug. 25. You will receive an autographed copy of the book and secure your event registration. Previous books by Kline include "A Piece of the World" and "Orphan Train." In "The Exiles," Kline creates an epic tale set in 19th century Australia. It revolves around a young London governess named Evangeline, who becomes pregnant and is sentenced to an Australian penal colony. It becomes the unlikely place for freedom and redemption. The book has been optioned for television by the producer of HBO's "Big Little Lies," which, in the book, was set in Australia, not the tony surrounds of Big Sur. This should be a fun and most engaging event; moderator Picoult has a string of bestselling books, including "Small Great Things." Her newest, "The Book of Two Ways," will be released in September by Ballantine Books. "The Exiles" costs $27.99. For more information, call the Vero Beach Book Center at 772-569-2050 or visit VeroBeachBookCenter.com.
Chances are you are still learning something during this months-long quarantine – the value of good company. And if you want to extend your "family reach," there's rarely a more fun and inclusive community than the theater community. Such a group is the Vero Beach Theatre Guild, a very sweetly run organization filled with friendly folk, many of them without any theater experience. No. Really. You do not need to have ever studied theater. Heck. You don't need to have even gone to live theater. All you need is the willingness to roll up your sleeves, take direction, and to make some really good, fun friends. The community theater is currently making plans to jump into its 2021 season and needs volunteers. You'll help people experienced in the organization who know exactly what they are doing and how to instruct you in what you'll be doing. The areas needing help are many. They include: marketing, where you help with mailings, posters, social media, playbills and more; box office, where you answer phones, take reservations and answer important questions, such as "Where is a good place to eat before curtain?" The VBTG also needs help in keeping the place clean and the grounds nicely landscaped. Or those who want to get more creative can volunteer for the costume and prop shop, building scenery, painting scenery, running a spotlight and more. If you're not acting in a show (yet), then what's especially fun, if you have the courage, is to help backstage during a performance. Just so much to be done. And so much fun to be had. You will really feel like you've become part of a big family. Volunteers range in age from high school to retiree. Each volunteer receives two complimentary tickets to each show they work on. The Vero Beach Theatre Guild is at 2020 San Juan Ave., Vero Beach. For more information, call 772-562-8300, email verobeachtheatreguild@gmail.com or visit VeroBeachTheatreGuild.com.
One of Florida's funniest standup comics, Ron Feingold, will headline Riverside Theatre's Comedy Zone this weekend. Feingold, who lives in Orlando, is the epitome of the standup comic. Animated, energetic, quick-witted and funny as anything, a Ron Feingold show is a bucket of laughs every minute. His standup can border on the blue, but not too much. And if you have an open mind, you are going to have it tickled. The opening act is John Charles, who has performed at the New York Comedy Club and Bonkerz. If you've gone to the Comedy Zone before, please realize that management has changed the time they start. The shows begin 7 p.m. and 9 p.m. Friday, Aug. 21 and Saturday, Aug. 22. Tickets are $14 to $18. The shows are recommended for people 18 years and older. Patrons can buy a picnic-style dinner and drinks. They must wear masks until at their table. Moreover, Riverside has reduced the capacity of the Comedy Zone in order to maintain social distancing. Get there early and enjoy food, beverages and music at the free outdoor concerts. Riverside Theatre is at 3250 Riverside Park Dr., Vero Beach. Call 772-231-6990 or visit RiversideTheatre.com.