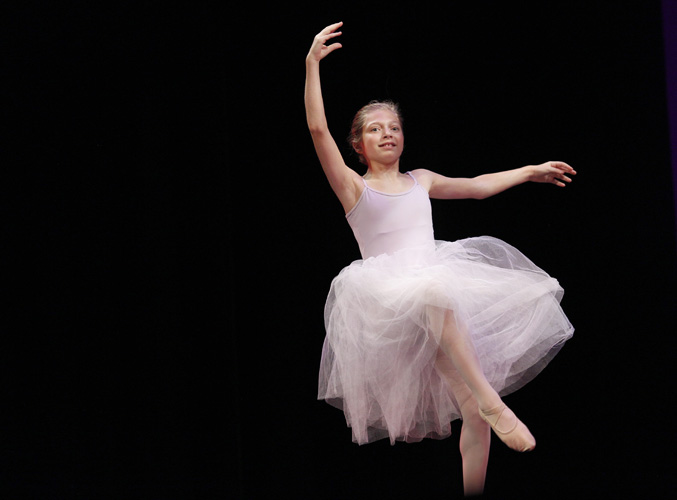 The coronavirus may have put a halt to the professional portion of the annual Riverside Dance Festival, but it did nothing to diminish the 'show must go on' resolve of the student dancers or the faculty and staff of Riverside Theatre and Ballet Vero Beach.
The two-week intensive summer dance program co-presented by Riverside and BVB had originally planned to have students taking classes with the New York City-based ballet company konverjdans, culminating as in past years with a mixed repertory performance.
Instead, organizers used the opportunity to feature some of their own highly skilled dancers and choreographers, concluding with a student-only performance on the Stark Stage at Riverside Theatre for their immediate family members.
"We decided that it was not worth the risk to bring our friends from New York in this summer, so they've been rescheduled to next summer," says Adam Schnell, BVB founding artistic director and Riverside director of dance education.
Staff used the occasion to develop numerous policies aimed at keeping faculty and students safe during the upcoming season of classes, which begin Aug. 17. All indications are that the students, parents and faculty appreciated the safety precautions they enacted.
"People are really craving some of what they love to do, but doing it in the safest way possible.
I am very impressed with how the kids have handled it," says Schnell. "It's been really fun having young people back on campus; they're all being champs."
As coronavirus cases continued to rise this summer, about half the originally enrolled students decided to sit this one out, which helped to socially distance those who remained. Among various other precautions, students and faculty wore masks, except while eating and drinking, and even the choreographers structured their routines with social distancing in mind.
Classes this year were taught by Schnell; Camilo Rodriguez, BVB ballet master; Suzanne Childers, a former Riverside faculty member who lives in Melbourne; and Katherine Eppink, a BVB principal dancer.
Eppink recently relocated to Vero and, in addition to BVB performances, will be teaching Riverside dance classes. Anders Southerland, another BVB principal dancer, will move here shortly and will also teach at Riverside.
"Anyone who has seen any of our performances is familiar with Katherine and Anders," says Schnell.
"The thing that I like about the way this came together is it really reflects – aside from if we had added tap – the scope of the Riverside dance program during the year. So we've been able to showcase what we do to prepare kids both for dance and for theater, which is kind of different," says Schnell.
He explains that while the invited ballet companies generally focus on their preferred repertoire, this gave them a chance to feature the broader range of genre Riverside offers.
Each morning, students were instructed in two separate technique classes: ballet, jazz, modern dance, contemporary and some musical theater jazz. Afternoons were spent rehearsing the three separate choreographed dances they would perform in the showcase.
"So it's a lot. We expect a lot from them to be able to maintain focus from 10 a.m. to 6 p.m. with only an hour break for lunch. They have to work hard in class, but then also remember all the choreography that's thrown at them. And then this year, with all the whole social distancing and masks and sanitizing hands, it's a whole new level," says Schnell.
"But they've really done a good job. I have to say, I was nervous the first day. I didn't know how it was going to go."
They are now busy translating the policies and the lessons learned from the festival to be ready for the upcoming classes.
"We're making a real effort to serve our families in a way that's comfortable for them," says Schnell, adding that they are working on developing virtual options that would mirror the studio curriculum for anyone still hesitant about attending in-person classes.
Additionally, as Ballet Vero Beach has no scheduled performances until the Dec. 30-31 "Nutcracker on the Indian River," Schnell says they have a little breathing room to plan ahead.
"I feel like we have some time, and I'm excited that we were able to continue with our plan to have two new dancers living and working here permanently," says Schnell, noting that having them here should provide them with an opportunity to have a greater digital presence.
"We are a little more malleable now. If we can't physically perform for audiences, we can film something fresh and new."
Even before the pandemic, Schnell says Ballet Vero Beach had already begun contemplating other ways to engage the community.
"For sure taking those really high-quality performances and productions as the nugget, the starting place, but where does that go? What does that mean for the community? So we had already started thinking about all our programming in a different way," says Schnell.
"Because, what if this happens again and we aren't able to perform live?"
Areas under consideration include whether to produce more original content dance films that can be viewed anywhere; investing more into engagement and outreach initiatives that could be delivered digitally; and how to continue producing beautiful works that can be enjoyed by the greater community.
As frustrating as the pandemic-related restrictions have been, Schnell says it has also been a fun challenge.
"Hopefully, fingers crossed, there are some really exciting things that we can execute even during this time, that I think will bring people closer to our organization."
Riverside's dance education program includes youth and adult sessions in varying levels of ability and genres beginning at age 3. Scholarships are available to qualifying students.
For more information on classes, or to see a video of the Riverside Dance Festival, visit riversidetheatre.com.