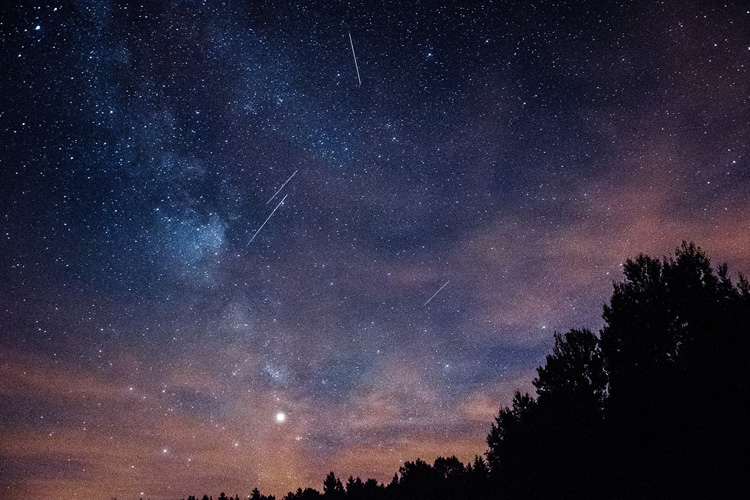 Gas up the car because you're about to do some social distancing, light years style, at the Kissimmee Prairie Preserve State Park to see the Perseid meteor shower. Although not exactly rare, the Perseid meteor shower can perk up your routine this week. It peaks this Thursday, Aug. 13, shooting 60 colorful and bright stars every hour. However, because the moon will be brighter through that peak, viewing might be easier the few days following, until Aug. 17. Astronomers say that's when the moon will be darker as it wanes toward the Aug. 19 new moon. The entire event runs through Aug. 23. Of course, the best way to watch any celestial show is in a nice dark sky. That's hard to find due to all the light pollution coming from cities, automobiles and streetlights. Don't despair. You happen to be living very close to the best place in Florida to find a dark sky. In 2016, the International Dark Sky Association recognized Kissimmee Prairie Preserve as Florida's first "Dark Sky Park." Of course, with the virus, you have to plan ahead of time. The best thing is to get a pass so you can go in there during the night. You can do that by visiting FloridaStateParks.org, then clicking on "Find Your Park" and looking for Kissimmee Prairie Preserve State Park. Start your gazing after midnight and look to the northeast toward the constellation Perseus. That's where the shooting stars will look like they're coming from. The Kissimmee Prairie Preserve State Park is at 33104 NW 192nd Ave., Okeechobee. Call 863-462-5360. No walk-in overnight sites are available, so plan ahead and get a camping permit, $16 (includes water and electricity) plus a $6.70 reservation fee. Discounts for seniors. $5 per person for primitive campsite. There are taxes also.
Here's another lovely evening event for you to enjoy: a drive-up summer concert. The Space Coast Symphony Orchestra's Wind Band will perform a special summer concert of patriotic tunes to honor America's armed forces, their members, veterans and defense workers. Part of its "Treasure Coast Strong Summer Series," the concert is arranged in a manner suggesting a drive-in movie theater. Cars will spread out on the large parking area at Pathway Church. Patrons can stay inside their car and listen to the concert on their car radio, or haul out a folding chair and listen to it outside their car. Musicians are spread out on stage with panels separating them. The concert begins 7 p.m. this Friday, Aug. 14 at Pathway Church, 1105 58th Ave., Vero Beach. Tickets are $10 per person or $25 per carload. Free admission to children 18 years and younger. The SCSO requests that you purchase tickets ahead of time to limit interactions with parking attendants. Call 855-252-7276 or visit SpaceCoastSymphony.org.
The Community Church of Vero Beach has an active lineup of online musical events this coming week. Here's a quick snapshot of all the great things they have arranged for the community via Facebook and/or Zoom. "Musical Moments" will feature the music staff performing organ, piano and voice live streamed 11 a.m. to noon this Thursday, Aug. 13 on the church's Facebook page and via CCOVB.org. "Music Theory for Adult Beginners" will feature Jill Truax, the church's associate director of music, in an online classroom for a six-week course designed for beginners and those who need to dust off their musical education. The class will be offered only via Zoom. It begins 11 a.m. to noon Monday, Aug. 17. "Sight Singing and Solfege for Adult Beginners" will bring resident church soprano Rachel Carter online to teach beginners how to read music in order to help them with new choral music. The class will be held 11 a.m. to noon Tuesday, Aug. 18. Finally, "Music History for the Adult Beginner" will bring Andrew Galuska, the church's director of music and fine arts, to teach a six-week course in music history. The subject will range from medieval to modern music. The class begins 11 a.m. to noon Wednesday, Aug. 19. For more information on any of these offerings, call 772-469-2310, or to find out more and/or to register, email Rachel.Carter&CCOVB.org.
The "Beauty for Ashes" art show and sale will be held 11 a.m. to 3 p.m. this Saturday, Aug. 15 at the Sebastian River Art Club, 1245 Main St., Sebastian. To make an appointment to view the work, call 772-918-3148. Visit SebastianRiverArtClub.com.