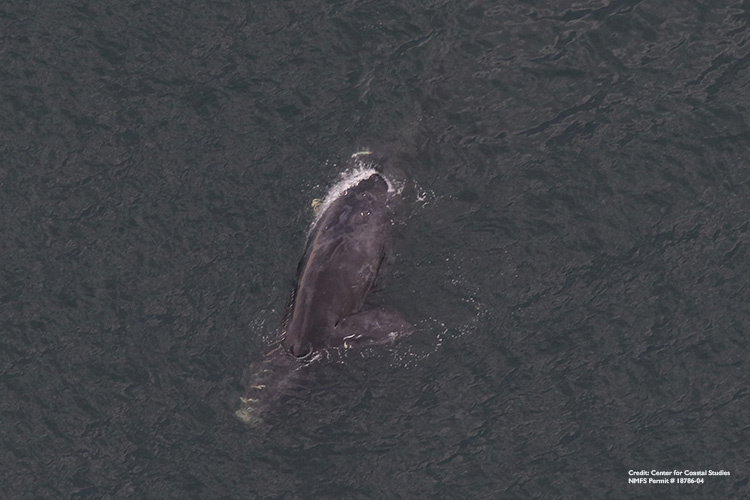 A North Atlantic right whale calf spotted with his mother off Vero Beach last February is 2020's first known fatality among the critically endangered species, according to the federal agency in charge of managing the huge mammals.
NOAA Fisheries says the calf was found floating off New Jersey in late June, and a necropsy showed the fatal wounds were inflicted by two separate vessel collisions weeks apart.  The whale was the first of ten calves born in the 2019/2020 breeding season in South Atlantic waters.
Julie Albert, right whale program coordinator for the Palm Bay-based Marine Resources Council, said she and fellow whale watchers spotted the calf and its mother not far offshore near Vero and even obtained drone footage of the pair. They were seen again in March in the Gulf of Mexico. But the status of the mother is not known.
Albert said the right whale population, which numbers around 400 worldwide, can not afford to lose any calves.
"I've been doing this for 21 years and this is the first time I've heard of a whale getting struck by a boat twice and killing it," she said. "To see the propeller cuts on the body . . . it's just heart-breaking. We think the whale deaths that are confirmed only represent a third of the ones that die. This one didn't make it six months."
NOAA says since 2017, 31 right whales in Canada and the U.S. have been confirmed dead – mostly from being struck by boats or entangled in fishing gear as they make their way between their southern calving waters and their feeding grounds in New England and Canada. 
Ten others have been observed alive, but with serious injuries. Those casualties represent about 10 percent of the worldwide population.  Some scientists say if the death rate keeps up and birth rates remain low, the species could be biologically extinct by 2040.
The International Union for the Conservation of Nature (IUCN) recently changed the status of the population from endangered to critically endangered on the organization's red list of threatened species.
But Albert says there is some progress on two fronts: commercial fishermen are beginning to embrace ropeless fishing gear and NOAA is looking at new ways to use technology to alert ships' captains that right whales are in the area.
Albert is hoping for the best during the winter 2020/21 calving season when she and a cadre of volunteers will be on the lookout for whales in our inshore waters.
"We're not done yet," she said. "Somehow we're going to have to figure out how to turn this around."