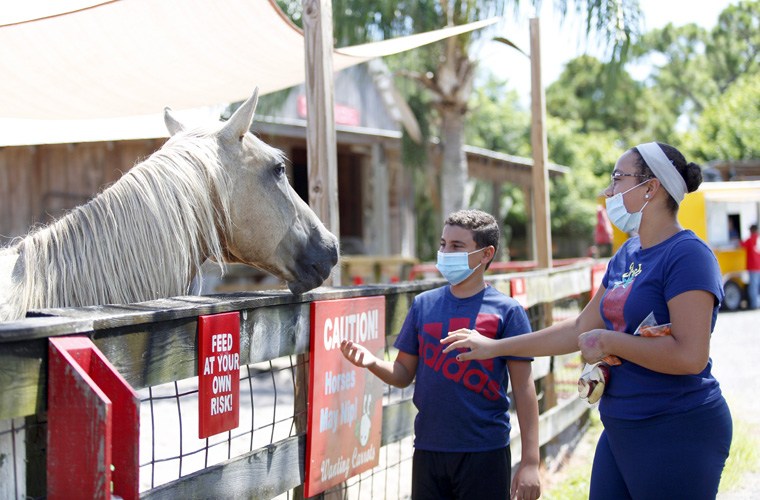 With the same indomitable spirit that has seen her overcome numerous life challenges, Laura LaPorte welcomed a smaller than usual but no less appreciative number of families to LaPorte Farms for its recent Back to School Family Fun Day.
"We are essential and so we won't be closing down. We have 5 acres and plenty of room for social distancing," said LaPorte. "The first four weeks of COVID it was very, very difficult because nobody wanted to come out. But this is a place where people can come out with their kids, have plenty of social distancing, and still have fun."
Because of the pandemic, LaPorte said the majority of vendors who normally populate the event had canceled their participation this year. Masks were optional, but hand sanitizers were available throughout the property and, with fewer crowds, social distancing was not an issue.
But the coronavirus didn't seem to matter at all to the children, who were much more interested in feeding the ever-appreciative animals anyway. And there is no shortage of critters at the farm, which boasts everything from such standard farm animals as barnyard fowl, goats, horses and pigs to exotics such as decades-old tortoises, "Fanci" the llama and marmoset monkeys.
The animals all happily munched away as eager youngsters offered them carrot sticks, apples (occasionally a few fingers) and fish food. Fewer visitors also meant there was less time spent waiting in line for the popular pony rides atop easygoing miniature horses.
Awaiting youngsters at the end of the event were some 250 backpacks, each filled with donated supplies; any that weren't distributed that day would be given to local teachers to dole out.
Back to School Day is just one of the many community-oriented events hosted at the handicap-accessible petting zoo off Roseland Road, which opened to the public in 1994. The nonprofit Friends of LaPorte Farms hosts a number of events at the farm, including monthly fishing tournaments and drumming circles, and other annual seasonal events such as a Fall Festival, Cowboy Christmas, Light Up Night and Easter on the Farm.
Upcoming events planned include Drumming Under the Stars on Aug. 8, a Kids Fishing Tournament Aug. 15 and a Special Needs Western Hoedown Sept. 26. Regular hours are 8 a.m. to 2 p.m. Monday through Friday, and 8 a.m. to 4 p.m. Saturday and Sunday.
For more information, visit laportefarms.com.
Photos by: Kaila Jones
Click HERE to see more or buy photos