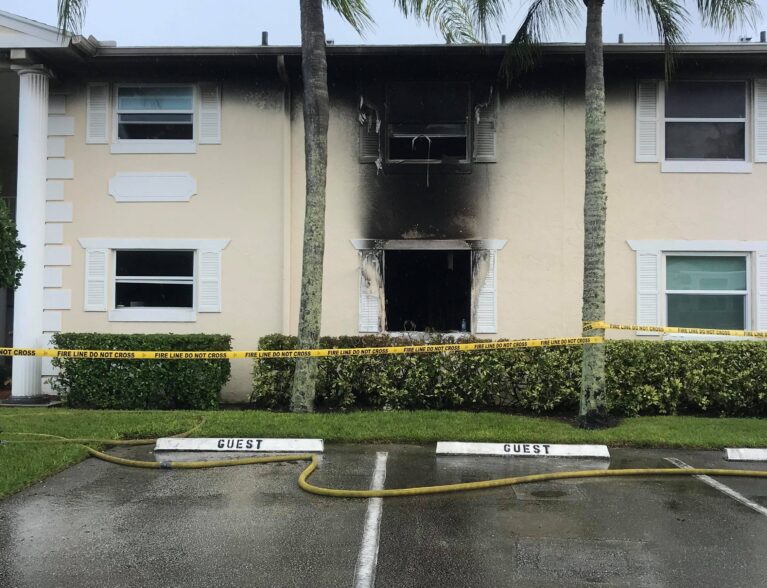 INDIAN RIVER COUNTY — A woman in her early 80's was killed in a fire that led to a brief evacuation of a condominium building early Wednesday, fire rescue crews said.
Firefighters found the unidentified woman with severe burns in a bedroom where the blaze possibly ignited, Indian River County Fire Rescue Battalion Chief Roger Dion said. The woman's name was not released Wednesday afternoon.
Two neighbors who lived in the building were taken to the hospital to be treated for smoke inhalation, Dion said. No one was displaced from the fire, Dion said.
The state fire marshal, along with Indian River County deputies, were investigating the cause of the fire.
Indian River County Fire Rescue crews responded to the blaze about 8 a.m. Wednesday at Grove Isle at Vero Beach Condominiums, Dion said. Dion said a single bedroom located in a first-floor unit was engulfed in flames.
The unit was located in the 300 block of North Grove Isle Circle.
The flames reached out of the window and crawled up alongside the building, damaging a second-story window and the roof, Dion said. Dion said five other units had smoke, but no fire damage.
Firefighters evacuated the building and turned off the power. Fire crews knocked down the flames within 20 minutes, Dion said.
Firefighters went inside the heavily-damaged condominium unit and found the woman's body in a room, Dion said.
"We believe she was the only occupant," Dion said. The medical examiner's office responded to the scene to pick up the woman's body.
The condominium unit had excessive fire and smoke damage, leaving it uninhabitable, Dion said.
Residents were allowed back in their homes after about an hour and 30 minutes. The residents were able to open up doors and windows to get rid of the smoke, Dion said.
Firefighters took a woman to Cleveland Clinic Indian River Hospital to be treated for smoke inhalation, Dion said. A man who also breathed in smoke at the scene, drove himself to Cleveland Clinic.
Firefighters left the area at 2:15 p.m, Dion said. Estimates in damages to the building were not available.