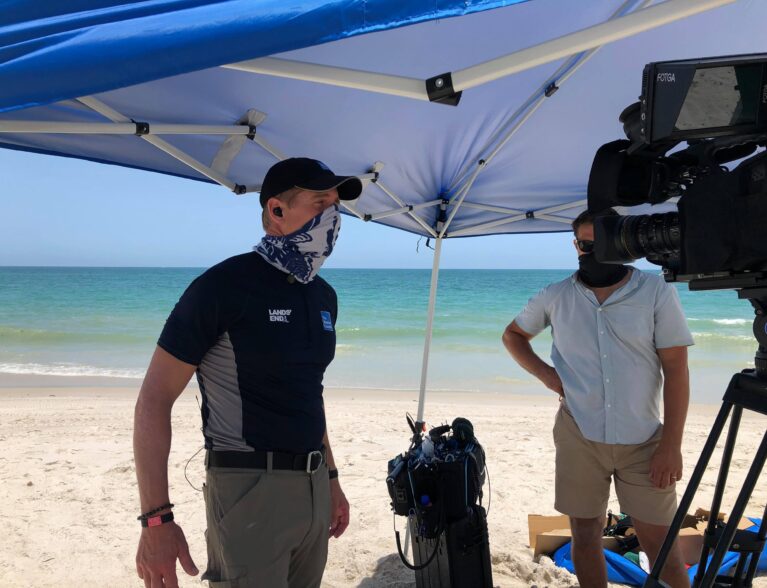 Friday evening update: A hurricane warning and a storm surge watch were issued for Indian River County Friday afternoon. County officials will order voluntary evacuations for residents Saturday in mobile homes, low lying areas and on the barrier island.
County officials said they will open three shelters at 2 p.m. Saturday. The shelters should be considered a last resort option for evacuees.
The shelters are:
Special Needs Shelter – Treasure Coast Elementary – 8955 85th Street, Sebastian.
Pet-Friendly Shelter – Liberty Magnet School – 6580 81st Street, Vero Beach
General Population – Freshman Learning Center – 1507 19th Street, Vero Beach
Earlier story:
VERO BEACH — Crew members from The Weather Channel were spotted Friday at the beach off Sexton Plaza monitoring weather conditions ahead of Hurricane Isaias' probable passage.
"We'll be here through the storm," Producer Jade Merritt said. Merritt said the Weather Channel stationed in Fort Myers before traveling to Vero Beach late Thursday.
It was unclear if other Weather Channel reporters were stationed on other parts of the Treasure Coast.
.@weatherchannel Reporter and Meteorologist Reynolds Wolf broadcasts live from the beach at Sexton Plaza ahead of #hurricaneIsaias. Isaias is expected to stay offshore, but could still shift inland, weather experts said. #VeroNews pic.twitter.com/0OCsi4akL7

— Nicholas Samuel (@JournalistNickS) July 31, 2020
Isaias remained a Category 1 hurricane early Friday afternoon as it swirled northwest across the central Bahamas. The storm was expected to bring heavy rainfall, strong winds and possible flooding to the Treasure Coast over the weekend.
In July, Vero Beach had 14.29 inches of rainfall, setting a new monthly rainfall record for the city, meteorologists said. The area has already seen heavier than normal rain amounts, according to weather experts.
Forecasters said Hurricane Isaias was expected to stay offshore, but could still shift inland. Residents were advised to take precautions by monitoring alerts from emergency services, weather officials and the county.
The Weather Channel team set up a tent on the beach, not far from other beach goers who were practicing social distancing for coronavirus public health concerns. The station's Reporter and Meteorologist Reynolds Wolf spoke to viewers in a live broadcast about the current weather conditions at the beach.
A hurricane warning remains in effect for the Treasure Coast until further notice. A hurricane warning means hurricane-force winds are expected in the area within 36 hours.
Vero Beach was expected to have a 20 percent chance of showers Friday, along with a high near 91 degrees and heat index values as high as 103 degrees, according to the National Weather Service in Melbourne.
A 70 to 80 percent chance of storms was expected for Saturday and Sunday.
The Weather Channel came to Vero Beach in August 2019 ahead of Hurricane Dorian, a Category 5 storm that devastated the Bahamas. For the Treasure Coast area, Dorian mostly stayed offshore, bringing tropical storm-force winds, but not hurricane-force winds.
Photos by Nick Samuel
This story will be updated.