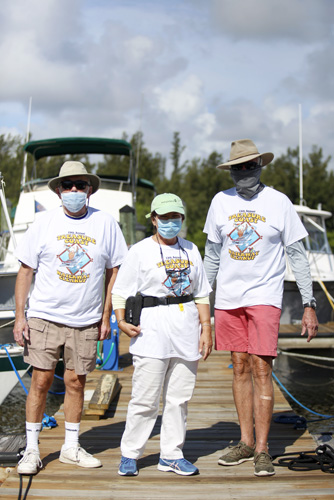 The 13th annual Treasure Coast Waterway Cleanup litter-ally took a virtual turn this year, as more than 525 volunteers contributed to a weeklong effort to be part of a solution to pollution by collecting trash along 125 miles of waterways in Indian River, St. Lucie and Martin counties.
With people turning more to outdoor activities during the pandemic, there has been an increase in traffic along the Indian River Lagoon. Some of that has been caused by people turning to boating rather than traveling elsewhere for their vacations this year. All has directly correlated to the current rise in trash.
"We know more people are out boating right now. It's been something that people can do safely while socially distancing," said April Price, event coordinator on behalf of the Marine Industries Association of the Treasure Coast.
As the date for the cleanup approached, Price said it became apparent that changes would have to be made due to the coronavirus. A large portion of the volunteers who regularly help with the cleanups are considered high risk, and yet following social distancing guidelines during a one-day event would be difficult.
As a result, they expanded the collection timeline to a seven-day Waterway Cleanup Week.
Instead of one big cleanup day, many of the volunteers made numerous pilgrimages throughout the week, making their multiple cleanup trips by foot, boat, canoe or paddleboard. And instead of having one-day designated trash collection sites around the area, volunteers relayed the details about the amount of trash they had collected all throughout the week.
Fortunately, they already had plans underway to transition from paper data cards to online reporting as a way to reduce their own carbon footprint, said Price. The virtual aspect and extension of the event from one day to seven also created an opportunity for more people and groups to participate.
A small group of nautical members of the Vero Beach Yacht Club set out last Saturday morning in two boats and headed over to clean up the north end of Boat Club Island, aka IR-25. It is one of the more popular spoil islands in the lagoon and is located just north of Grand Harbor.
Connie Dominianni, VBYC event organizer, said the club adopted the island about 20 years ago, as part of the Florida Department of Environmental Protection's Indian River Lagoon Aquatic Preserves Office's Spoil Island Project, and they picked up whatever trash has found its way there on a quarterly basis.
"We enjoy it. It gives us a destination to go out on our boats to and enjoy while also giving back," said Dominianni. "It is part of our civic, communal duty and gives us a sense of being part of a bigger community."
TC Waterway cleanups have removed more than 89 tons of trash from Treasure Coast waters since 2008, with more than 9,500 volunteers putting in the work.
This year, volunteers submitted photos and digital data collection cards with details about the number of trash bags filled, estimated weight, what was found and where it was collected.
"It's all about personal responsibility. If everybody does their part, then we won't find trash. Boaters need to bring back everything they take out with them – and some more," said Price.
As a sad sign of the times, in addition to the typical items found during annual cleanups, such as cans, grills, fishing line, bottles, caps, tents, clothing and toilets, Price said this year's hauls included quite a few face masks.
For more information, visit tcwaterwaycleanup.com.
Photos by: Kaila Jones
Click HERE to see more or buy photos