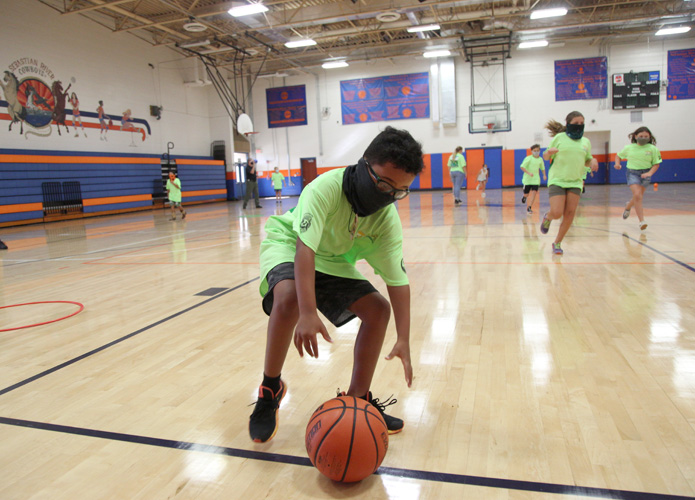 The Indian River County Sheriff's Office and Florida Sheriffs Youth Ranches teamed up recently to bridge the widening gap between citizens and law enforcement at their annual Harmony in the Streets Summer Camp.
"It is important for us to reach out to kids in our community so they can see us in a positive light when they're outside the school; for them to have that interaction with law enforcement," said IRCSO Maj. Eric Flowers.
Children ages 6 to 12 were invited to attend the free, week-long camp, held at Sebastian River Middle School, although this year fewer children were able to participate, given coronavirus social distancing regulations.
The FSYR has offered mobile and sleepover camps since 1957 to support its mission to develop lawful, resilient and productive citizens through enhanced relations between children and law enforcement officers. It first brought its mobile camp to Indian River County more than 20 years ago, providing school resource officers an opportunity to build relationships with the students they encounter in their positions at local public schools.
Throughout the week, the children viewed law enforcement demonstrations, participated in environmental education activities, created arts and crafts, and participated in team-building activities. To celebrate the bonding experience, parents attended a graduation on the last day of camp, complete with the Learning Alliance's Moonshot Rocket, which flew in to deliver free books to the children.
Some of the older children were also invited to attend a sleepaway camp in Barberville – for many their first camping experience. In past camps, most returned home with a trusted law enforcement "friend" they can turn to while navigating adolescence.
"The Youth Ranches are a great component of the Florida Sheriffs across the state," said Flowers, explaining that the mobile camps enable more children to participate. "To bring that into our community and let local kids experience a little bit of what those kids see at the ranches is just incredible. It's life-changing for a lot of these kids."
Proceeds from the Indian River County Sheriff's Office's annual Florida Sheriffs Youth Ranches BBQ, held each spring, provide funding for the camps.
"These camps help us to develop a relationship with the kids from our community," explained IRCSO Sgt. Ross Partee. "We want to continue the relationship that we build in school through the summer."
While any child may apply for the camp, school resource officers also identify students who seem to be heading down the road toward bad decision-making.
"We want to get them going in the right direction," explained Partee, adding that the camp is as much fun for the officers as it is for the children.
Their camp time together helps the officers form positive, healthy relationships with the students they work with during the school year. The aim is to make students feel more at ease should they need assistance at school or out in the community at large.
Partee said the bonds they build – especially during the sleepaway camp – help children to view the officers as "real people instead of as law enforcement officers," which can take their on-campus relationship to another level.
"We want to get as many kids there [camps] as possible to touch as many hearts as we can. It gives the kids a different perspective of us and vice versa. Right now, we definitely want to get that message to as many kids and parents; to let them know we're here to help," said Partee.
Photos by: Kaila Jones
Click HERE to see more or buy photos