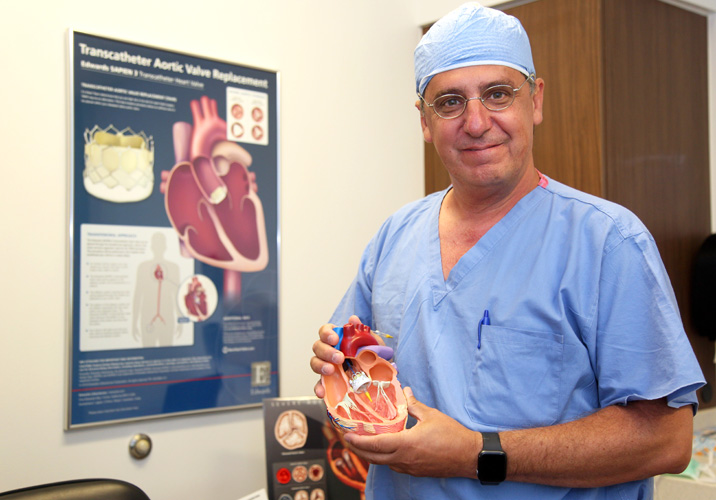 Cardiovascular surgeon Dr. Mariano Brizzio arrived at the Cleveland Clinic Indian River Hospital just a few weeks ago but he's already got something of a minor challenge on his hands.
Local scuttlebutt had pegged the engaging Brizzio as the "replacement" for the now-retired Dr. Cary Stowe who, for all intents and purposes, is the one who put the Vero Beach hospital "on the map" as a first rate heart center.
Brizzio, however, makes no claim at all that he's capable of "replacing" Stowe.
"I can't replace Dr. Stowe," Brizzio explains. Instead, he calls the now-retired Stowe "the father" of Vero's highly regarded Welsh Heart Center.
He does, however, share a passion for the same procedure that helped Stowe and cardio-thoracic surgeon Dr. Mark Malias build the Vero hospital's reputation: Trans-catheter Aortic Valve Replacement (TAVR).
In a nutshell, TAVR is a minimally invasive heart valve replacement procedure.
It is done by running a catheter – usually through the femoral artery in the groin – up to and inside the heart muscle itself. No incisions are made in the chest at all.
A fully collapsible tissue replacement valve is then delivered to the site of the existing damaged or diseased valve or valves through the catheter.
Once in place, the new valve is expanded with a small balloon, pushing the old valve leaflets out of the way and taking over the job of regulating blood flow in and out of the heart muscle more efficiently.
An unabashed fan of the TAVR procedure, Brizzio smiles and adds, "one of the things that drove me to join the team here in Florida is because, I think, the potential to grow this technology is here."
Since its inception, this trans-catheter approach has been limited to aortic valve replacements but Brizzio thinks it may soon be adapted to mitral valve replacement procedures as well.
Why is that important?
Because, as Brizzio explains, "probably 99 percent of all valve replacements in the heart are either the aortic or the mitral valves so if you can take care of 99 percent of valve replacements, you're doing all right."
Brizzio notes that, for now, there are no FDA-approved procedures or devices for mitral valve replacements, but he quickly adds, "within the next two or three years, we're going to have an approved device to implant."
With the thoroughness you might expect from a highly qualified surgeon, Brizzio adds that while there are two other valves in the heart – the pulmonic valve and the caster valve – he states it is "very, very uncommon that we need to replace them."
Brizzio seems to have meshed well with a key colleague, Stowe's former partner in surgery Dr. Malias.
"I'm the happiest guy in the county," Malias exclaims, "because I now have a person who's affable, kind and capable. His surgical skill sets are meticulous. I'm so delighted to have someone [like Brizzio] to help share the work and take care of people in our community."
Still, as most of us are all-too-aware, America's hospitals have been under a range of strains and stresses these past several months.
Brizzio certainly knows that all too well. "I'm coming from New Jersey," Brizzio explains, "and as you know, New Jersey was a major COVID-19 hot spot. A very, very hot spot [at the time]."
It was in New Jersey that Brizzio faced a problem almost unheard of before. Patients in need of coronary care – or even heart surgeries – he says were refusing to go to the hospital because of their fear of being infected by the virus.
Then Brizzio makes a bold statement. "I can tell you," he says in a slow and measured pace, "that at this point, the hospital is probably the safest place to be. The protocols that we follow here are extremely strict. So, what I can tell you is that we are working in a very safe forum. Probably the last place we are going to get COVID-19 is the hospital. Trust me."
Finally, Brizzio reiterates that while he is not here in Vero Beach to "replace" Dr. Stowe, he does plan "to continue doing what Dr. Stowe started here," continuing to work with trans-catheter technology and the staff that Stowe built.
"That's something I'm going to be working hard to develop even more and help bring this technology to everybody.
"The bottom line is we have a very good team here and I hope to help make this team even better," Brizzio concludes.
Dr. Mariano Brizzio is with Cleveland Clinic Indian River Hospital and the Welsh Heart Center's cardiovascular surgical services. His office is at 3450 11th Court, Suite 105. The phone number is 772-563-4580.