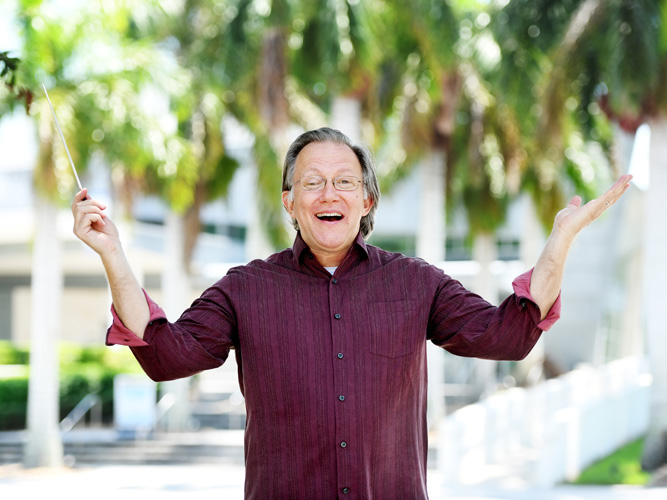 Symphonic musicians love to play music together. Their audiences love to listen. But what happens when a pandemic forces venues around the world to shut down? Enter the Internet and the wonderful techies who have turned necessity into invention – delivering virtual concerts.
In them, individual musicians perform in their homes and record themselves, generally on a smartphone. The video clips are then sent to an editor who "pastes" them into multiple windowpanes to form one larger image, a sort of video collage, with the audio tracks then combined into a symphonic whole.
Finally, the finished video is posted onto the Internet for the general public to enjoy. The result is akin to going to a concert, except that the audience might be wearing pajamas instead of pearls.
The Brevard Symphony Orchestra created such a virtual concert of Gustav Holst's "The Planets." That BSO video premiered on May 29 and is available on their website.
The public's response has been outstanding, says BSO conductor and music director Christopher Confessore. He expects it to have a lasting effect on music patrons and the BSO alike.
"We are creating a stronger bond between performers and audiences than we've ever seen," Confessore says. "That will absolutely put us in a very positive position moving forward."
Confessore adds that other orchestras that have created virtual concerts are also experiencing new and renewed interest in the art form.
"Across the country, my colleagues are echoing many of these same sentiments," he says.
Indeed. There have been a number of videos of orchestral musicians nationwide performing symphonic works "together" from their own homes. Arguably the most famous has been "Bolero Juilliard April 2020."
That 10-minute video brought together more than 100 students and alumni of the Juilliard School in New York City to perform a multi-layered track of Ravel's "Bolero." There are appearances of big names such as Yo-Yo Ma, Christine Baranski, Itzhak Perlman, Jon Batiste, Patti LuPone and Emanuel Ax.
Together, yet alone in their own homes, they played, danced and acted their way through the seductive one-movement orchestral piece, suggesting yet another day in quarantine. Filled with a deep emotive quality, this can bring tears and deep delight as only the arts can do. To date, the video has reaped nearly 700,000 views.
To create such a tightly arranged product, where separate video clips all synch on the right beat, one needs a skillful editor who has a keen aesthetic for music.
The BSO turned to Andres Roca, a video editor and mixed-media producer. A classically trained musician, Roca plays piano and composes music. He produces various musical acts for Disney and recently finished working on the music for Super Nintendo World, which is expected to open later this year in Osaka, Japan.
For the BSO's "The Planets," the process was a complex one. First, Roca needed the right music.
The BSO had played "The Planets" in a concert last November and had a recording of that performance. Confessore took about three minutes and 30 seconds from that performance and rewrote a finish to it.
Roca then took the selected music and made a computerized "click track," which he layered over the already recorded music. A click track serves as a metronome, so the musicians can all play in the same time.
The BSO rounded up 55 of its musicians, who each volunteered their time to help with the video. They used ear buds or headphones to listen in one ear to the recording and the click track, while listening to themselves playing in their other ear.
The musicians set themselves up in well-lighted spots where they could also be heard well. They then used smartphones to record their parts. Once that was done, they uploaded their videos to Dropbox, an Internet platform that can receive large files.
After those were all submitted, Roca spent more than a week working full-time on that one video.
Because of the special software he uses – Adobe Premiere Pro for the video and Cubase 10.5 for the audio – he was able to synch all the musicians' videos to the exact beat and keep the various tempos from "drifting."
It's the perfect synthesis of math and art, he says.
Roca was also able to "sweeten" the final product and make it sound as if it had come out of a professional recording studio, says Confessore, noting that there was no question that it came from the musicians' individual homes.
"There are two telltale ways to know," Confessore explains. "First, in context of the real music, it doesn't end; it keeps going. And, if you listen and watch carefully, you'll see the resolution of the very last note; the trumpet player moves a fraction of a second before everybody else. He read the click slightly different from the rest of us. Andres told me about it and said he could fix it. I said it's fine; it shows that it's definitely us."
In addition to "The Planets" video, the BSO website has a charming video series called "BSO at Home," in which individual musicians play and sometimes instruct. Those videos are made by the musicians themselves and posted onto the BSO website.
The Space Coast Symphony Orchestra also created individual videos of their musicians.
Conductor and music director Aaron Collins wanted a way for his musicians to still make some money during the pandemic, so he added a "tip button" to the videos for people to contribute.
There are multiple videos of individual musicians, with one in particular providing instruction on the harp. However, to date, there are no videos of the whole SCSO performing.
"We thought of doing the collage videos," Collins says. "Those are extraordinarily difficult to put together. Hats off to any group that can do that."
Whether a symphony orchestra offers videos of individuals performing or occasionally instructing, or whether they produce an entire virtual concert, Confessore predicts that this inventive way of utilizing technology to provide acoustic symphonic experiences will likely continue.
"It has been very successful," he says. "The response from our patrons has been overwhelmingly positive. They've enjoyed the chance to see and hear the individual musicians 'up close.' It's been a big win."
For more information, or to listen to the virtual concert and individual musician videos, visit brevardsymphony.com or spacecoastsymphony.org.