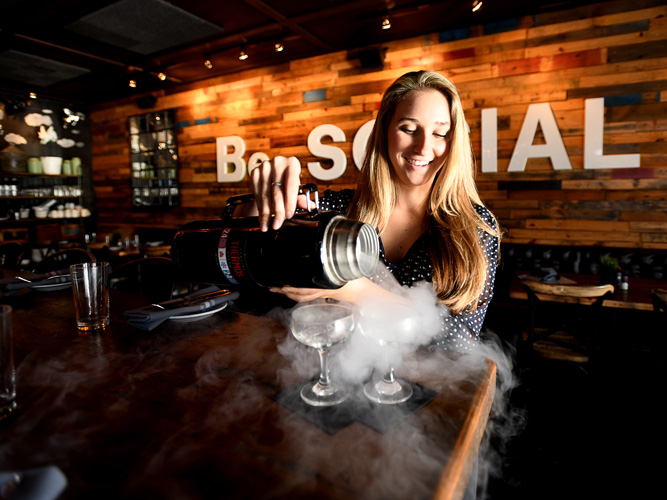 When life returns to normal, someone new will be dishing up heaping spoonfuls of hospitality at the Southern Social Kitchen & Bar on 14th Avenue.
Just before COVID-19 turned the world upside down, Angela and Nick Novak, along with partner John Scharr, sold the nouveau Southern gastropub they opened about four years ago to 22-year-old Vero Beach High School graduate, Elli Courtney.
While working at Maitland Farms pre-school, Courtney learned of the owners' interest in selling the popular restaurant through playground gossip. The opportunity seemed too good to pass up, so Courtney reached out to her father's best friend, a restaurateur with several West Coast and South Florida restaurants.
"I knew he was always looking for new business ventures, so I told him about it and brought him on. He took me under his wing, and we moved forward together," recalls Courtney.
"I've always had a really deep passion for food and hospitality," says Courtney, who, as a little girl, would host "dinner parties" in her bedroom with handmade invitations, menus and even lighting effects to improve the dining experience.
"The whole experience for me was so special. I just loved hosting people. I think good food brings people together around a table. It's a good connection, business-wise and personally," she says.
Courtney comes by her love of entertaining quite naturally, she explains. Her great-grandmother was personal chef to President John F. Kennedy at the Kennedy family compound in Hyannis Port.
"They became really good friends. I have postcards and correspondence between the two of them," she says, sharing that oatmeal raisin cookies were JFK's favorites. "She would have warm cookies waiting in the kitchen for him when he returned. They would sit and talk about his travels."
For Courtney, life really does seem to revolve around good food. That's how she met Michael Stephens, front of house manager. On her night off, she went to dinner by herself. While sitting at the bar at The Italian Cousin, the two started chatting and hit it off.
Courtney barely had time to get a handle on her new career as the managing partner of a bustling restaurant when the coronavirus pandemic changed the landscape of the hospitality industry.
"I feel like I've lived five years in the restaurant industry in five weeks – the number of things that changed and how quickly they did and learning how to evolve," she says, but she wouldn't change things. It's challenged her and forced her to think outside the box.
"We've changed some of the dynamics on how we do business, offering to-go and setting up a system for online and Bite Squad ordering," which accounts for nearly 25 percent of nightly food sales now.
On the horizon, Courtney says customers can look forward to outdoor dining and lunch service. She and Executive Chef Errol Davis have put together what she thinks will be a winning lunch menu.
"We're ready, once the world is ready," she says. When people go back to work and start going out to lunch again, she plans to extend their hours of operation.
Chef Davis took over the kitchen when the restaurant changed hands, bringing to the already-established menu secrets from his Jamaican upbringing. He says his mother, who taught him to cook, could "take the simplest things, put them together and create magic."
Davis began his career as a dishwasher at MGM's Beau Rivage in Biloxi. Later, he worked his way up in various MGM hotels and casinos as a sous chef and room chef before finding his way to Vero Beach and putting in time in the kitchens at Cobalt and the Ocean Grill.
Courtney says Davis has elevated the menu with what he calls a twist. To fully appreciate the chef's Southern fusion, he suggests guests try his favorite menu item, a roasted rack of lamb in a Dijon shallot sauce, or a popular guest favorite, the brisket fried rice with okra, carrots and corn with hints of apricot ginger and a fried egg.
The restaurant was built on three things she believes in, says Courtney: family, friendship and a love for entertaining. "This restaurant is drenched in history and in family, and it's all about the tiny little details."