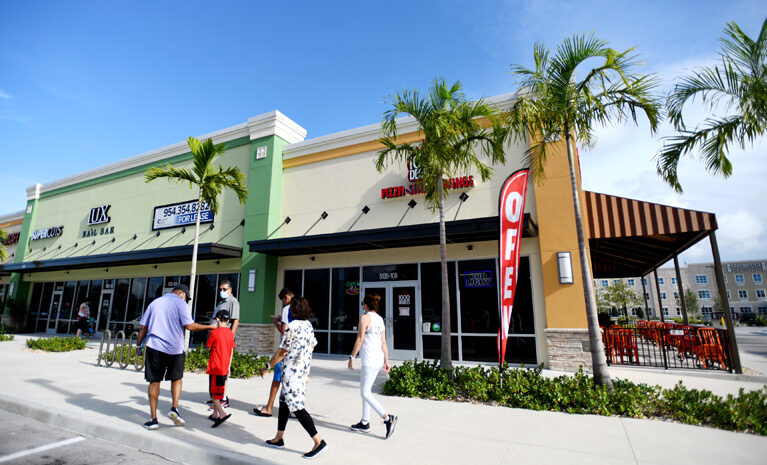 As many business ventures struggle due to COVID-19, and while thousands of square feet of retail space sit vacant just up the road at the Indian River Mall, a new shopping center on the south side of State Road 60 between downtown Vero and the mall is doing "very well, great actually," according to property agent Zach Feldman of Konover South Development Corporation, the company behind Vero Beach Square.
Located at 5135 20th St., just east of Walmart, Vero Beach Square is a $40 million retail and hospitality project developed by Konover, a Deerfield Beach-based company that specializes in developing shopping centers in Florida.
Konover closed on the $2.51 million parcel – 9.66 wooded acres between Sonny's Barbeque and Appleby's, extending from the main relief canal to SR 60 – in November 2017 and broke ground in 2018.
The 30,000-square-foot retail center leased up quickly, attracting national-brand tenants who "started opening up in the third quarter of 2019," according to Feldman.
Tenants include Dunkin', Tropical Smoothie Cafe, Express Nails, Tire Kingdom, Murphy Oil USA and the most recent tenants, 1000 Degrees Neapolitan Pizza and SuperCuts, which signed lease agreements last week, says Feldman. Only two in-line bays remain, one at 1,400 square feet and the other at 2,555 square feet.
Anchoring the property is the 3-story, 71,000-square-foot, extended stay Staybridge Suites – part of the
InterContinental Hotels Group – which sits behind the retail shops. "We are doing great," says the desk manager. "We are at full capacity," with most of the 109 suites occupied by Florida residents.
Vero Beach Square joins a strong, diverse field of restaurants, shopping centers and big box stores that have made the State Road 60 corridor near 58th Avenue a dynamic retail hub, with a Walmart Supercenter, Sam's Club, Publix, Target, Lowe's, Home Depot and scores of other stores.
In accordance with infrastructure requirements mandated by the county, Konover put in a road behind Appleby's to connect the shopping center's 359-space parking lot to 53rd Avenue and provide convenient access to Walmart and Sam's. The developer also extended east- and westbound turn lanes on State Road 60 at 53rd Avenue to handle increased traffic.
Headquartered in Deerfield Beach, the three-generation, family-owned Konover South Development Corporation was established in 1957. Konover's philosophy is to maintain long-term ownership of its developments as opposed to building, leasing up and then selling. "We like to hang on to our shopping centers," says CEO David Coppa.