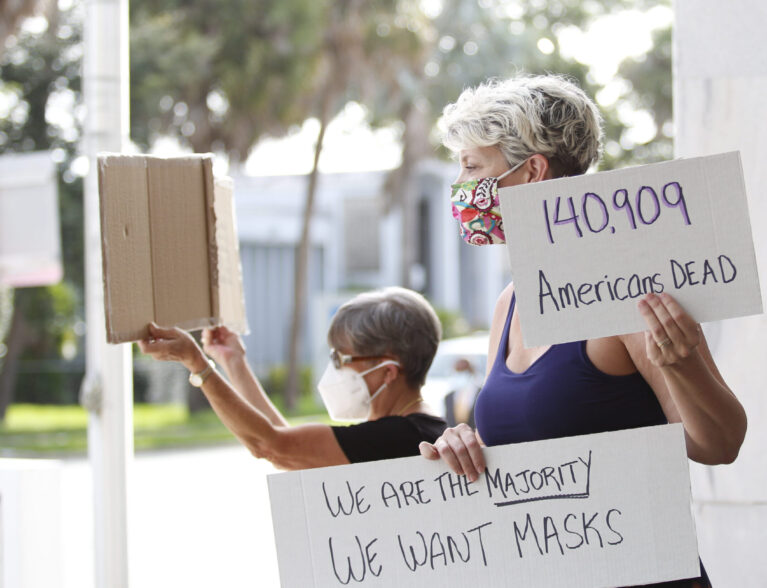 VERO BEACH — Tess Whelan, a cancer patient who also has an auto immune disorder, is worried about the safety of her family amid the coronavirus pandemic.
Whelan, 56, Vero Beach, said she was diagnosed with cancer five years ago and that the disease is now in remission. Whelan has suffered lung damage from treatment.
"My husband is 69 years old. We're both in high risk groups," Whelan said. "I'm worried about my safety, my children and the elderly population of Vero Beach."
Whelan gathered with dozens of residents wearing masks at Vero Beach City Hall Tuesday morning showing support for a mandatory mask mandate the council is considering. Others in attendance opposed making face coverings mandatory.
The mandate, if passed, will require residents to mask up while visiting "any indoor public place" in the city limits.
For Whelan and countless others with underlying health conditions, the decision to wear masks can mean the difference between life and death.
Council members met at 8:30 a.m. and spoke with Cleveland Clinic Indian River Hospital officials about how effective masks will be in preventing the spread of COVID-19.
Several people have gathered outside of #VeroBeach city hall to show support of a mandatory mask mandate the city council is considering. #VeroNews pic.twitter.com/AXKYwpOh1U

— Nicholas Samuel (@JournalistNickS) July 21, 2020
The meeting comes as Florida, along with the U.S., experiences a spike in coronavirus cases. As of Tuesday, there were 369,834 cases in the state, with 5,319 deaths.
There were 1,685 cases in Indian River County, including 27 deaths, according to the Florida Department of Health.
Last week, the Indian River County Commission voted against a mandatory mask ordinance. It was unclear when the Vero Beach City Council will make a final decision on a mandatory mask mandate.
Unincorporated Indian River County, Fellsmere, Vero Beach and Sebastian already have face mask requirements in place for those visiting indoor county and city facilities. Employees in unincorporated Indian River County who work in businesses that serve the public must also wear face masks.
Dr. Charles Callahan, chair of the infectious disease department at Cleveland Clinic Indian River Hospital, said mask wearing reduces the transmission of the virus by 40 percent. Callahan said asymptomatic spread accounts for 35 percent of transmission.
"If we can reduce the risk of businesses being shut down (again) by making masks mandatory, then that's a big win," Callahan said before city council. "No other action can be taken besides masks to reduce the rate of infection. Wearing masks is a very small price to pay."
Callahan recommended the council make masks mandatory for Vero Beach, noting that the virus transmission will progress if action is not taken. Callahan noted that residents should also continue to follow other Center for Disease Control and Prevention guidelines, such as social distancing and not gathering in large crowds.
Cleveland Clinic Indian River is the only hospital in the county treating COVID-19 patients. Dr. Ralph Turner, the hospital's chief operating officer, said Cleveland Clinic had 30 coronavirus patients as of Monday, including six in the intensive care unit and three on ventilators.
The hospital has 24 intensive care unit beds total, 10 of which are reserved for COVID-19 patients. Turner said the admitting of new COVID-19 patients takes away from the hospital's ability to treat non-virus related cases.
"The more COVID-19 patients we have strickens our ability to take care of the general population," Turner said. Callahan noted that droplets and sneezing are enough to justify a mandatory mask mandate.
Just outside, residents sharing the same sentiment held up signs that read "Masks save lives, masks saves jobs" and "We wear because we care." Others who were against mandatory face coverings held up signs that read "No mask mandate" and "fear is the real virus."
"I believe masks keep us safe. The council should pass mandatory mask mandates," said Whelan, noting that several stores including Publix, Walmart and Target are requiring customers to mask up. "No business should have to do it themselves. They need the city to have their back."
Peggy Lyon said a mandatory mask mandate in Vero Beach would set a good example for other towns in the county.
"If one person wears a mask, that protects everyone around them. If everyone wears a mask, everyone's protected," said Lyon, 67, Vero Beach. "If we all work together, we can defeat this virus."
Linda Lemay said her daughter-in-law's father contracted COVID-19 and was on a ventilator for four-to-six weeks. Lemay said her relative had a "hard recovery."
"Wear a mask when you can't socially distance," said Lemay, 63, of Vero Beach. "It's just common sense to me."
Photos by Kaila Jones and Nick Samuel