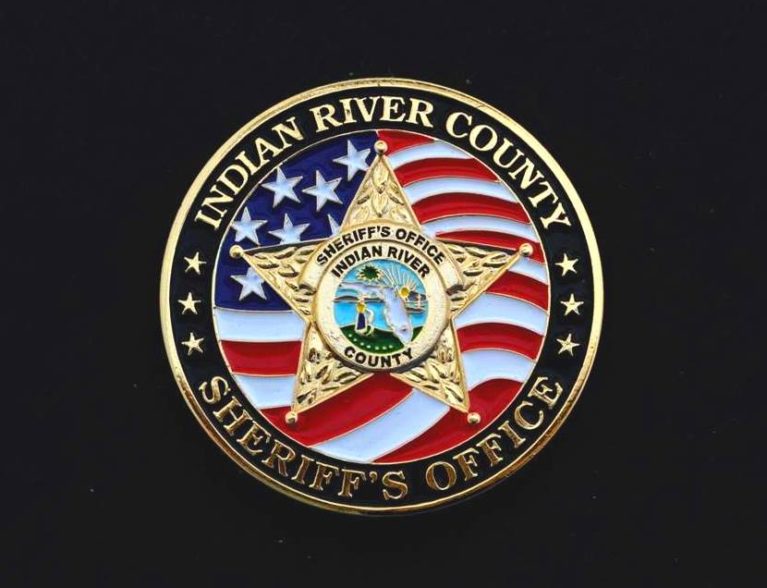 When Indian River County Sheriff's Capt. Adam Bailey resigned in September amid an internal investigation into the alleged theft of agency property, all indications were that he was guilty of wrongdoing, even though no criminal charges were filed.
"I can fire you for misuse of property, and I would've fired him," Sheriff Deryl Loar said a few months later. "I'm sure he knew I'd fire him, which is probably why he resigned when he did."
Now, information contained in Bailey's April application for a deputy's job with a neighboring law enforcement agency – particularly a polygraph exam and comprehensive background investigation –  portrays him more as a scapegoat sacrificed to cover up systemic inventory failures at the Sheriff's Office.
Bailey was hired last month by the St. Lucie County Sheriff's Office – despite his questionable departure from his job here – after a local circuit judge, retired undersheriff and two high-ranking deputies, including his immediate supervisor, vouched for his integrity, work ethic and abilities.
Not only did Bailey pass a polygraph that supports his version of the events that led to his resignation, but that exam, along with the background check, tells a far different story than the report released publicly in January by the Indian River Sheriff's Office at the conclusion of a months-long Internal Affairs investigation.
Bailey's polygraph exam detected "no deception," and the background investigation produced "no disqualifying information" in regard to his character. Instead, the results of both essentially exonerated him of wrongdoing in his previous job, where he was considered a model employee until someone filed an anonymous complaint that had the potential to embarrass Sheriff's Maj. Eric Flowers' campaign for the agency's top job.
Loar, who announced in March 2019 he would not seek a fourth term, has enthusiastically endorsed Flowers' bid to succeed him.
The polygraph report states Bailey said resigning was the "right thing to do," because staying and contesting the allegations would've meant "pointing the finger at other people" – something he did not want to do – and that a prolonged investigation "would have certainly made headlines in an election year."
The polygraph report also states Bailey said he was "informally told that the sheriff thought it would be best for him to resign" after an audit of purchases he made for the agency revealed several items were missing, because those circumstances "did not look good for him or the department."
Told in mid-September he was possibly facing criminal charges, Bailey opted to resign, rather than give a sworn statement to detectives. He could not be reached for comment last week.
Bailey's departure ended his 17-year career with the Sheriff's Office here, despite a history of annual evaluations that were "very complimentary," St. Lucie Sheriff's Background Investigator Greg Kirk wrote in his report, which stated: "Based on his outstanding performance and abilities, the applicant was quickly promoted to sergeant, lieutenant and eventually captain."
Bailey, now 39, was the No. 2-ranking member of the Corrections Division when he was confronted last summer with the theft allegations, stemming from his use of an agency credit card to purchase tools, camping equipment and household items.
The Sheriff's Office launched an internal investigation after an anonymous complaint was filed against Bailey for using some of the agency-purchased equipment – sleeping bags, cots and lanterns – on a family camping trip. Bailey had posted photos of the trip on his Facebook page.
In September, the case was turned over to the Criminal Investigations Division, where detectives found no evidence of theft or any other crimes. Had Bailey been convicted of a crime, he would have lost his retirement benefits.
Detectives kicked the case back to Internal Affairs Lt. Justin Knott, whose investigation found Bailey guilty of "inattention to duties" and "unintentional abuse of equipment." Both are violations of Sheriff's Office policy.
Kirk wrote in his report that neither offense is generally considered to be reason for termination. Yet, when asked about his own office's internal affairs report in January, Loar said the evidence uncovered during the investigation made it impossible for Bailey to keep his job.
Asked in January if Bailey had agreed to quietly resign in exchange for a promise of no criminal prosecution, Loar replied: "Hell, no. There was no deal. As soon as we found out about this, we put him on administrative leave."
In addition to the camping equipment, Knott's report stated Bailey purchased household items that included security cameras, a fire/carbon-dioxide detector, tools, and kitchen and bathroom fixtures. The purchases listed in the report totaled more than $1,700.
Several of the purchased items remained "unaccounted for" and were "presumed lost," Knott wrote, adding that there was "no one other than Captain Bailey to take responsibility for" the maintenance and care of those items.
In a Sept. 16 letter to Indian River Undersheriff Jim Harpring, Knott wrote: "Interviews of the personnel assigned to the areas revealed many items have never been seen."
Months later, though, the results of Kirk's follow-up investigation challenged Knott's conclusions. Kirk wrote that "several employees had access to or taken custody of some of the missing property."
Not included in Knott's report was Bailey's contention – verified by the polygraph results – that his immediate supervisor at the jail, Maj. Selby Strickland, gave him permission to use the agency's equipment on the camping trip.
Loar said he "didn't know if Selby would approve that," adding, "He didn't get permission from me."
Also verified during Bailey's polygraph exam was his claim that his purchases were part of annual, end-of-the-fiscal-year "spending sprees to ensure that all monies left in the agency's budget were expended."
According to Kirk, who interviewed Bailey's professional references, Indian River Sheriff's Lt. Roger Harrington corroborated Bailey's claim.
Loar took issue with any suggestion that his office engages in unnecessary year-end binges to deplete its budget, saying he spends only what's necessary to operate and maintain a well-functioning agency and that he returned to the county more than $500,000 in unused funds last year.
Loar said he didn't know who filed the anonymous complaint, but he believes the person was motivated by a grudge against Bailey or a desire to derail Flowers' campaign – and possibly both. Fair or not, Flowers' political opponents continue to paint him as a de facto incumbent, forcing him to defend the agency's leadership.
Bailey's pursuit of the St. Lucie job was enhanced by glowing recommendations from Strickland, Harrington, retired undersheriff Bud Spencer and Circuit Judge Cynthia Cox.