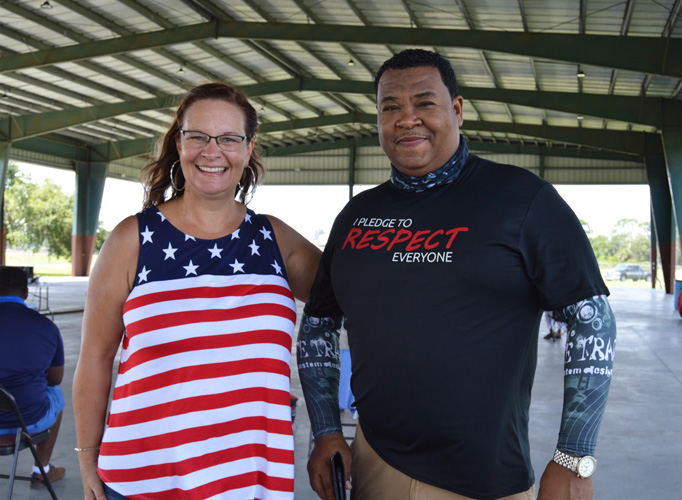 America may be in turmoil, but on the Fourth of July locally, people came together at an inaugural Bridge to Peace Concert & Unity Rally, held at the Indian River County Fairgrounds.
Organizers James Broxton and Janice Milesic did not previously know one another, but each was moved to try and do something for the community in hopes of uniting with one another and bridging racial gaps.
Milesic, owner/founder of Mattress Market Vero Beach, said she was heartbroken as she watched the riots that broke out in Minneapolis after George Floyd was killed while in police custody during an arrest that went horribly wrong.
"I told my family that I wanted to go into that setting and start singing songs, especially praise and worship songs. I think that noise would drown out all the evil and anything that's bad in the world," Milesic recalled.
When she shared her desire to organize a concert to bring people together via social media, out of the blue a friend connected her with Broxton, who had posted a similar message.
"God brought us together. I'm a white woman and he's a Black man. We want to be the lighthouse for our community first and foremost, and then the world," said Milesic.
Broxton said that for him, it was all about "unifying the community and spreading love through music. I've been here for 53 years. I was born and bred here. I know the demographics of the community. I know the inner workings of this place, and I know people on both sides of the fence. I'm a conduit for their coming together."
A saxophone player and leader of the James Broxton and the Essence of Sound Band, he said he wanted people to see that what is happening elsewhere around the country doesn't need to happen here.
"Now, the light is turned on for us to make positive change. We've made progress over the years [in Indian River County], but there is so much more to be done, and it has to start with us physically being around one another. Us purposely injecting ourselves into each other's lives," explained Broxton.
Attendees enjoyed a day of music, with free food and drinks provided by local churches under the pavilion. With more than 12 individuals and groups performing a variety of spiritual and patriotic music, the day was filled with love, kindness and hopes for a united tomorrow.
Photos by: Stephanie LaBaff
Click HERE to see more or buy photos