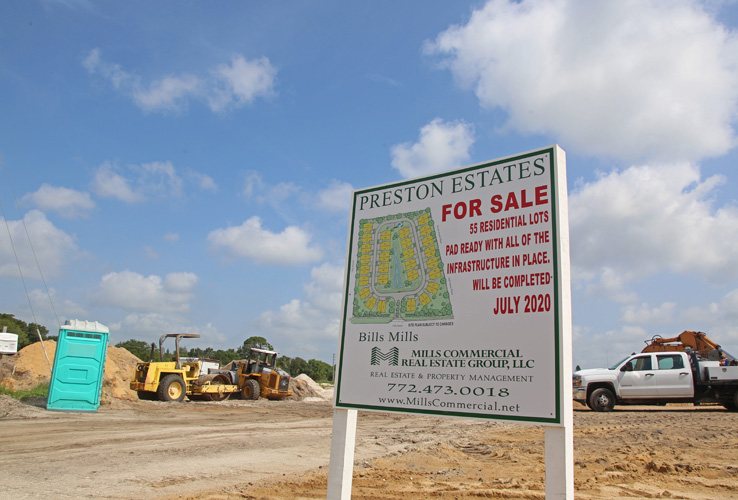 After a frustrating year of delays, site preparation is almost complete at Preston Estates, a 55-unit subdivision on 8 acres at the corner of 12th Street and 12th Avenue in Vero Beach, and walls are expected to start going up "within the next three or four months," says Palm Beach developer Nicholis Rauch-Heine.
The property was cleared back in February 2019 but had begun to return to its natural state as issues with permits, gopher tortoise relocation and other stumbling blocks slowed progress. When COVID-19 came along, Rauch-Heine says, "we had to pump the brakes."
A fourth-generation south Florida real estate developer, Rauch-Heine of NRH Homes planned Preston Estates to include 27 duplex, single-story townhomes and one single-family house, around a central lake. He and two partners purchased the undeveloped property in 2016 for $572,000, according to county records. At that time, the partners intended to resell the land, prior to or after infrastructure installation, but Rauch-Heine decided to buy them out and develop the parcel himself.
His initial plan was to take the Preston Estates project to pad-ready, then sell the completed site with ready-to-build lots for $3.1 million. It has been on the market at that price since late last year.
If he doesn't come to terms with a prospective buyer, Heine says he'll proceed with home construction himself, a Plan B that makes sense, especially since his company has another new residential project, Bridgehampton, a 10-acre, 29-unit single family development on the north side of State Road 60, across from Walmart.
Bridgehampton home designs run from 2,057 to 2,343 square feet and are listed in the low to high $300,000s, Rauch-Heine says. Of the nine units currently on the market, "two are complete and seven are almost complete."
Like Preston Estates (which was named for Heine's cousin), Bridgehampton is very much a family affair, as Rauch-Heine has partnered with his uncle, Chris Heine Sr., and another cousin, Chris Heine Jr., on the project.
The Preston Estates project, Rauch-Heine has said, is designed with the millennial buyer in mind, with 1,300- to 1,600-square-foot floor plans available: 2-bedroom; 2- to 2.5-bath; 1- to 2-bay garages; starting at $199,000.
Project broker Bill Mills, of local brokerage Mills Commercial Real Estate Group, says the lots are pad ready; all infrastructure is in place; and city permits are in hand. A builder is expected to be selected soon. Project engineering firm is Mills, Short and Associates of Vero Beach.