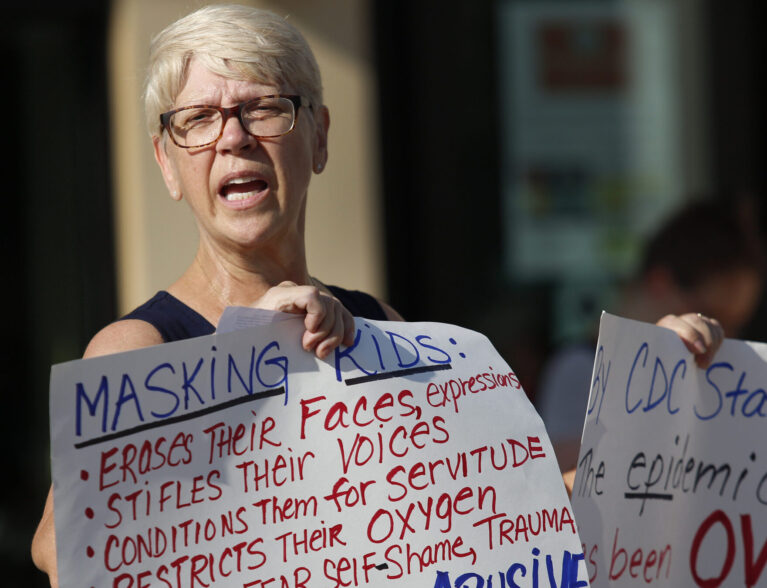 Update: The mandatory mask ordinance failed to pass during Tuesday's meeting.
Earlier story:
INDIAN RIVER COUNTY — Several residents gathered Tuesday morning outside of the county commission chambers to protest a proposal to make masks mandatory.
Nearly 30 residents held up signs at 8:30 a.m. in front of the building, saying a requirement to wear masks for the general public is a violation of their freedom. The signs read, "Keep your laws off my body" and "'No' to mask mandates."
County officials said wearing masks will help to prevent the spread of the coronavirus, which has spiked in Florida in the last few weeks.
County officials will make a decision whether to approve the mandatory mask ordinance at the 9 a.m. meeting. If approved, the regulation would go into effect at midnight Thursday.
One of the organizers of the protest, Jennifer Pippin, a healthcare professional, said the masks should be a choice for citizens.
"It should be a choice. If people want to stay home and wear a mask, I will never down somebody for that," said Pippin, 35, Vero Beach. "It is a violation of our freedoms. Most masks have zero virus protection – cloth masks, bandannas, surgical masks, N-95 masks."
Jennifer Pippin, a health professional, says masks should be a choice for IRC residents. Pippin is gathered with about 30 people at the county chambers to speak against a mask mandate being considered by the county. #VeroNews pic.twitter.com/ESuTYd8Zjd

— Nicholas Samuel (@JournalistNickS) July 14, 2020
The proposed regulation would require residents to wear masks in all indoor public spaces where social distancing is not possible, along with outdoor spaces where more than 50 people are gathered, including festivals.
The ordinance does not apply to parks or beaches. Those exempt from the regulation are children under 2 years old, those practicing social distancing, exercising, eating or drinking, and those who might have health issues if they wear masks.
Those who violate the ordinance will face fines from $20 to $100, county officials said.
Pippin, a former surgical and x-ray technician for Cleveland Clinic Indian River Hospital for 10 years, said healthcare workers are required to wear masks to protect them from potential contamination during operations and surgical procedures. But, Pippin, who has been in private practice for five years, said the masks were not designed to protect people from viruses.
"They are not for virus protection," Pippin said.
However, the Center for Disease Control and Prevention said wearing face cloth coverings will most likely reduce the spread of COVID-19. The CDC said the face masks should not be worn by children under 2 years old, those who have trouble breathing, or those who can't remove the mask without assistance.
Pippin said she and her family will wear masks if the county passes the mandatory law, even if she doesn't agree with it. The mother and wife said she regularly talks with her daughter, 14, and son, 11, about the virus.
Pippin said her children are not sick and will be attending class in person when schools reopen in the fall. Pippin's daughter is an incoming freshman at Vero Beach High School, and her son is a sixth-grader at Imagine Schools South Vero Charter School.
But, Pippin said she is not allowing her children to attend summer camp because of mask mandates.
Tuesday, Indian River County had 1,337 virus cases, including 22 deaths. There were at least 34 people with the infection hospitalized at Cleveland Clinic Indian River Hospital, officials said.
Florida has nearly 300,000 coronavirus cases, including more than 4,400 COVID-19 related deaths, according to the Florida Department of Health. There have been 134,704 coronavirus-related deaths in the United States, the World Health Organization reports.
Indian River County has a population of nearly 160,000 residents, according to the U.S. Census Bureau. On June 26, the county implemented face mask regulations, encouraging, but not requiring the general public or customers to wear face coverings.
All residents in unincorporated Indian River County are required to wear masks if they visit indoor county facilities or ride the Go-Line Bus. Employees at businesses that serve the public must also wear masks.
Municipalities such as Sebastian, Vero Beach and Fellsmere also require residents to wear masks if they go to indoor facilities.
Photos by Kaila Jones and Nick Samuel