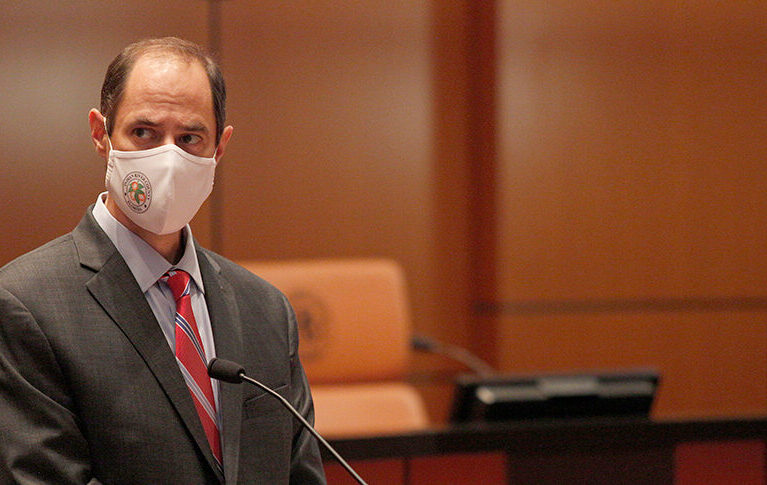 INDIAN RIVER COUNTY — County Administrator Jason Brown plans to recommend the board approve an ordinance Tuesday requiring the public to wear masks in all public spaces where social distancing is not possible.
"This is not something we like to do, but at some point we need to put stronger requirements in place," Brown said during a Friday news conference. "The intention here is to educate and encourage, rather than enforcement."
County officials hope the regulation will flatten the curve of local cases. The county has seen an increase in deaths and hospitalizations.
Health officials believe masks will help curb the potential spread of COVID-19 droplets that escape into the air through coughing and breathing. If approved at the commission meeting, the ordinance would go into effect at midnight Thursday for unincorporated Indian River County, Brown said.
Other municipalities in the county are making their own decisions about mandatory mask mandates. Towns such as Fellsmere and Vero Beach require those visiting indoor facilities, including city hall, to wear masks.
The county also implemented mask requirements June 29 for those visiting indoor county facilities, riding the Go-Line bus and employees at businesses that serve the public.
The emergency order – unlike the ordinance – did not apply to customers or the general public. The county's mandatory mask ordinance, however, will apply to all public indoor facilities where it's hard to social distance, along with outdoor spaces where more than 50 people are gathered, including festivals.
Brown clarified the ordinance does not apply to beaches or parks. Those exempt from the regulation are children under 2 years old, along with those who are practicing social distancing, exercising, and eating or drinking.
Brown said those who might have a health risk if they wear a mask are also exempt.
If approved, the ordinance will allow the county to downgrade any violations to fines and non-criminal citations. A resident would have to pay a $25 fine for the first violation, $50 for the second, and $100 for the third.
Unlike the ordinance, the penalty for violating the emergency order was a possible second-degree misdemeanor charge, as a last resort. Indian River County was among several municipalities throughout Florida debating on mandatory masks as the state continues to see a spike in coronavirus cases.
As of Friday, Indian River County had 1,112 positive cases and 20 deaths, according to the Florida Department of Health.
Health officials said 11 out of the 20 deaths were at long-term care facilities. The county had 26 people still in the hospital as of Friday, with eight in the intensive care unit, including five on ventilators.
Those currently hospitalized were being treated at Cleveland Clinic Indian River Hospital, health officials said.