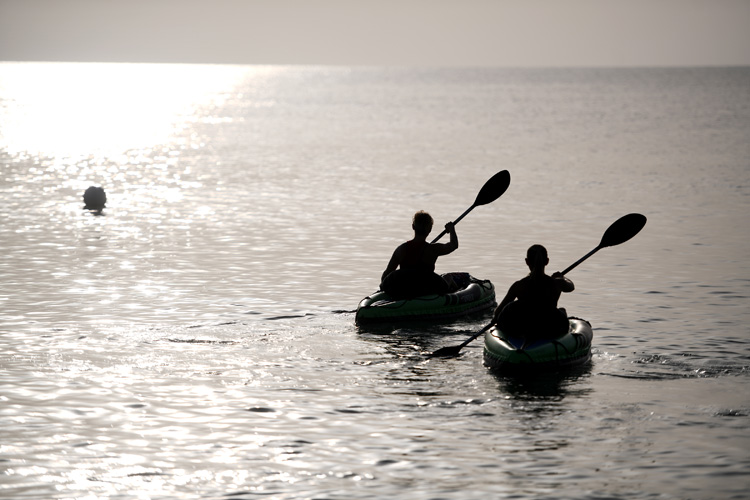 As a hot sun rose over a perfectly calm ocean, swimmers, paddle boarders and kayakers gathered on the span of beach in front of the Ocean Grill and Waldo's at the Driftwood Resort. They were eager to take part in a decades-long Swim to the Wreck, making their way to the old British steamship Breconshire, aka the boiler wreck.
The ship, resting in roughly 15 feet of water not far from shore, sank in 1894, victim to an offshore reef. Now home to a wealth of marine life, it has been a favorite local dive spot for decades. It is recognizable from shore around Independence Day by an American flag, which currently waves atop a 38-foot former sailboat mast. Lit by 13 solar-powered lights, it is visible even at night.
"We're carrying on the tradition of a friend of ours, Michael Blatus," said Boban Abbate, one of a group who had hoisted the flag the previous weekend. "It's become a pretty big thing now and we look forward to the Fourth of July every year."
Blatus, an avid snorkeler and environmentalist who was concerned about the weakening ecosystem of our local reefs due to sand being pumped on beaches, took his own life in July 2009, not long after placing his final flag.
The July 4th Swim to the Wreck began decades earlier.
"I started doing this 40 years ago with Graham Rice and Charlie Gollnick; they were Humiston Beach lifeguards," said Dan Richey, Riverfront Packing Co president/CEO, adding that he swims to the wreck every Saturday with a group of friends.
"It's just a fun event for people to come and enjoy themselves and celebrate the Fourth of July," said Richey. "Last year we had about 400 and I think we're down a little this year. But when you look out there, it's not hard to come up with 250 pretty quick and more are still coming. I think we'll have over 300. It's a good healthy place to be on a day like today."
In 2014, the Vero Beach Lifeguard Association turned the already popular July 4 swim into a pre-Race to the Wreck fundraiser, to promote water safety and offset cuts to the Recreation Department budget. This year the coronavirus put a halt to sanctioned runs of more than 50 people, so this was just for fun.
Last Saturday's swim was also promoted on social media by Sunrunners Vero Beach as a way to celebrate Independence Day on our nation's 244th birthday with a champagne toast at the flag.
Photos by: Brenda Ahearn
Click HERE to see more or buy photos