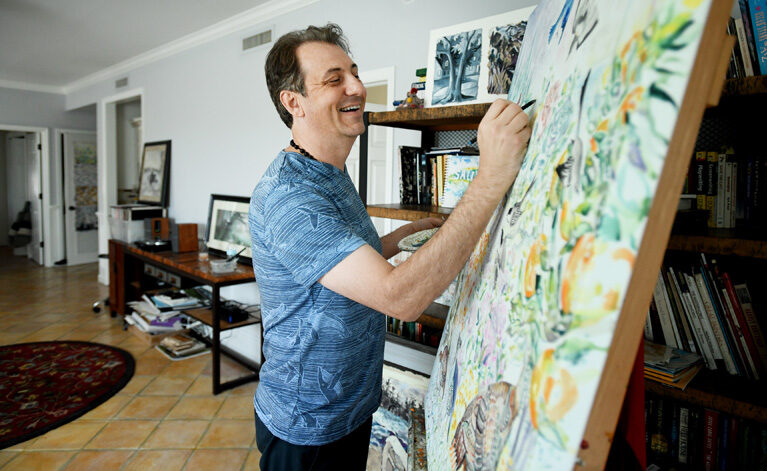 Local artist and filmmaker Xaque Gruber has not been idle during this pandemic's safer-at-home period.
Gruber was scheduled to fly to Hollywood a couple of months ago to edit his first feature length film, "Sallywood," which he wrote and directed. The film, based on Gruber's own arrival in Hollywood as a fresh-faced kid desperate for work in the film industry, details his fraught, frantic and very funny career as a personal assistant to a finicky movie star.
However, with limited air travel and restrictions on business gatherings, Gruber instead edited the movie on his home computer, sending his director's cut via the Internet to post-production in Hollywood. Gruber says that a few segues between scenes still need to be shot, and the film score has yet to be written. He will have more details in the fall.
His film occupied a relatively short but intense part of Gruber's life during lockdown. The rest of his time has been spent painting and creating mixed-media artworks in the studio he created in his Indian River Shores apartment.
Gruber is currently working on a series devoted to his late father, David Gruber Sr., who died of complications from Alzheimer's a little more than two years ago.
"I want the work to say something about the relationship I had with my father in the last 30 months of his life," says Gruber, who came to Vero in 2016 to help care for his dad and give his mother, Joann Gruber, the emotional support she needed during that difficult period.
"He never knew I was his caregiver; I was just his son that was home. He did not even know that there was anything wrong with him. They say that when you first get Alzheimer's, you are the only one who knows you have it. By the end of the disease, you are the only one who doesn't know you have it."
Gruber began working on the series as a way to come to terms with his father's illness and passing, but at the time had no specific plan to show the works as a group. That is, until Warren Obluck, exhibition coordinator for the Center for Spiritual Care in Vero Beach, asked Gruber if he would show his work at the center in March 2021
"Of course, I said 'yes,' because I say yes to everything," Gruber says.
In the weeks after his father's funeral, Gruber began making sketches of his dad from family snapshots. One of those drawings shows David Gruber on a bicycle, pedaling away from us. Gruber recently incorporated that sketch into a 49-inch-square, mixed-media work titled "Our Time on this Planet."
The original drawing, flanked by two same-size digital reproductions of it, is situated in the middle of the expanded composition. Surrounding these is a collage of clock faces, star charts and blue-eyed grass.
Gruber reads aloud a description of the plant, a type of wild iris, whose "stems are strong enough to support only one blossom at a time, one flower blooms each morning and dies that night, to make room for the next one in the morning."
The composition, with its many circular shapes, speaks to Gruber's overall theme.
"I really wanted this piece to be about our time on this planet. It's about more than just my father's last bike ride; it's about how we occupy a tiny grain of time and space."
So far, says Gruber, very few of the artworks about his dad actually picture his father's face or form. That is because he wants his work to relate to the widest possible audience. He says that people don't need to know the backstory of the series to appreciate his art.
"You can pull anything you want from them, which is how it should be, when you look at a piece of art," he says.
"My boat, His Boat, and Our Island" features two rowboats moored together near the immediate foreground's rocky shore. The larger of the boats, says Gruber, represents his father; the smaller one represents the artist himself. Behind them, a small island rises from the sea; the fanciful European village that rests upon it features a cathedral with bell tower surrounded by red-roofed houses. The birds that fly over the scene are Maine sea birds, says Gruber, who delights in mingling fact and fiction in his pictures.
"When I painted this at my mom's kitchen table, Dad was at home with me. He walked by and said, 'That's our island.' I liked that he said that."
So far, Gruber has completed 20 artworks in a series that he hopes to round out to three dozen finished pieces.
To keep track of where he is in the series and what needs to be done, he has pinned 36 index cards to a cork bulletin board, each marked with the title of a completed artwork, a work in progress, or an as-yet-unnamed future work. The cards are arranged in six columns, with six cards in each.
"I think of each piece of art as a song. I'm such an album junkie," he says.
Indicating the first column on the board, Gruber says, "This is Side A of the first album. And (pointing to the second column) this is Side B."
Sure enough, above each column is a piece of tape that identifies Side A and Side B of two imaginary albums, with an extra Side B column thrown in for good measure.
"Now, the B Sides might not go in the show. They are odd pieces that I am not quite sure about. If I finish something and then go, 'Oh, I don't know,' I put it in one of the Side B columns. If it's an album track, it's definitely going to be making the show, if there is enough wall space," Gruber says.
"The very last column on the board is what I call the EP," he says.
In the world of vinyl records, an EP recording contains more tracks than a single, but is not considered an LP (long playing) album.
"It's a short album, with only six songs. This section is for small, intimate pieces that I want to put in the show, but they are not the statement pieces."
One of Gruber's EP images, a colored marker drawing with watercolor additions, is titled "Unknown Homes."
"When we brought Dad back to Vero after spending the summer in Maine, he didn't know where he was. He didn't know his own house. So in this picture, I have the houses floating in the ocean, jumbled on the beach, and hiding in the sea grass."
While Gruber's theme centers on one man's Alzheimer's diagnosis, his series is also about our collective struggle against inevitable decline, whatever the cause may be. Perhaps the most poignant artwork in the show addresses the human need to communicate with others.
"Evaporation" shows the silhouetted profile heads of a man and a woman, generic stand-ins for Gruber's father and mother. Facing each other, the profiles fill the composition, whose negative spaces are packed with black and white photo images of happy days in his parents' married life.
"This is about the disappearance of verbal language," says Gruber.
"My father wants to say 'I love you' to my mother, but the speech bubble in front of his lips is empty, and even the words 'I love you,' written in cursive inside his head, are a jumble."