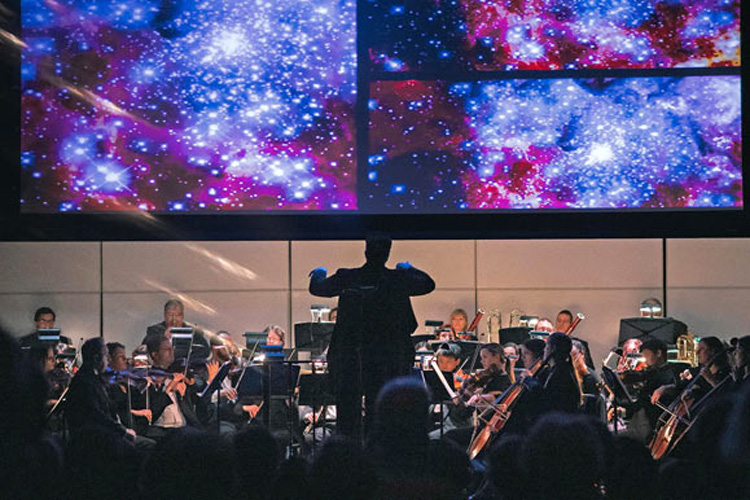 Almost halfway through our fourth month of social distancing and people are still coming up with creative ways for us to get together while staying apart.
The winner this week is the Space Coast Symphony Orchestra, which has devised a drive-up concert series called "Treasure Coast Strong Summer Series." The first takes place 7 p.m. this Friday, July 10 at the Pathway Church in Vero Beach. Aaron Collins, the conductor, music director and idea man behind the orchestra, was considering presenting outdoor concerts when he read that a drive-in movie theater was experiencing a surge in patronage. "I thought it would be fun doing the drive-thru concept for concerts." Musicians will be spread out on stage with panels separating them. Cars will park in the large lot on the church's property and then enjoy the concert. Patrons can sit outside of their car and hear the concert, or stay inside the car and listen to it on their radio. The first concert will feature "On Broadway," a selection of Broadway hits such as "Phantom of the Opera," "Grease," Fiddler on the Roof" and "Jesus Christ, Superstar." The concert will honor healthcare workers and first responders. Additional concerts in the "Treasure Coast Strong Summer Series" will be held 7 p.m. Aug. 14 and Aug. 28. The Pathway Church is located at 1105 58th Ave. Tickets are $10 per person or $25 per carload of adult. Free admission to children 18 years and younger. The SCSO requests that you purchase tickets ahead of time so parking attendants can limit their interaction with you. Call 855-252-7276 or visit SpaceCoastSymphony.org.
Summer Crush Vineyard & Winery will be the place to kick back and listen to some great '60s music. This is the place where you can reserve a private table, enjoy the outdoors, indulge in food truck offerings and, at the same time, rock to some great open-air concerts in their pavilion and festival areas. They do have a tasting room and gift shop, but capacity is limited and reservations are suggested. Because of COVID-19, the dance floor is closed, plus staffers strongly encourage guests to practice 6 feet social distancing and wear masks, especially in lines for the bar, food, restroom, tasting room and anyone not in your party. There are masks for sale for $1. Upcoming concerts are: "Beatles Tribute: Twist & Shout Party with the Beatles Guys Band," 1 p.m. to 5 p.m. Saturday, July 11; and "8th Annual Anniversary Surf Party with the Beachland – Beach Boys & More – Surf Band," 1 p.m. to 5 p.m. Sunday, July 12. Reservations start at $10. Cover charge is a suggested $5 per person. Summer Crush Vineyard & Winery is at 4200 Johnston Rd., Fort Pierce. Call 772-460-0500 or visit SummerCrushWine.com.
As long as we're talking wine and beer, you can learn a bit of the science behind fermentation when the Environmental Learning Center hosts a virtual happy hour book chat 5 p.m. Thursday, July 9. Speaking will be molecular biologist Melanie Peffer, who wrote "Biology Everywhere: How the Science of Life Matters to Everyday Life." The book takes a look at how biology connects with our everyday lives in fascinating ways one might not have considered. She will touch on many subjects, including re-usability, biodiversity and de-extinction. You can purchase the book online at BiologyEverywhere.com. The author will sign and personalize books bought during the virtual happy hour chat. Cost to attend online is free for ELC members and $5 for everyone else. Call 772-589-5050 or visit DiscoverELC.org.
"Riverside Theatre for Kids" will hold a Zoom summer camp July 13-24. The theater will feature a new musical, "The Big One-oh!" Classes will run three times a week, 2 p.m. to 4 p.m. with a maximum of 20 students in the camp. No auditions required. $300. A final video performance of the show will be provided. Each student needs a computer with reliable Internet and a device (tablet, cellphone, computer) to record them singing and dancing. They also need a noise free space where they can sing and dance full out. Sign up at RiversideTheatre.com/youth-classes.