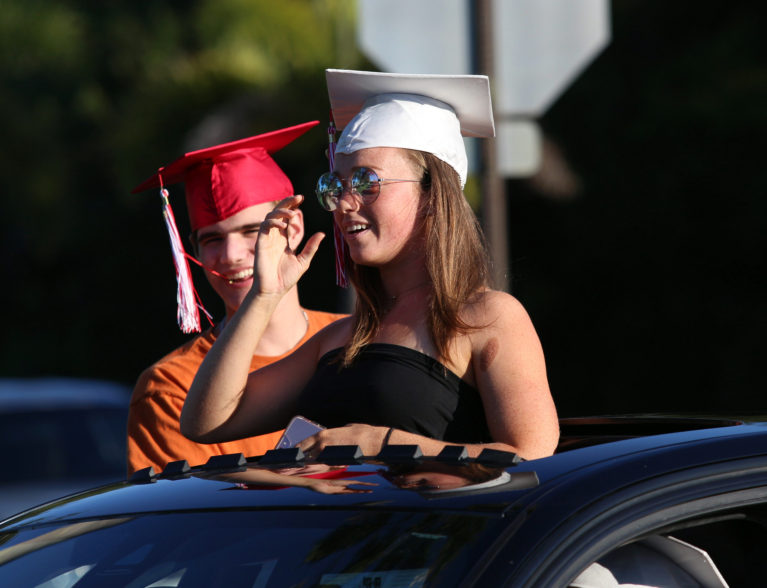 Sebastian River High School Senior Class President John Hazzard said he wants to rent a limousine or bus so he can bring as many relatives as possible to the first-ever drive-through graduation ceremony, the latest accommodation for the COVID-19 pandemic.
"After all these 13 years, I just want to be able to walk across the stage and have my family see me," said Hazzard, who is headed to the University of Florida in the fall. "And just be able to say that we made it, we walked across the stage and we finished."
The pandemic may have robbed them of many of the traditional rites of passage of high school graduation, but the 2020 classes of Sebastian River and Vero Beach High schools will be the first to experience dual graduation ceremonies, with a seniors-only ceremony in the morning and a drive-through ceremony in the evening for family and friends.
Vero Beach High's 681 seniors will attend their seniors-only graduation ceremony at 9 a.m., Friday, July 10 at Billy Livings Stadium, then return with their friends and relatives for the drive-through ceremonies starting at 5 p.m. the same day.
The 395 seniors at Sebastian River High will attend their seniors-only graduation ceremony at 9 a.m., Saturday, July 11 at the football stadium. The drive-through graduation ceremonies for friends and relatives will be held in front of the building starting at 5 p.m.
Schools Superintendent David Moore announced the seniors-only ceremonies Friday after holding a press conference Thursday with high school principals and senior class leaders to announce the drive-through ceremonies
"We will keep it intimate, small, by just having that senior class there," Moore said Friday about the seniors-only ceremonies. "It's an opportunity for just that class to come together one last time to listen to the speeches and presentations, the opportunity to have the entire graduation ceremony."
The morning ceremonies – featuring speeches by the principal, senior class leaders, valedictorian and superintendent – will be livestreamed on the School District's web site and Facebook page, so relatives and friends can watch, Moore said.
Packing football stadium stands for traditional graduation ceremonies with the seniors' relatives and friends seemed risky with the recent spike in COVID-19 cases in Indian River County, Moore said Thursday.
But keeping families six feet apart in the stadium stands would have reduced the number of relative and friends who could attend the ceremonies to 2,000 from 6,000, said Moore.
The drive-through ceremonies will enable students to walk across an outdoor stage at their high school and receive their diploma from school officials as friends and relatives cheer from their vehicles, Moore said.
A motorcade of vehicles containing seniors will start rolling up to the stage one by one for their walk for their diploma, Moore said. The School District will arrange a vehicle for families that need one.
"I want everyone to be excited and I want everyone to celebrate," Moore said. "I want this to be something that our students look back on this crazy year 20 years from now and say it ended with a bang."