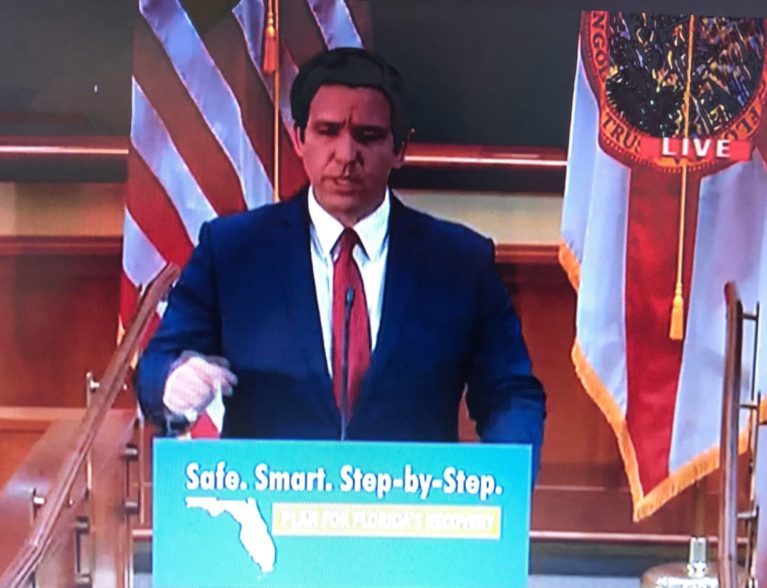 For the second time since COVID-19 began in Florida, Gov. Ron DeSantis has extended the state of emergency, this time as a surge in coronavirus cases continues.
The move, signed Tuesday by DeSantis, allows the emergency order to remain in effect 60 more days.
DeSantis originally issued the emergency order March 9 after COVID-19 infections began to slowly spread throughout the state. The order allows DeSantis to request federal funds to be directed to health department officials for more lab supplies, equipment, additional staff and enhanced communication.
On May 8, the governor extended the regulation for 60 days.
Despite the surge in new cases, Florida will remain in phase 2 of DeSantis' Safe, Smart, Step-by-Step plan that reopened businesses with restrictions, including limited capacity and increased cleaning guidelines.
The restrictions are efforts to prevent the spread of COVID-19 while also stabilizing the economy. Business closings caused by the virus led to millions of job cuts across the country, including in Florida.
Florida has seen an increase in cases reported since the reopenings. As of Tuesday, there were 213,794 positive coronavirus cases reported across the state, a cumulative total since the pandemic reached Florida, according to the Florida Department of Health.
Health officials reported 3,841 deaths total in Florida residents.
On June 26, state officials suspended the consumption of alcohol at bars in Florida.
Effective immediately, the Department of Business and Professional Regulation is suspending on premises consumption of alcohol at bars statewide.

— Florida DBPR (@FloridaDBPR) June 26, 2020
Several counties have implemented mask mandates in public places as a precaution. Masks are not mandatory for the general public in unincorporated Indian River County, but they are required in certain places.
Residents who visit indoor county facilities or who ride the Go-Line bus must wear face masks, government officials previously said. Employees at businesses that serve the public, including restaurants and retail stores, must also wear protective masks.
Municipalities within the county, including Vero Beach, Fellsmere and Sebastian, have implemented similar face-mask mandates for their jurisdictions.