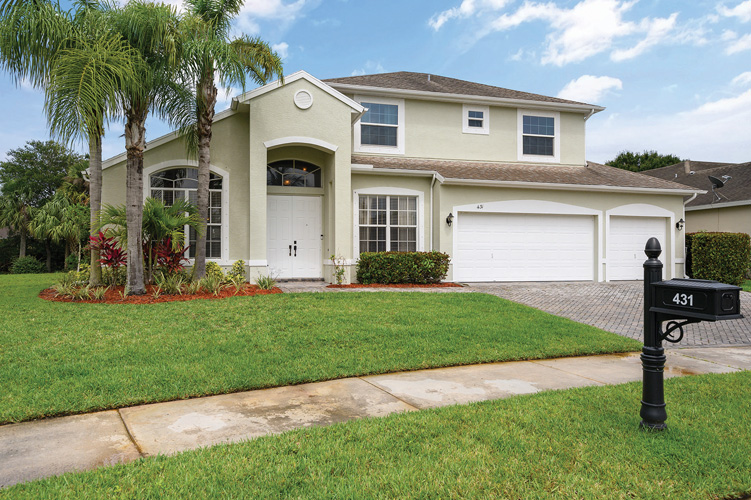 With long, clean lines, wide windows and pale gray/green façade complemented by crisp white trim, the handsome home at 431 Key Lime Square SW has great curb appeal and a warm sense of welcome. It is slightly elevated from the street on a thick grassy lawn and impeccably maintained.
The floor plan here creates not only a very pleasing aesthetic, but also offers great flexibility in many of the spaces, making it ideal for a working or retired couple or a young family with little kids or teens.
Owners Jeff and Sara Labellarte and their two young children "love, love, love" their home; "It's a great community," says Sara, but "we want a 1-story. And a pool."
There is plenty of room to put a pool in the back yard, should the new owners choose, Sara adds.
Within the 2-story entry portico, double white wood doors topped with an arched glass transom open into the spacious, airy interior. The vaulted ceilings slant upward to the second level and, with the open white wooden railed stairway and stretches of glowing hardwood floor, create a wonderfully open flow.
About the soaring ceiling, Sara says it's the first thing she looks for in a house. "It has to accommodate a 12-foot Christmas tree."
The stylish furniture is negotiable, and has been carefully chosen for comfort, durability and to fit the home's size, style and interior palette, which mirrors the exterior – neutral walls, white ceilings and millwork, a versatile canvas for the next owners' personal tastes.
Upon entering, immediately to the left, is the living room/dining room, carpeted in a soft neutral tan. There is a cozy seating "alcove" in the space beneath the elegant front window with arched glass transom, through which flows an abundance of natural light.
The long, curved pale blue sofa, blue, gold and cream-patterned easy chair, and plump black ottoman invite relaxed conversation; perhaps a cat nap; or diving into a favorite book or latest periodical. The dining area features a six-light chandelier, illuminating the simple, cherry-hued wood table and eight chairs.
An arched entryway leads from the living room/dining room into the well-designed kitchen, its tiled floor repeating the neutral color of the dining room carpet. The kitchen features a set-in microwave, white countertops, and golden-hued wood cabinetry, including a spacious 3-sided, 2-level island with deep stainless-steel sink, dishwasher, and breakfast bar. The double oven electric range, Sara says, can be switched to gas, as there is already a gas water heater.
Across the island, in another sunny corner, is a breakfast nook. This flexible space flows right into the spacious family room, where the ceiling again angles stylishly upward into the second level.
A small hallway leads to a half bath; the laundry room, with washer and dryer; and access to the 3-bay garage.
Through a pair of glass sliders, the family room opens onto the large screen porch, yet another flexible space with ample room for seating and dining, and a door to the back yard. It features indoor/outdoor carpet and a ceiling fan, and can be enclosed with panels, transforming it into an appealing Florida Room, certainly a go-to gathering place for family and friends, no matter the weather.
The view from here is green and pleasant: a few neighboring homes, lush green lawns, low vegetation, graceful palms, and blue sky.
Immediately to the right, just as you walk through the front door, is a delightful room, bright and sunny with a nice big double window opening to the west/front. This den/office space (music room, game room etc.) boasts a bright pop of color – the walls are a perfect shade of blue. There is a long, sleek, black workstation with plenty of elbow room; and, beneath the window, a pair of irresistibly comfy black easy chairs.
Bare feet-loving, sand colored carpet grounds the first-floor master bedroom. Large sliders to the back yard are impact glass, and a ceiling fan above the bed also provides soft, 4-globe illumination. On either side of a small hallway to the master bath are a pair of walk-in closets.
Star of the beige-tiled master bath is a large soaking tub – big enough for two – ensconced beneath a wide window fitted with venetian blinds.
The full-length vanity features warm wood cabinetry, white countertop, double oval sinks with a long bar of horizontal bulbs over each, and a full-width mirror.
There is a handsome glass corner shower with sand-colored tile with decorative detailing, a linen closet and a W/C.
The second floor is home to three additional bedrooms, a full bath with tub shower, and a versatile loft space: This large balconied area provides a great view of the beautiful ceiling architecture and the light and airy first floor below. It's also a perfect place to set up an office, which the Labellartes have done very nicely. Or just use your imagination and transform it in any number of other sorts of uses.
Vital Statistics
Address: 431 E. Key Lime Square SW
Neighborhood: Citrus Springs
Year built: 2004
Construction: CBS
Lot size: .26 acres
Home size: 2,896 square feet
Bedrooms: 4
Bathrooms: 2.5
Additional features: First-floor master; flexible floor plan; ceiling fans; recessed lighting; central vacuum; eat-in kitchen; impact windows on second level; hurricane panels for all windows; 3-bay garage; gated community; community pool, gym, sidewalks, clubhouse, tennis courts; rental RV/boat space available; furniture is negotiable
Listing agency: Alex MacWilliam Real Estate
Listing agent: Meggin Dimino, 772-528-6094
Listing price: $349,000