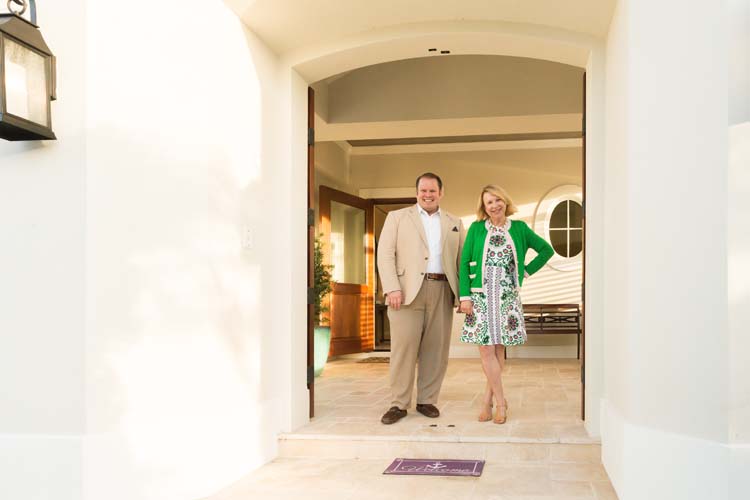 The O'Dare Boga group at Premier Estate Properties sold more than $96 million in luxury real estate last year, the most of anyone on the island, according to Real Trends 1000, an authoritative national ranking released last week.
Matilde Sorensen of Dale Sorensen Real Estate sold $80.4 million, the most for any individual agent who owns a brokerage, while Debbie Bell of the Berkshire Hathaway HomeServices Florida had the best numbers for an individual agent not owning a brokerage, handling $28 million in transactions.
Other island agents appearing on the Real Trends list include broker associates Michael and Kim Thorpe at One Sotheby's International Realty and the Brown Harris Webb team at Premier Estate Properties.
Sales are calculated by transaction sides. In a million-dollar sale, both the listing agent and the agent who brings the buyer are credited with a million-dollar transaction.
In their first full year together as a two-person team, Cindy O'Dare and Richard Boga's were the 12th highest performing small team in Florida. Their numbers included the sale of a locally famous oceanfront property in the Estate Section commonly known as "the barcode lady's house," which went for $10,250,000, the biggest sale on the island in 2019.
The house was sold at auction with O'Dare Boga as the listing agents.
O'Dare attributes the success to her "fantastic team," which includes two assistants as well as her partner Boga, working hard together to meet weekly goals.
"We meet once a week and go over every listing and pinpoint what we can do to get that home sold," she says. "We advertise extensively outside of Vero Beach in Nantucket, the Hamptons, Boston, New York City, Miami and California. All that advertising paid off in 2019."
Real Trends ranks teams by size: small (5 or fewer agents), medium (6 to 10 agents) and large (11 and up).
The second-ranking small team on the island was husband and wife team Michael and Kimberly Thorpe, who did $41.7 million in business in 2019.
Kim Thorpe says she and Mike "consider our clients our partners. They tell us their goal and we set out to achieve that goal in the shortest amount of time.
"We also pride ourselves on the most unique marketing of any Vero Beach agents. We employ the most talented graphic designer I've ever seen, and our executive assistants are absolutely the top elite. Our bound multi-page brochures can sometimes be 50 pages long for one home."
The Thorpes' top sale in 2019 was the Mediterranean-style oceanfront home at 3620 Ocean Dr. just north of Kimpton Vero Beach Hotel & Spa, which sold for $4.5 million.
Another of the Thorpes' 2019 sales shines a light on how high-end real estate is bought and sold on the barrier island.
"I think our most interesting sale in 2019 was 955 Riomar Dr., a historic home that Kim previously sold about four years ago," says Mike Thorpe. "The owner contacted Kim about putting the property on the market. She is a very talented project person who had done a breathtaking million-dollar renovation and was ready for a new project.
"Kim called one of our past clients, a CEO from the Midwest, and he flew in on his private jet and bought the property the next day. That home is absolutely stunning with the most exquisite features and finishes."
The Brown Harris Webb group at Premier Estate Properties was the third-highest ranked small team on the island with $39.9 million in sales.
Matilde Sorensen's great year made her the seventh most successful individual agent/broker in Florida in 2019.
Highlights of her year included the sale of 1840 S. Highway A1A in the Estate Section for $7.4 million – the biggest number on the island for a house that was not sold at auction; the $5 million sale of 191 Beachside Dr. in Orchid; and the sale of 3638 Ocean Dr., another one of the luxe oceanfront Mediterranean estates located north of the Kimpton Vero Beach Hotel & Spa, which went for $4.5 million.
Sorensen attributes her success last year to "hard work, passion for what I do, and gratitude."
All the top agents Vero Beach 32963 spoke with expect the rest of 2020 to be a booming period for real estate sales on the island.
"Vero Beach is still being 'discovered,' and people from all over our country are falling in love with all we have to offer," says Richard Boga.
"In 2019, we had buyers from California, Arizona, Texas, Tennessee, Massachusetts, Montana and Pennsylvania, as well as South Florida and the New York metropolitan area. The increase in buyer inquiries from California has been dramatic, up nearly 400 percent from 2018. Florida has proven to be the tax haven of choice for many.
"Looking ahead, I believe the impact of the coronavirus on real estate here will be negligible. Florida homes – and specifically Vero Beach properties – are just as popular as ever. We are as busy now as we would normally have been in March, had it not been for the impact of the pandemic.
"I think market activity for the remainder of the year will be very strong. Limited inventory is making it tough for buyers to find what they want. We expect to remain very busy over the coming months."
"No one has a crystal ball and it's hard to tell for sure with COVID-19 and the approaching election; however, if all continues on the same track, we anticipate a phenomenal run through the end of 2020," says Kim Thorpe. "There is a pent-up demand. We just sold a home for full price that previously received not much interest, along with an oceanfront condo in Sea Oaks that has been on the market for nearly two years.
"We have two closings this week, one for full price, and another one next week, so we anticipate a great summer season."
"Anyone looking to sell would be well-advised to list their home now," adds Boga.