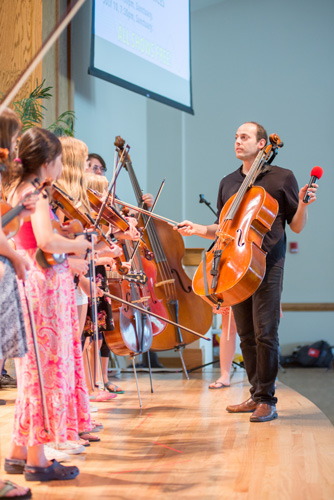 Thanks to the coronavirus, students and fans of the annual Mike Block String Camp and Vero Beach International Music Festival will miss out on the foot-stomping, in-person concerts and jam sessions that have been a hallmark of the event since 2010. Block made the "heartbreaking decision" to turn the 11th annual MBSC and Festival into a virtual experience.
The camp – which draws students of all ages and skill levels from around the world – will take place July 6-11, as originally planned, but will be held online rather than at the First Presbyterian Church in Vero Beach.
The public will still be able to enjoy a livestream performance of award-winning Americana, Bluegrass, Brazilian, Celtic, Folk, Jazz, Pop, Rock and World Music via Facebook and YouTube beginning at 8 p.m. on Wednesday, July 8.
This year's faculty features Block, a multi-style cellist, and wife Hanneke Cassel, a charismatic fiddler, newcomers Natalie MacMaster and Michael Thurber, and returning instructors Lauren Rioux, Rushad Eggleston, Natalie Haas, Joe Walsh, Casey Driessen, Darol Anger, Taylor Morris, Melissa Brun, Zach Brock, Colin Cotter, Arun Ramamurthy and Trina Basu.
"The decision to go virtual happened in mid-May. We were holding out as long as we could," said Block. "The issue for us was not just what the situation in Florida was, but that so many of our students and faculty would have to travel. So moving it online was the safest way to keep the community together and still do the camp."
He said musicians the world over are struggling, noting that most all concerts are canceled for at least six months.
"I teach at two colleges in Boston, the Berklee College of Music and the New England Conservatory, and we had to finish our semester teaching online. For a traveling, itinerant musician, it's a whole new way of life to be home for three or four months," said Block.
"The blatant silver lining for us that we're really grateful for is our daughter Eilidh. She turned 1 year right at the beginning of the shutdown. So it's just a really fun time to be really present with her and for her."
As other music camps around the country had already made the decision to go online, Block reached out to those colleagues.
"Essentially, I was looking for inspiration and ideas; cool ideas in other places that I could incorporate, and how to structure the camp," Block explained.
They scheduled a mix of half-day classes, leaving students time to practice, keep up with their regular lives, and join the online jam sessions and social experiences.
An unexpected benefit was that a number of students who hadn't been able to attend the in-person camps in Florida due to logistical or financial issues were interested in the online version.
"Already we've passed 100 paid-in-full students for the online version and we're on track, amazingly enough, to break our enrollment record for the third year in a row," said Block, who is expecting 115 students.
"We're trying to find the lemonade in the situation, and embracing that this is the most accessible camp for people all across the country and the world. We have participants from Europe and Australia who are going to be accommodating the time changes in our class schedule in order to attend. So we're happy that these people are going to be able to take part."
As with seemingly everything now, the camp will take place via Zoom.
"As musicians, we've been giving workshops and even performances via Zoom for a couple of months now," said Block. "So I think amongst the faculty, the comfort level is high, and a lot of students who are still in school have been dealing with online learning. We feel like the majority of people will feel comfortable using this technology already."
Unfortunately, the jam sessions that students and Veroites always look forward to will not be made available to the public, said Block. "That was always a fun component of feeling part of the community and meeting people who just came upon our crazy group."
Still, the Zoom rooms will have a Vero vibe, with names such as the 'Mulligan's Jam,' and a 'Beach Room' where people can go to chat.
"We wanted to still feel connected to our experience in Vero and not make it an online abstraction, but to really try and feel the continuity of camp that we usually feel when we're in Florida," said Block. "There's going to be so many new students that are joining us for the first time online, and hopefully will be able to join us in Florida next year and feel like the experience is connected."
As in the past, the July 8 Faculty Concert is free, but contributions to support camp scholarships are appreciated. A number of local students attend through scholarships, including some Gifford Youth Orchestra members.
"All the faculty will be performing; each faculty member will have a slot on the performance to play whatever they want. Many of the faculty will be performing live from their homes," Block explained. "And then some faculty who wish to collaborate with each other, much like they would in the Florida concert, will prerecord videos where they can play together. And so the faculty concert will be a mixture of live performances and pre-recorded collaborations."
Their hope is to capture the same collaborative spirit of their mainstage performances.
"We'll be broadcasting live from the Mike Block String Camp Facebook page and the Mike Block String Camp YouTube account," said Block. "We'll be able to broadcast simultaneously through all of those."
Because they had been setting high enrollment records two years in a row and, of course, not anticipating a pandemic, they hired 16 instructors. He said it is the largest number and the greatest variety to date. Among them are two newcomers to the camp.
"We have one of the most legendary fiddlers alive – Natalie MacMaster. She is the preeminent representative of Cape Breton fiddling; it's a style of Celtic fiddling from Nova Scotia," said Block.
"The Scottish immigrants who went to New Scotland, Nova Scotia, actually preserved their native music in many ways better than it was preserved in Scotland itself. It's a very special kind of music, and Natalie is the living legend of that type of Celtic music."
The other is bass player Michael Thurber.
"He is actually our first dedicated bass teacher. He is perhaps most well-known because he was the original bass player in the 'Late Show Band' for the Steven Colbert show."
Block said a big part of the in-person camp – the ensemble and collaborative work of the students with the faculty – wasn't logistically possible online.
"So we're not having the students play ensembles online, but we wanted to give them an opportunity to play and share with each other and get to know each other," said Block. "We're actually having an open mic night on second to last night of camp. And that's a way for the students to play for each other."
Unfortunately, the general public will have to wait until next year to share in those experiences.
"The good news is, we've already signed a contract and secured our date at First Presbyterian for July 2021 and we're really looking forward to getting back and being there," said Block.
Links to the Faculty Concert will be available at MikeBlockStringCamp.com and VeroBeachInternationalMusicFestival.com.