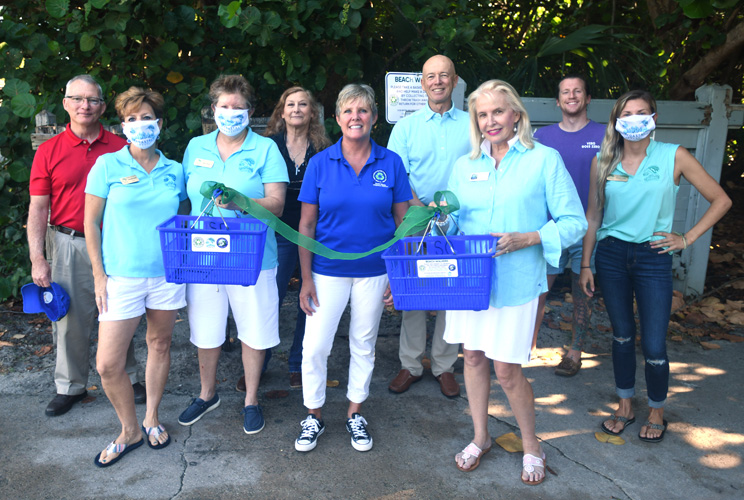 Kendra Cope, president of the environmental nonprofit Coastal Connections, has long had an affinity for our coastal waters and wildlife.
Cope holds a bachelor's in marine science and biology from the University of Tampa and a master's in biology from the University of Central Florida. While at UCF, she worked with the UCF Marine Turtle Research Group, monitoring turtle nesting at Archie Carr National Wildlife Refuge. Before founding Coastal Connections in 2017, she was employed by the Indian River County Coastal Resources Division as its environmental specialist and sea turtle HCP (habitat conservation plan) coordinator.
Her enthusiasm is palpable as she discusses Coastal Connections, which has a mission to protect coastal habitats through educational and engaging programs.
"It really started with the initiation of the Sebastian Lionfish Fest, where we were working on removing invasive species from reefs and teaching the public that they are the best predator out there for removing invasive species," says Cope.
That multi-part event, canceled this year due to coronavirus, featured a tournament to harvest the venomous, spiny creatures threatening native fish populations, followed by a cook-off, with local chefs whipping up tasty lionfish dishes.
Coastal Connections soon evolved to include sea turtle conservation efforts on our beaches and the Indian River Lagoon through public education and involvement. A six-member board is augmented by some 60 volunteers.
"We're the only group in Indian River County that does sea turtle conservation. We're the ones in charge of marking off every single nest within a 1-mile stretch of the City of Vero Beach, where restaurants and hotels are located," says Cope.
"Those are the nests we use for our educational outreach. The county marks off a very small sample across the entire county, and then leaves the rest of them to incubate naturally. They're now at like every 24th loggerhead."
She explains that they chose the popular hotel area because it is so widely used.
"We mark off those nests for conservation reasons, so that people don't touch them, people don't interfere with them, or accidently put their umbrella in them," says Cope. "But then, in addition to those reasons, we can then use those nests as an educational tool for the residents and visitors of this community."
Turtle Digs, daytime nest excavations, are among their most popular interactive and immersive programs. The data they collect, such as how many eggs there were and how many hatched, is provided to the state and county for long-term evaluation and recording.
To the delight of onlookers, after most hatchlings climb their way to the surface and scramble to the sea, volunteers also rescue any stragglers needing a little assistance.
Their Turtle Friendly Certification program encourages businesses, hotels, restaurants and recreational vendors to protect turtles through such measures as following lighting ordinances, eliminating potential nesting obstructions and limiting plastic usage.
"Our Turtle Friendly Certification program is an incentivizing program to get businesses to become more compliant with turtle friendly standards," says Cope.
In 2019 they started a Vero Goes Zero initiative, which includes regularly scheduled Coastal Cleanups; roughly 800 pounds of debris was collected in 2019.
"We are working in Vero to minimize and reduce the use of single-use plastics and increase the rate of recycling," said Cope.
They have seen an increase in single-use plastics littering parks and waterways as a result of restaurants switching to take-away meals during the pandemic, which can only intensify the number of shorebirds, turtles and other wildlife that will perish as a result.
To address the issue, they instituted a Beach Basket program, which encourages people to pick up debris any time they visit a public beach.
"Those are very popular. Most recently the Beach Basket program was expanded into the city's South Beach Park location. Previously, we piloted it in three county beach parks. It is proving to be very successful and so we've expanded it into all of the city's beach parks. All this is happening so fast," says Cope.
"One of our programs is a Wrap Recycling program where we work with businesses to recycle plastic wrap. Everything that you buy at a store, any store, when that got delivered to the store, it had to be surrounded and coated with single-use plastic wrap, by federal law. Most people throw that in the trash, but it can be recycled and turned into playgrounds, decking material, and useful construction materials."
Coastal Connections provides a free service to businesses – collecting that plastic wrap and taking it to one of the county's recycling centers.
Their most recent Vero Goes Zero initiative is a Plastic Alternatives program.
"Coastal Connections has built a catalog of plastic alternative options for drinkware, cups, utensils, straws, to-go containers and to-go bags," says Cope. "We are currently working on, and seeking funding, to provide local restaurants with single-use plastic alternatives for one month, to help ease the transition to sustainable business practices."
In return, Coastal Connections assists with promotions and, she says, "we also want to collect their customers' opinions on sustainable businesses, their willingness to support sustainable businesses and their likelihood to pay (more) for sustainable businesses."
Currently, four businesses are involved in the program: Chelsea's Gourmet, Vero Caffe, Casey's Place and Countryside Citrus/El Sid Taqueria.
"Ultimately, the goal of this program is for each of these business participants to become a long-term sustainable business. We want to work with all the businesses in our community to create a new standard in our community for how we can protect our coastal habitats from single-use plastic debris, which we all know is one of the main contributors to sea turtle deaths," says Cope.
"Part of this initiative, and why we're hitting our plastic alternatives so hard, is because we know we're working with restaurants who suffered dearly from the COVID pandemic. If we're giving them supplies for a month, that is a giant relief to them. It helps our community recover even quicker, which is good for everyone, and they're doing it in a sustainable manner."
Their hope is that businesses – which are asked to sign at least a six-month pledge – will not backslide into single-use plastic options again just because they're cheaper.
"We want to continue to protect our coastal habitat and wildlife; this is our way of doing it," says Cope. "It's an interchange; it's an incentive. We'll give you marketing to drive people back to you, and we'll help minimize some of your initial costs to get back on your feet. And then you in return, come back with sustainable protocols."
For more information and to support the programs visit coastal-connections.org.
Photos by: Brenda Ahearn
Click HERE to see more or buy photos